Gravesend & Northfleet 2-0 Kingstonian
MCKIMM HAS THE LAST LAUGH
Kingstonian's first trip to Stonebridge Park, Gravesend (or should that be Northfleet?) since Geoff Pitcher's 1998 heroics was only ever going to be about one player - Steve "you're a f***ing disgrace you lot" McKimm. By the time the game came to a close it was the player who will forever be remembered for his verbal onslaught at Maidenhead who was celebrating. And well he might. He was an important member of a team who look to be the only real challengers to Canvey at the top of the table.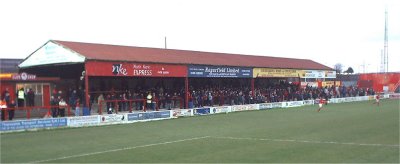 Photo: kingstonian.net
The K's side - missing important cog Peter Barnsby through suspension - did all they could to hold the home side at bay, and even made the odd foray - usually chasing after a somewhat "long" ball - downfield. Yet if truth be told there was only ever going to be one winner.

That it took almost an hour for the deadlock to be broken can be put down to woeful finishing from Gravesend (Craig Wilkins and McKimm to name but two) and Lance Key. Yet when the goal did finally come it was somewhat frustrating for those freezing on the exposed away terrace.

Darren Smith ran down the right wing and crossed to the edge of the area. Eddie Duah - who had had a solid game up until this point - placed his hand into the back of Jimmy Jackson, pushed him over leaving referee Mr A Legg no option but to point to the spot.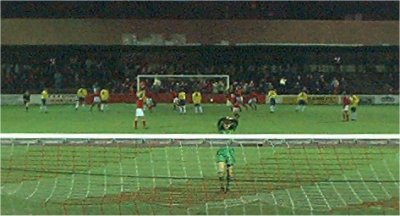 Photo: kingstonian.net
Up strode Eliot Martin sending Key the wrong way (above), and sending McKimm towards the travelling supporters to make sure that they realised that the goal stood.

Worse followed just four minutes later. Smith again received the ball on the right, but Mark Jones was determined not to allow another cross to come in. But instead of tackling him - as any normal full-back would have done - he tried to scythe him down with a waist high tackle. Thankfully (for Smith at least) he missed, the cross came in, Paul Booth headed back from the far post and Jackson had the easiest task to head past Key for the second goal. McKimm again made sure that those in hoops were paying attention.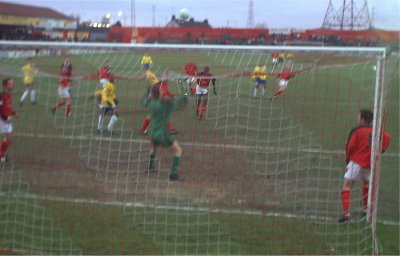 Photo: kingstonian.net
As sometimes happens, Kingstonian's best chance of the afternoon was produced not long afterwards. Key kicked clear and, under no pressure, Francis Duke sliced his backpass over goalkeeper Jamie Turner. Ronnie Green was on it in a flash and seemingly had an easy chance to score in the open net. Yet Turner recovered well, and Green's under-hit shot from the right-hand side of the six yard box was saved with the legs.

The introduction of Messrs Sadler and Leacock - in place of Green and Collins - did little to alter the balance of play, as the game became little more than an excuse to run around in the cold.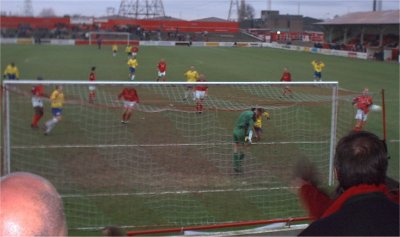 Photo: kingstonian.net
Things could have been different had one of K's first-half chances gone in, but they were sadly few and far between. A Danny Bolt free-kick was missed by all and sundry (above) as it swung not far wide of Turner's post and (uh-uh) (or perhaps not) Sean Thurgood headed weakly after Duah had flicked on a corner. Turner had no trouble keeping that one out, and apart from Ronnie Green's late effort that was it for shots on goal.

The home side, on the other hand, had several early opportunities which they wasted. But that all just confirms the fact that this was one game which the revitalised Kingstonian didn't deserve to win. If Canvey slip up then Gravesend will be ready, but on this form the league's as good as over.
Sat 15th Dec 2001
Stonebridge Road
691
Isthmian League Premier

Gravesend & N
2
Kingstonian
0

1
Lance Key
2
Eddie Duah
3
Mark Jones
4
Sean Thurgood
5
Max Hustwick
6
Bashiru Alimi
7
Dave Clarke
8
Danny Bolt
9
Greg Ball
10
Ronnie Green

15

11
Liam Collins

14

12
Billy Mead
14
Jon Leacock

11

15
David Sadler

10

Dave Clarke
Gary Ekins