Cheshunt 1-5 Kingstonian
The Big Win
In their two previous games, Kingstonian showed enormous promise which was wasted when they collapsed defensively to lose a two goal lead on both occasions. Today the promise was fulfilled in emphatic fashion, as K's crossed London to face second-placed Cheshunt and recorded a resounding five-one victory. The last time Kingstonian scored so many goals in a league game was just a fortnight shy of two years ago, when four Tim Sills strikes helped K's beat Chesham United by the same scoreline.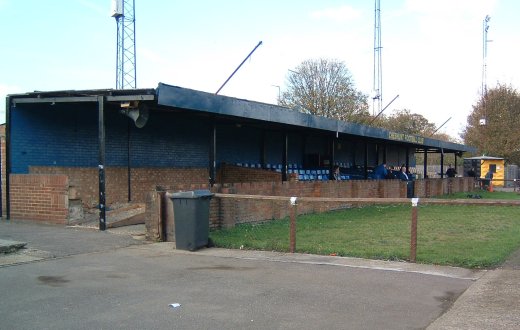 Photo: kingstonian.net
K's made four changes of personnel to the side that lost to Hendon a week previously, as Frazer Muscat, Danny Collyer, Phil Ruggles and Mark Zawadski replaced Marien Ifura, James Rose, Martyn Williams and Barry Marchena. Muscat's inclusion at right-back saw Steven Sanders move to left back and Ahmet Rifat return to his natural position of centre-back. This gave the defence a much more balanced look, with everybody playing in their favoured position. Zawadski, a loan signing from Basingstoke Town replaced Marchena in goal, while Danny Collyer slotted into midfield, leaving Ruggles on his own up front.

The new look line-up could hardly have wished for a better start, as two minutes into the game K's stunned Cheshunt by scoring a goal out of seemingly nothing. A throw-in from the left caught the North London outfit asleep and ran through to Giles Coke, who on the edge of the penalty box smashed the ball into the top corner past bemused goalkeeper Russell Ling.

The Kingstonian defence was looking much more confident than in previous weeks. Richard Taylor looked accomplished, and on six minutes prevented Steve Wales from testing Zawadski when he made a superb tackle after the Cheshunt midfielder found some space in the penalty box. It was no better though than a challenge at the other end two minutes later by Ryan Harris, denying Ruggles the chance to shoot after an excellent slide rule pass by Rifat.

The tall figure of Zawadski quickly proved himself a commanding custodian of the K's penalty box, plucking crosses out of the sky with ease and confidently distributing the ball well up the field. The Kingstonian defence seemed to quickly build confidence in their new teammate which helped them to settle.

Then in the twelfth minute Kingstonian doubled their advantage. Coke's shot was charged down, but fell to Martyn Lee and before Ling could even move the midfielder had smashed the ball into the top corner from no less than 25 yards with the outside of his left foot.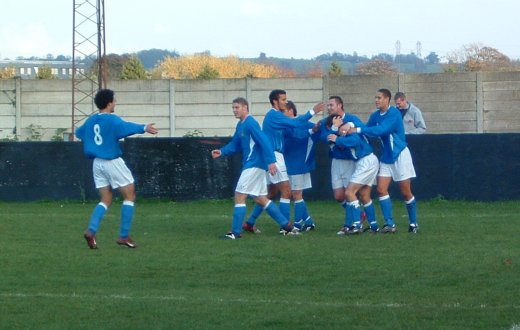 Photo: kingstonian.net
A Cheshunt corner yielded much confusion in the Kingstonian box, but Steven Sanders headed clear and then two minutes later K's entered dreamland. Russell Williamson brought down Lee on the left wing and Mazin Ahmad curled in a brilliantly placed free kick. It came across midway between the goalkeeper and his defence, everybody in an Amber shirt left it, and Ahmet Rifat charged through the gap to head past Ling and put Kingstonian three-nil ahead.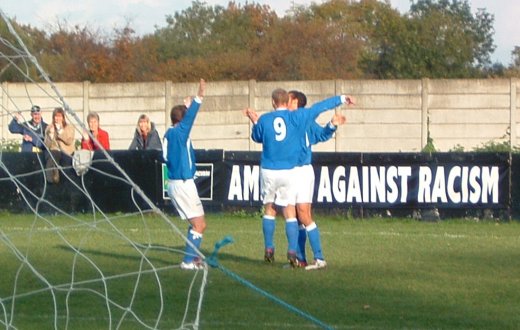 Photo: kingstonian.net
It could have been four two minutes later, thanks to some superb work by Lee. A fantastic run down the left looked like it would all be in vain as he was unsupported - however, he delayed his cross until Ahmad arrived at the far post, and then picked the tricky winger out with an inch-perfect ball which required an excellent block from Steve Magona to deflect Ahmad's powerful volley for a corner.

In the twenty-fifth minute though, Cheshunt found themselves back in the game in debatable circumstances. The pacy Leon Archer got in behind Sanders on the left, dribbled along the by-line but before he could cross Taylor got across and made seemingly a regulation block tackle. The linesman signalled for a penalty, and after much protest and confusion Steve Wales sent Zawadski the wrong way and brought the score back to 3-1.

This led to the only period of the game where K's looked somewhat wobbly. Their attacking flair seemed to be sapped as they were set on the back foot. Cheshunt wasted a glorious chance as Archer got in behind the defence again and squared for Michael Black who flicked the ball across to Chris Watters at the far post. His shot from inside the penalty area, albeit from an awkward angle, was hit with tremendous power but fortunately for the visiting side straight at Zawadski.

After this let off though K's were back on the offensive. Good work by Ruggles set up Sanders to cross. Steve Obeng just beat Ruggles to the ball, but allowed it to bounce off his thigh and Ling reacted well to prevent an own goal. The half looked like petering out as the game became a little scrappy, including a yellow card to Scott Steele for a late tackle, but deep into stoppage time it was brought back to life by a moment of individual brilliance.

Mazin Ahmad picked up the ball just inside his own half and confidently set off towards the goal. He beat three defenders with his mazy run and shot from the edge of the box. Harris covered plenty of ground and did well to slide in and get a foot to the ball, however he only succeeded in deflecting the ball past an already-committed Ling and sending K's into the break with a 4-1 advantage. The goal, a visibly delighted Ahmad's first for the club, was no less than he deserved after a series of excellent recent performances.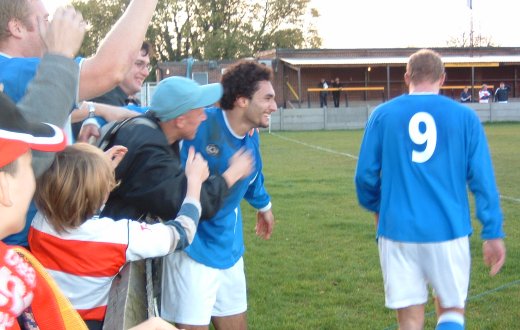 Photo: kingstonian.net
Cheshunt were out early for the second half, after what one can only assume was a short but decidedly unsweet team-talk by Manager Andy Leese. They certainly started like a team on a mission, winning a corner almost immediately after the restart which K's cleared at the second attempt after Coke's initial header went up rather than forward.

Shortly afterwards a deep cross from Black picked out Watters who headed across goal and an unmarked Archer only headed narrowly wide from close range. Had he hit the target though the goal would not have counted as Watters was adjudged to have fouled Muscat.

Cheshunt became frustrated as Kingstonian avoided the panic that had characterised their two previous second halves and Zawadski was kept largely unbusy. Henry Haastrup was booked for a dive over Coke, which led to some silly pushing and shoving between the two sides. Ling made a good low save from a Taylor header, and then more pushing came after Coke picked up a rather harsh yellow card for what appeared to be a good tackle.

Haastrup may well have walked on 63 minutes after felling Steele from behind, but Referee P. Martin overlooked the discrepancy. K's were not rattled though and concentrated on consolidating their advantage. The defence was mostly able to deal with Cheshunt's offence, and when they weren't the midfield did their bit to help out - such as when Steele put Watters' accurate deep cross out for a corner before Archer could fire home.

Twenty minutes from time Kingstonian finally sealed the game. A superb long header by Giles Coke was well held up by Ruggles. He flicked the ball in behind the defence, where Coke sprinted onto it and slotted past the advancing Ling to cap a splendid move. Once again the jubilation of the players was obvious as they descended on the corner flag en masse and celebrated their imminent victory.

K's never really threatened again apart from a half-hearted shout for a penalty after Matt Pattison, off the bench to return after an injury layoff, was felled in the box. Cheshunt had two good chances in the last ten minutes, but Black fired wide when through on goal, and Rifat made a splendid sliding challenge on Haastrup when Zawadski's miscontrol of a backpass presented the Cheshunt substitute with an open goal.

The referee, obviously enjoying the mild weather and K's football so much that he wanted the game to go on all day, played so much injury time that the clocks almost needed changing by the time he was finished. It made little impact upon the score though as eventually the final whistle signalled K's biggest win for over a year.

It was a superb victory for Kingstonian, but while the league table would indicate it to be a massive shock, recent performances really would not. Were it not for individual mistakes and collective disorganisation in the defence, either Staines or Hendon could have been the victim of this sort of a scoreline. Finally, everything came together for Kingstonian and this young side performed to its true potential.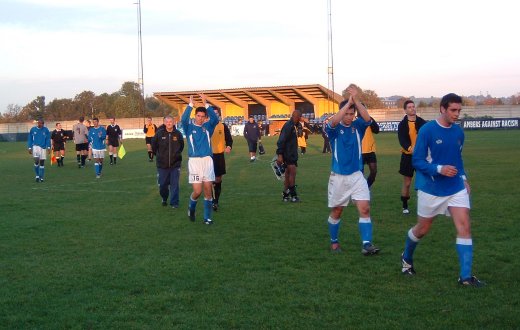 Photo: kingstonian.net
The new goalkeeper looks good, the defence was much improved, and the addition of Collyer in a holding midfield role greatly improved the side's balance. Replacing a striker with a defensive midfielder may on the face of it seem like a negative move. On the contrary, however, Collyer's inclusion gave the other four midfielders, so impressive going forward in recent weeks, much greater license to show their attacking skills.

Ruggles held the ball up well and was vital to K's performance, Steele, Ahmed, Coke and Lee were all once again superb and are becoming an intimidating quartet of skilful attack-minded players, Taylor was a rock at the back, Muscat had a good return to the side and Sanders and Collyer seem to be settling in well. Ahmet Rifat, returning to his natural position of centre-half looked a class act. This was the last game of his one-month loan deal from Premiership contenders Reading, and Kingstonian will certainly be hoping to extend the deal.

This was a superb day for Kingstonian FC, and all at the club will be hoping it proves to be a springboard for an improvement in form. The roar from the dressing room as K's celebrated their victory was a joy to hear, and the team spirit at the club seems to be much better than it was last season. If Cheshunt were not a good side then they would not be second in the league - today however, K's made them look decidedly average. After winning five-one away to the second-paced side there is no need for K's to fear anyone in the division. Now the challenge is to turn in results like this consistently and move up the league table.
Sat 30th Oct 2004
Theobalds Lane
219
Isthmian League Premier

Cheshunt
1
Kingstonian
5
Coke G (2), Lee, Rifat, Ahmad

1
Mark Zawadski
2
Frazer Muscat
3
Steven Sanders
4
Richard Taylor
5
Ahmet Rifat
6
Giles Coke

16

7
Daniel Collyer
8
Mazin Ahmad
9
Phil Ruggles

15

10
Martyn Lee
11
Scott Steele

12

12
James Rose

11

14
Jonathan Coke
15
Marien Ifura

9

16
Matt Pattison

6

17
Ahmed Tchankou
Simon Grier