Bashley 3-2 Kingstonian
K'S BLOWN OVER IN THE FOREST
It is often said in sport that it is hard to reach your goal but harder still to stay there. Kingstonian seem to be finding this with the Ryman League Playoff spots, as having charged into the top six from as low as nineteenth in remarkable time, their form has since stagnated and a poor display at Bashley has left their playoff berth looking as precarious as ever.

The blame lay squarely at the door of the defence, as The Bash had too many free headers throughout the game and two of their three goals came from set pieces. A Kenny Ojukwa brace was not enough for K's as they sunk to a 3-2 defeat in the New Forest.

Despite an early scare when Mark Preston took the ball past Richard Taylor only to blaze the ball over, it was K's who made the better start, taking the lead on eight minutes. A long throw from Taylor held up in the extreme wind and James Rose headed it high and goalwards. Giant goalkeeper David Elm was at full stretch to tip it onto the crossbar (below) but it rebounded kindly for Kenny Ojukwa who volleyed home from close range between two men on the line.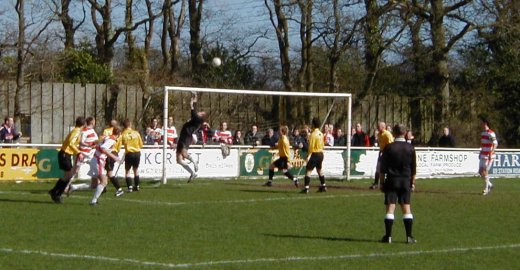 Photo: Phil Davies
Both sides struggled to control the ball in the wind and somewhat errantly played the ball in the air more than on the ground. Zeke Rink fired over for Bashley and a Geoff Pitcher corner crashed into the stanchion at the near post but there was little to suggest that K's 1-0 lead would be threatened.

This illusion was shattered midway through the half though when the K's defence fell asleep asking for an offside call that never came, Alan Hughes was beaten by a near post shot and the ball rebounded to Danny Gibbons. The striker made no mistake, placing the ball into the unguarded net to level the scores.

The sides continued to struggle with the elements though until shortly before the interval. On 41 minutes Steve Potterill headed a cross away only as far as Steve Riley, only for the Bashley man to volley wide. It mattered little though as two minutes later the home side did take the lead. Captain Paul Gazzard was unmarked at the near post from a corner and powered a header past Hughes. K's had a chance to pull level in injury time when good work by Bashiru Alimi teed up Pitcher but the midfielder's drive was blocked by Neil Morant.

After the break a superb intervention by Scott Corbett was required to deny Andy Culliford a shot on goal and then on 53 minutes K's got themselves right back into the game. K's had a free kick on the right after Riley had felled Corbett and Alimi curled it into the box. Rose flicked it on and Elm found himself out of position (below) allowing Kenny Ojukwa to head home and level the scores.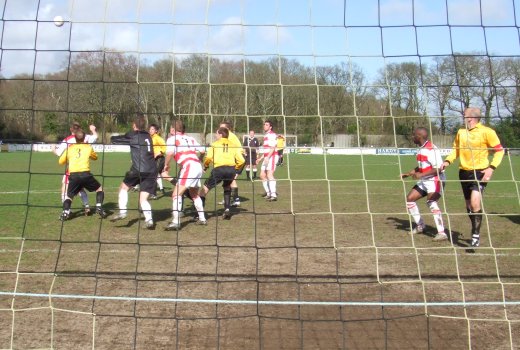 Photo: kingstonian.net
The parity would last just eight minutes though before K's were undone by another set piece. A corner was headed across goal to Morant who had a free header from just a few yards out. Julian Sills did well to clear his effort off the line but Kingstonian were unable to get the ball away from danger and Gazzard drove it home for his second of the game.

Taylor had a header saved and late on Rose and Alimi both tried their luck from distance but an equaliser never truly looked on the cards. Defensively, Bashley continued to cause problems, mostly with free headers from set pieces, though luckily for K's the home side seemed to have lost their range, Matt Parnell coming closest.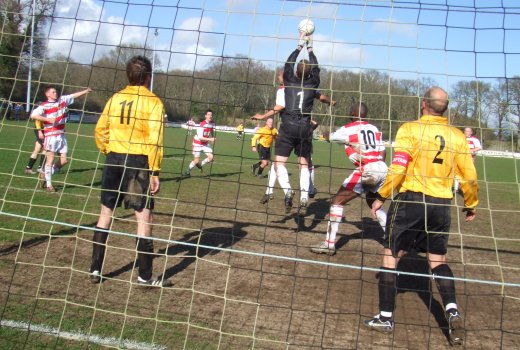 Photo: kingstonian.net
It was a disappointing display from K's and they now have to fend off a number of resurgent challengers just below, one of whom are now Bashley. With five games left to go, two of them away to rivals for the playoff spots, K's simply have to do better than they did today if they are to have a shot at promotion.
Sat 1st Apr 2006
Recreation Ground
212
Isthmian League Division One

Bashley
3
Kingstonian
2
Ojukwa (2)

1
Alan Hughes
2
Steve Potterill
3
Jon Coke
4
Danny Ward
5
Julian Sills
6
Richard Taylor
7
Scott Corbett

12

8
Bashiru Alimi
9
James Rose
10
Kenny Ojukwa
11
Geoff Pitcher

15

12
Stuart Booth

7

14
Tony Reid
15
Charley Side

11

16
Paul Wetherall
17
Jonty Venter
Simon Grier