Kingstonian 3-1 Whyteleafe
TAKING A LEAFE OUT OF KENNY'S BOOK
The last few weeks have seen no small degree of mystery surrounding the way that Kingstonian's performances are regularly so dreadful in the first half of games only to dramatically improve in the second. The pattern continued once more, with K's recovering from a goal down at the break to beat Whyteleafe 3-1, but for once there was no question mark over what had inspired the turnaround.

Prior to the 55th minute introduction of Kenny Ojukwa, K's had been lacking in imagination and had only rarely tested the 'Leafe defence. Ojukwa made an immediate impact though, turning K's into the rampant attacking force they have been after the break in their recent encounters with Cray and Lymington. Whyteleafe were unable to deal with his dribbling skills, finishing, strength or his incisive running as he changed the entire character of the game. Just 25 minutes after his introduction, he had a goal and an assist under his belt as well as having won a penalty and had another goal disallowed.

Before Ojukwa's introduction, Whyteleafe had been in something of a comfort zone for most of the game. K's first half attacks did little to test goalkeeper James Wastell; a Julian Sills header was easily saved, while James Rose headed wide and Mazin Ahmad missed the target with a free kick.

Photo: kingstonian.net
The only golden opportunity that K's created was in the form of a fifteenth minute penalty. After a strong run down the left from Martyn Lee, Rose would have had a simple finished from six yards out had he not been barged in the back by Danny Oakins. Referee Andy Legg pointed to the spot, but Lee's penalty was too close to Wastell who saved low to his right.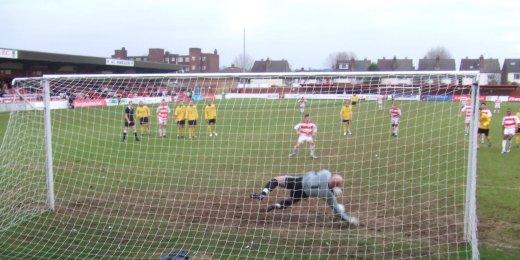 Photo: kingstonian.net
At the other end, K's goalkeeper Richard Martin was receiving a far more vigorous workout. Early on, he tipped a Lee Sidwell longshot wide for a corner and stopped a powerful Jason Goodchild header. It was in the thirty-third minute that Whyteleafe took a fully deserved lead. An Ahmad foul on the left wing gave them a free kick, from which Kevin George rose totally unmarked to score a header that was embarrassingly easy. 'Leafe looked like doubling their advantage before the interval, as first Martin spilled a twenty-yarder from George before the ball was eventually scrambled out of play and then he made a good save from a Sidwell drive.

The start of the second half showed little sign of improvement for K's. Their attacking play centred on long balls that were comfortably dealt with, passes went astray, runs were curtailed and it was difficult to see where a goal was going to come from.

Following Ojukwa's introduction though, it took him just six minutes to make an impact. A strong run down the left by Lee took him to the by-line, where his high cross took a slight deflection. It went over Wastell's head and Ojukwa was in the right place to head it into the open net. Unfortunately for K's the goal was disallowed - the linesman deciding that Lee's cross had curled out of play - but just four minutes later Ojukwa orchestrated the equaliser.

A strong run from outside the box took him past three defenders but as he prepared to shoot he was felled from behind to give K's their second penalty of the game. This time it was Ahmad who stepped forward and he sent Wastell the wrong way to level the scores.

From this point on K's were utterly dominant, displaying the sort of form and flair that has seen only Conference outfit Canvey Island beat them in the last eight weeks. A low cross from Tony Reid picked out Lee at the far post and his angled effort deflected only narrowly wide of the target. Ojukwa cut the 'Leafe defence apart with another fine run before chipping over the bar and then fifteen minutes from time K's took the lead.

Reid flicked on a long ball which defender Dean Hamlin got to, only to be outmuscled and lose the ball to Ojukwa. The strength and pace of the K's striker took him in on goal and he calmly waited for Wastell to commit before dinking the ball over his outstretched leg and into the net.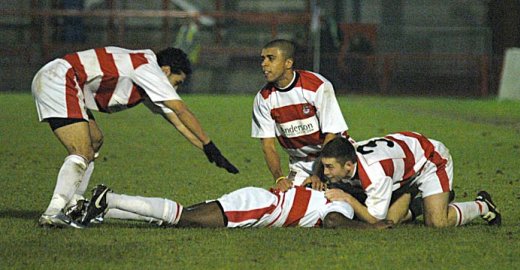 Photo: Neil Harvey
Three minutes later Ojukwa capped his fantastic display by wrapping the game up for Kingstonian. He robbed Hamlin in a dangerous position near the corner of the penalty box and took the ball round the outrushing Wastell. He found himself on the by-line but support arrived in the form of Reid. Reid stooped to meet his low cross, heading the ball past the defender on the line and beating the despairing lunge of the recovering goalkeeper. Whyteleafe's protests that the ball had not crossed the line fell on deaf ears and there was to be no recovery for the visitors.

The last ten minutes were something of a formality, with Whyteleafe putting Martin under some degree of pressure without creating clear chances and an over-exuberant Ojukwa firing spectacularly over for K's. Martin was named Triumph Trophies Man of the Match after a strong performance as K's held on for only their third home league win of the season. However, it was Ojukwa who had turned the match around with a fine display of attacking football, while Sills also had a great game and was impeccable at the back. Against the more testing opponents coming up however, K's will need to perform for the whole ninety minutes if their good run is to continue.
Mon 2nd Jan 2006
Kingsmeadow Stadium
329
Isthmian League Division One

Kingstonian
3
Ahmad (pen), Ojukwa, Reid
Whyteleafe
1

1
Richard Martin
2
Paul Wetherall
3
Steve Symes
4
Tommy Moorhouse

12

5
Julian Sills
6
Richard Taylor
7
Mazin Ahmad
8
Bashiru Alimi
9
Tony Reid
10
James Rose

15

11
Martyn Lee

14

12
Jonathan Coke

4

14
Michael Brady

11

15
Kenny Ojukwa

10

16
Tommy Cass
17
Mark Torcaso
Simon Grier