Kingstonian 2-1 Ashford Town
MORRIS GOAL SENDS K'S DANCING
Starting their season against last term's bogey team Ashford Town would hardly have been an appetising prospect for K's. Much to the relief of the home fans though, they managed a 2-1 victory thanks to a battling performance with ten men as well as a large slice of luck.

Despite struggling in the league last year, Ashford twice proved to be an eventually very costly thorn in K's side. A 2-1 defeat in Kent was the start of an awful run of form for K's that saw them plunge to 19th in the league, while a 4-2 defeat at Kingsmeadow ended the three month unbeaten run that reinvigorated Kingstonian's season afterwards.

When new goalkeeper Luke Garrard was sent off midway through the first half, it was therefore unsurprising that the home fans feared more of the same. A resilient K's side rallied though, showing the sort of mental toughness that will be needed over a long league campaign.

K's were close to having a full strength side, with only the suspended Julian Sills and Tommy Moorhouse unavailable. Aliy Kyezu and Daniel Morris debuted alongside Garrard, while former players Scott Smith and Dean Lodge were both back in K's shirts along with six of last year's squad.

Opening-night nerves saw a cagey first twenty minutes before the game sprung to life in an action packed period. The first chance came as Richard Taylor launched a trademark throw into the Ashford Town box which visiting skipper Stuart Playford miscontrolled into the bottom corner. However, referee James Evaney, who generally had a good game despite being a touch fussy, correctly ruled it out for a push by Scott Corbett.

George Fenwick had a shot at an empty net for Ashford after Garrard sliced a clearance to him, but from thirty-five yards he could not hit the target. Generally, K's were well on top at this point though and the chances began to flow. Lodge played the pacy Morris in on goal only for Simon Overland to save well with his legs and then a minute later Morris had a shot deflected over after a Lodge free kick created a goalmouth scramble.

Ten minutes before the interval the game changed though. A through ball split the K's defence open and Garrard charged off his line to save well from ex-Folkestone man Simon Glover. Unfortunately for K's, Garrard had overstepped the edge of his penalty area, leaving the referee little choice but to send him off for handball. James Rose was sacrificed for substitute goalkeeper Stephen Windegaard, who saved well from the resulting free kick.

With only Morris on his own up front K's found chances more difficult to create, but two minutes from time they fashioned a goal out of nothing. A superb diagonal long ball from Smith landed behind the Ashford defence and Morris' speed helped him get to it first. He turned neatly while holding off Tom Adlington before slotting the ball underneath the goalkeeper to put K's a goal up. It was a fine finish to mark a promising debut for the ex-West Ham youngster.

Unsurprisingly, the eleven visitors had the best of the game after the break and had a number of good chances, the best of which saw a left-foot drive from Richard Sinden cannon out off the post. Ashford were causing K's problems with the same fast-flowing, counter-attacking football that saw them take six points off of the Surrey side last season.

On 62 minutes K's had another disallowed goal as Corbett channelled the spirit of Diego Maradona by running past half the Ashford team, rounding the 'keeper and scoring the goal of the century punching Lodge's free kick into the net. The referee was unamused though and two minutes later the scores were level when the K's defence was split apart again and Sinden emphatically powered the ball past Windegaard.

K's recovered well from this setback though and immediately showed more attacking purpose. Kenny Jarrett-Elliot backheaded a Lodge free kick onto his own crossbar before fourteen minutes from time another K's set piece saw them seal the points.

A Taylor throw again caused the damage as it cleared Corbett and substitute Damian Panter to arrive at the feet of Lodge. Overland did well to save the winger's first time shot from eight yards out, only to see the ball rebound off the shin of a probably unknowing Corbett and trickle into the net. It was exactly the sort of luck that K's needed although arguably a just reward for a positive approach with ten men.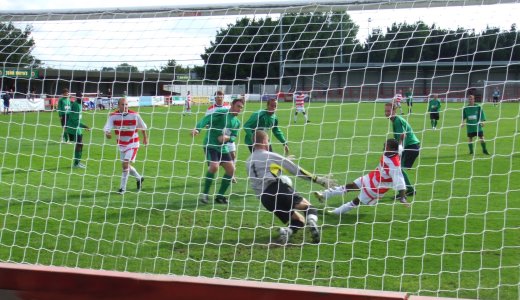 Photo: kingstonian.net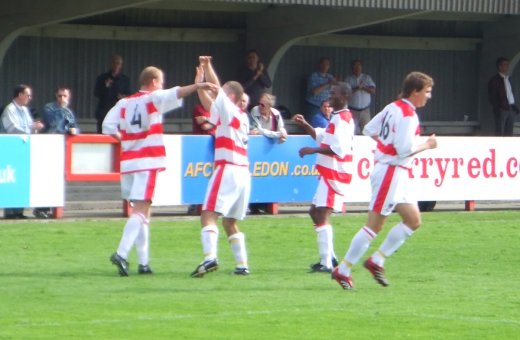 Photo: kingstonian.net
Five minutes from time the visitors should have equalised, after Windegaard failed to get to a cross that was headed down to Sinden. With the K's net at his mercy though, the goalscorer failed to hit the target again, blasting the ball over as he perhaps tried for too much power in order to beat Steve Potterill on the line. Nonetheless it was a huge let off for a fortunate K's.

Marc Cumberbatch fired over from 25 yards in injury time and soon the whistle blew to give K's just the start they needed. It was hardly a convincing win but with ten men it was a decent performance. K's might have ridden their luck a touch but they have started with an important three points (for the first time in four years) which should give them a confidence boost going in to two difficult away games this week.
Sat 19th Aug 2006
Kingsmeadow Stadium
305
Isthmian League Division One South

Kingstonian
2
Morris, Corbett
Ashford Town
1

1
Luke Garrard
2
Scott Smith
3
Steve Symes
4
Scott Corbett
5
Michael Brady

14

6
Richard Taylor
7
Dean Lodge
8
Aliy Kyezu
9
James Rose

17

10
Daniel Morris

16

11
Martyn Lee
12
Tony Reid
14
Steve Potterill

5

15
Jon Coke
16
Damian Panter

10

17
Stephen Windegaard

9

Simon Grier