Walton & Hersham 0-0 Kingstonian

Kingstonian's impressive start to the season has been based around fast-paced, attacking football with some excellent passing. Going into the top-of-the-table clash at Stompond Road, K's were averaging three goals a game. However, while such a style of play might be adequate in the summer sun on early season pitches, it will not, alone, lead K's to league victory.

Football at this level - or indeed, any level - is not always won by the team that plays the most exciting football. On the boggy pitches of mid-winter, against physical opponents and while enduring inclement weather, K's will need a whole different set of skills on top of the pace, sharp shooting and neat passing that blew away the likes of Sittingbourne and Whyteleafe on fine summers days. K's will need to be able to scrap.

And while this side has demonstrated an abundance of the former, this game was the first time they had to demonstrate the latter. Coming away with a very credible goalless draw away to the league leaders, K's came through the test with flying colours.

To call the game one of few chances would be a gross understatement. Jamie Beer missed a good early chance for K's and Luke Garrard made a stunning save from a Matt Elverson header, but apart from those good chances - one each - the team were limited to a series of half-chances with either rolled comfortably to the goalkeepers or missed the target entirely.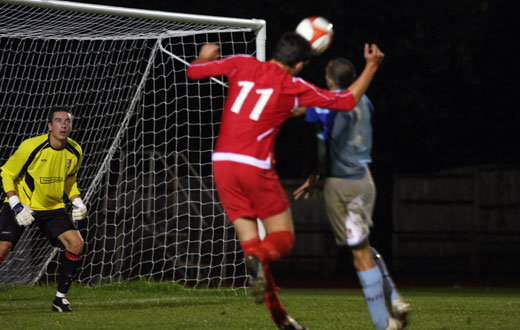 Photo: Chris Hatton - Kingstonian FC
The game was largely played in the middle third. Walton's centre-halves did what no other team have done this year in repelling K's offence, but Max Hustwick and Wayne Finnie were equally capable in keeping the hosts at bay. With the largest crowd in the division so far in the season surrounding the Walton athletics track, it was a shame that they were not treated to a more entertaining spectacle.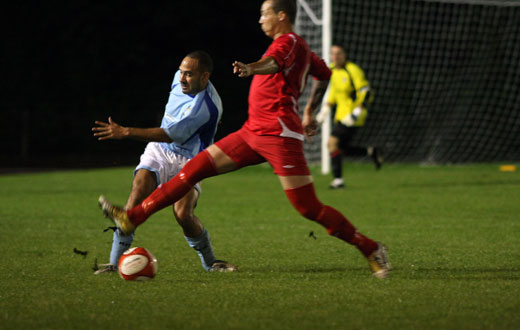 Photo: Chris Hatton - Kingstonian FC
The game certainly had moments of being physical, with some tough tackling by both teams and Beer being booked for a particularly late challenge. K's were more than up for the challenge though and lasted the pace physically, despite some players struggling with injuries and the whole team enjoying one day's less rest than Walton going in.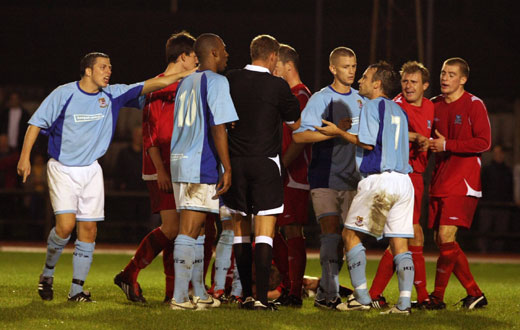 Photo: Chris Hatton - Kingstonian FC
If the game was going to be won by one team or the other it would probably have come from a set piece - and there were plenty. Only a corner from which Elverson had his header saved produced a really good chance though and 0-0 was almost inevitable as a result.

Kingstonian might not have blown Walton's defence away as they have everybody else's this season - but thinking about the long haul of a tough season, it was a very encouraging performance nonetheless.