Kingstonian 1-6 Aveley
MILLERS TELL A SORRY TALE FOR K'S
A Dean Lodge first half goal was the high point as once again fans were treated to another score fest.

With eight on Monday and four the previous Saturday, seven more with Aveley saw Kingstonian's return to the Ryman Premier sink further into despondency with a comprehensive defeat against the promoted Essex side.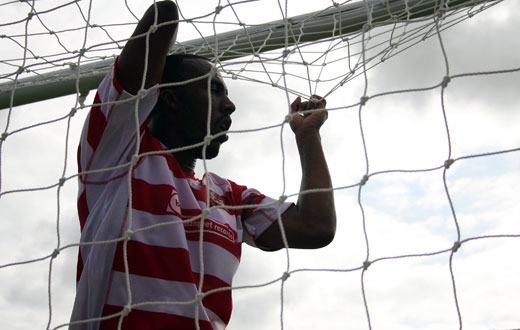 Photo: Chris Hatton - Kingstonian FC
Lodge's strike came with two goals conceded as once again the visitors pushed forward. A long cross-field clearance by NJ Lampton found Lodge after Michael Alaile made a poor attempt to cut the ball out. On the left Lodge controlled the ball and curved it past a diving Jamie Lunan.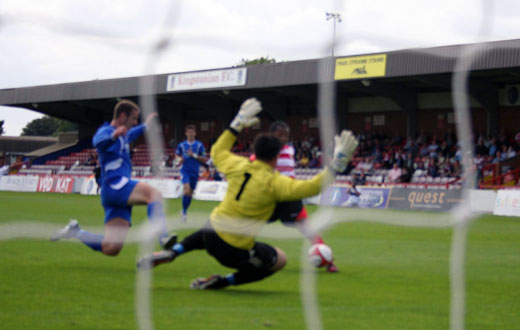 Photo: Chris Hatton - Kingstonian FC
In spite of the score line, the game was slow to start after the minute's silence in honour of two players' families and it was not until the 10th minute that the first chances started. When Sherwin Stanley was flagged offside, Ks responded with Lodge carving out a chance only for Carl Wilson-Denis to be slightly too late to react to the floating cross in from the left. His header went over the bar.

A defensive error from Richard Ketchell saw Lunan having to head the ball away with Ian Pearce pushing up. Then it was Simon Huckle who, turning, shot wide of the far post.

Soaking up the pressure Aveley then applied it themselves with Junior Dadson finding Mitch Hahn 30 yards out. He went around the defence and then shot in to the far post.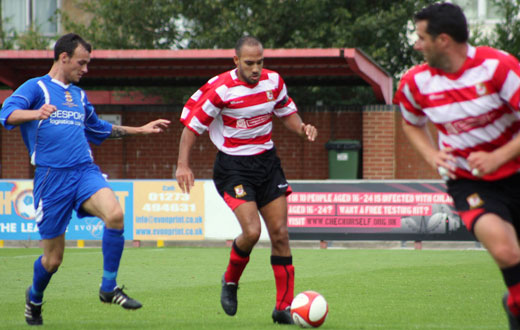 Photo: Chris Hatton - Kingstonian FC
Minutes later it was two as Martin Tuohy took two shots after Luke Garrard parried his first attempt back to him. Goalscorer Hahn found Matt Johnson on the right who passed it in to Tuohy.

Within minutes the home side clawed a goal back from Lodge and nearly had a second chance after Traynor fell victim to a rough challenge from Nicky Symons. However Lampton's free kick went over the bar.

The game then settled down momentarily before the Millers launched another attack with the first half starting to wind down. Hahn crossed past a flat defence to Tuohy. A simple lob over the encroaching and exposed Garrard saw a third goal.

Within a minute Lodge then shot a free kick over the bar and in injury time his cross in from the right saw Huckle head wide.

The second half saw a double substitution with Lewis Cook and Tommy Williams coming on for Steve Tyson and Wilson-Denis. Almost immediately Cook nearly scored when his in-swinging shot was headed over the bar by Ketchell. In-between that Dadson had had a shot go over.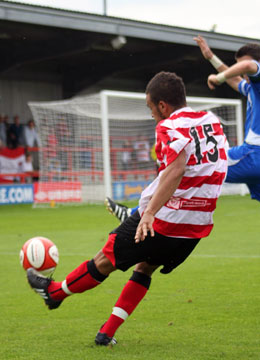 Photo: Chris Hatton - Kingstonian FC
The second half was starting not as the first half had and it was Symons who was denied when his header at the other end from a corner went straight to a grateful Garrard. Thompson was then the villain as he failed to control a loose ball and Stanley could only see his shot go over.

At the other end Williams found Traynor, now playing up front, but Lunan had an easy save as he smothered the ball on the ground. At the other end Aveley made it four when Ketchell shot in from poor defending. A fifth then followed with a Symons header from a Stanley free kick.

It was to another 14 minutes before the final goal went in with Ks trying to regroup. It also saw Pearce being booked for lashing out after being tackled. Tuohy's hat-trick came in the 71st minute when Hahn passed up the left to Stanley. Stanley then found Tuohy alone and he shot over Garrard.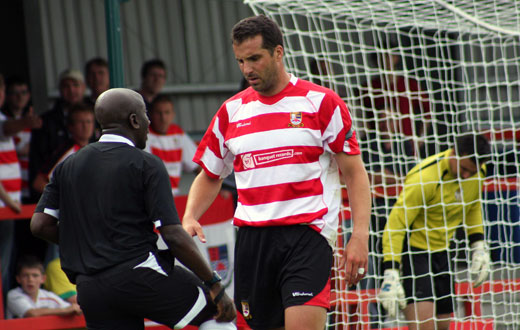 Photo: Chris Hatton - Kingstonian FC
Thompson was taken off and Francis Duku bought on. He was soon in the thick of it when he was rounded by Piers Wixon, himself just on, and then Wixon shot only to be denied by the far post.

At the other end Lunan punched away a cross by Lodge. Williams' free kick then was headed by Duku but Lunan saved easily. The game then ended with Sam Lechmere mis-kicking a shot, a cross at the other end by Lodge failing to find Traynor and Traynor then finding Williams who shot over the top of the bar.