Monday 30th June 2003
The K's Trust AGM
Letters have been sent to all members of The K's Trust inviting them to the inaugural Annual General Meeting to be held at Kingsmeadow Stadium on Monday 7th July 2003. The meeting will begin at 7.30pm and is open to all current members of the trust.

The results of the elections will be announced by the Returning Officer, with members of the Working Group reporting on their activities.
Sunday 29th June 2003
News from the manager
A couple items of interest from Kim Harris:
After his appearance in the Sheffield Masters on Sky Sports earlier today, Lance Key has confirmed that he will be resuming training on Tuesday. Julian Sills has also confirmed that he will return at the same time.
Scott Smith - fresh from his time at the Confederations Cup in France - has agreed terms with the club for the new season.
The K's Trust bar-be-que
The K's Trust will be holding a bar-be-que at the Old Cranleighans Club [where's that then?] on Sunday 20th July. There will be Target Golf hosted by Scott Steele, a Penalty Shoot-out overseen by Trevor Jones, a disco and other attractions that will be confirmed shortly.

Anybody who would like to offer their help is asked to contact the trust by email [info@thekstrust.org] or to get in touch at the forthcoming AGM.
Gold Bond results - week 26
Week 26 27/06/03
5000 P.5897 E Stannett

500 RR5560 F A Duddridge

200 J.6500 Mr & Mrs Rodway
200 S.6667 Mrs Morgan

100 F.3835 G Wiseman
100 N.5136 Mrs Stockdale
100 JJ0496 D Johnson
100 Y.5541 J Mott
100 L.2838 M Weaver
100 D.5934 Mr Forrest
100 NN3493 Mr Bee

50 AA6809 Mrs Abbott
50 LL3883 R Tarvet
50 E.2289 M Holland
50 F.5753 F & S Spence
50 S.6257 Mrs Birley
50 HH2794 A Duffy
50 TT1658 C Topping

Plus 35 x 25 Winners and over 350
Consolations of 5, 10 & 20.
Membership costs only 1 per week.
Promoter G. Warburton. Reg with the Gaming Board.
Friday 27th June 2003
Kingstonian v Southend United
The club are pleased to announce that Southend United will travel to Kingsmeadow on Thursday 24th July for a pre-season friendly, kick-off 7.45pm.
Walton and Hersham friendly
The friendly at Walton and Hersham on Saturday 9th August will see a bar-be-que and disco after the football. Tickets and more details will be available shortly, with the proceeds being split between Walton and The K's Trust.
Ryman League statement on restructuring
The following is a news release from the Ryman League:

The Board of Directors of the Ryman Football League met yesterday, Monday, to consider the decisions taken by the FA Council at its meeting held on 21st June 2003.

The Board deeply regret the decision taken by the Council to approve the recommendations to implement a 1-2-3-4 structure for season 2004-2005 and to invite the Southern Football League to administer 2 of the "Step 4" leagues.

It is felt that the decision taken was unfair and that the member clubs of the League have not been treated with proportionality compared to member clubs of other competitions. It is also felt that the structure approved is not in the best interests of the game as a whole and therefore the Board intend to seek legal advice on the merits of a challenge to this decision.

No further comment will be issued by the League Board until that legal advice has been received.

The League will continue to contribute to the Working Party of the Alliance leagues to ensure that the interests of all member clubs are considered in the event that the structure approved by the Council does come to fruition.
Wednesday 25th June 2003
AFCW: Signed at last!
From afcwimbledon.co.uk:

Signed at last!

AFCW Stadium Ltd today finally exchanged contracts on Kingsmeadow.

Although it has taken just over three weeks longer than we hoped, we finally have an agreement which provides a great deal for AFC Wimbledon without jeopardising our financial future.

Further details will be released on Thursday this week, when we launch the major fundraising campaign which has been planned by TBWA and Cohn & Wolfe over recent months.

On Thursday evening, we are holding a "make a stand" party, where all AFC Wimbledon supporters, Dons Trust members and all of our friends can celebrate having control of our own stadium at long last.

Come on down to Kingsmeadow anytime from 7 PM and make sure you bring plenty of cash.
Tuesday 24th June 2003
TWO NEW SIGNINGS ANNOUNCED
The club have released the following:

TWO NEW SIGNINGS ANNOUNCED

Kingstonian FC are delighted to announce the signing of two new players - both from Southend United. Defenders Mark Beard and Stephen Broad have put pen to paper to become manager Kim Harris' first acquisitions of the close season.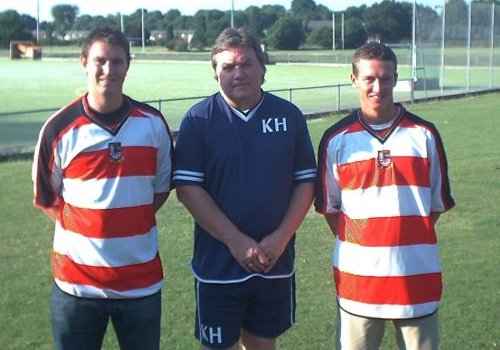 Mark previously played for K's between August 2000 and October 2001 making 44 appearances and is delighted at his return.

He said: "I had offers from a few other sides, but I spoke to Kim a few weeks ago, he told me about the squad he's got here and I feel that we can get promotion this year and get back into the Conference."

Stephen has previously spent time at Bournemouth and Chelsea, as well as Southend, and is looking forward to playing regularly after being injured for a large part of last season.

He said: "The new Southend manager never really saw me play, I decided that I didn't want to play full-time any more and so was looking around for a club. I'm a local lad from Worcester Park, and so playing here suits me down to the ground."

Kim Harris was understandably delighted at finally being able to look forward to the new season, with more signings likely in the coming weeks.

He said: "I've had these two on the boil for three weeks now, and they've decided to come to us rather than join a Conference side which is great. We're very close to signing a forward and there are loads of other players around at the moment, so we're doing fine."

K's kick off their pre-season programme with a home match versus AFC Wimbledon at Kingsmeadow on Wednesday 16th July, with the Ryman League season beginning one month later.
Interviews with the new signings and Kim Harris
You can listen to interviews with both of the new signings, as well as manager Kim Harris, by going to the audio page.
Bryco League Cup draw
The draw has been made for the first two rounds of next season's Bryco League Cup and K's face either Leatherhead or Croydon Athletic at home in the Second Round.

The full draw is available from the Isthmian Fans site.
Monday 23rd June 2003
Kingsmeadow lease negotiations - Council statement
Kingston Council today issued the following statement in relation to their current negotiations with AFC Wimbledon and the Chairman of Kingstonian FC, for a second lease at Kingsmeadow. The statement reads:

A second lease exists at Kingsmeadow, relating to land adjacent to the ground. Kingston Council granted the lease to Kingstonian FC in 2001 to assist them in bringing the ground up to a standard that would meet ground requirements for higher leagues.

The Council has a clear and consistent view on Kingstonian FC and Kingsmeadow. We see Kingstonian FC as an important part of the Royal Borough's history and tradition. We want to see the Kingstonians continue to play their football at Kingsmeadow and we will use whatever influence we have to achieve this goal.

The Council will carefully scrutinise any request to assign this second lease. It would want to be satisfied that in so doing the Council would help to secure the future of Kingstonian Football Club. The Council will pursue this objective in any negotiations with the parties involved.

Kingston Council has been approached by the current owner of the lease to request the Council's terms for assignment of this second lease. Negotiations are taking place between the current owner, Mr Khosla, AFC Wimbledon and Kingston Council, and a positive outcome is anticipated which will fulfil the desire of all parties to ensure the future security of tenure of Kingstonians at Kingsmeadow.

All parties are also seeking to ensure the maintenance of the FA registration number for the club to ensure it continues to play football in the Ryman League next season.

Kingston Council, Mr Khosla and AFC Wimbledon are also united in their desire to support the growth of a successful K's Trust to the point where the fans can run their own club.

Any agreement reached between the parties would be subject to the appropriate Council approval.
AFCW: Update on Kingsmeadow purchase and share issue
From afcwimbledon.co.uk:

Update on Kingsmeadow purchase and share issue

FOR the last few weeks, we have been in detailed negotiations over the purchase of Kingsmeadow. There have been several "sticking points" that have been extremely hard to overcome and have absorbed enormous amounts of time seeking a resolution. In a meeting that ended at midnight on Friday night, we reached agreement with Mr Khosla about all of these matters and we now believe that there are only minor issues to resolve. However, the deal is not yet finalised, as both sides need to go through the small print before we can sign, hopefully on Monday or Tuesday.

We realise that there is a danger that something may yet arise that frustrates the deal but we also wanted to keep members and fans informed about the situation. Therefore, please note that there is no cause for celebration yet.

Nonetheless, given the need to maintain momentum, we have called a press conference for next Thursday to announce the deal and launch the share issue through which we aim to fund it. More details will follow as soon as the contract is signed. With the signing of the deal a matter of days away, the board of The Dons Trust has been making the final arrangements for the management of the football club and stadium, once the stadium has been acquired and the share issue launched.

As discussed at the recent open meeting of the Finance Working Group, as well as at the Special General Meeting last week, AFC Wimbledon and the new stadium will each be held in a separate company. Each of these companies will be 100% owned by a new entity, AFCW plc, in which shares will be offered for sale to the public. This new company will continue to be controlled by The Dons Trust, thereby guaranteeing the security of the club and the stadium, and the share issue has been designed to ensure that this will not change.

AFCW plc will have a board of directors made up as follows:

Kris Stewart - Chief Executive
Ivor Heller - Commercial Director
Erik Samuelson - Finance Director
Tom Adam - non-executive Dons Trust Board representative
Nigel Higgs - non-executive Dons Trust Board representative

There will also be two independent non-executive directors, and suitable candidates to fill these two positions are now being sought. The Dons Trust intends that one position will be filled by someone with extensive football experience, and the other by someone with experience of the issues involved in managing a public company of this size. This second person will chair the board of AFCW plc.

The stadium will be managed by the board of AFC Wimbledon - Kris Stewart, Ivor Heller and Erik Samuelson. Although matchday operations (stewarding, turnstiles, cash management, etc) are clearly an important part of the football club and stadium activities, the board of The Dons Trust has decided that it is not necessary to have a board-level director responsible for this area. These activities run relatively smoothly on matchdays due to the work put in by Lou Carton-Kelly and others in our first season to set up the procedures we currently use.

Lou, as Chair of The Dons Trust, will continue to play an important role at AFC Wimbledon matches, representing the Trust. Having been elected to the board of Supporters Direct, Lou will have a leading role in developing supporters' trusts around the country as well as her work for The Dons Trust.

The board of The Dons Trust has appointed Kris Stewart, Chairman of AFC Wimbledon, as Chief Executive with immediate effect on a one-year contract, at a salary of 27,500. This role recognises that the move from being a football club to running all the related activities cannot continue to be done on a voluntary basis. The appointment also acknowledges Kris's achievements in getting us to where we are from a standing start, only just over a year ago. Details of the duties and responsibilities attached to this position, as well as the objectives by which his performance will be measured at the end of this contract, will be circulated to members as soon as possible. All the other directors named above will work on a voluntary basis and receive no remuneration.

As mentioned above, we expect to finalise the deal to buy the leasehold interest at Kingsmeadow within the next few days. Please keep an eye out on this website for news of our first public event at Kingsmeadow, which we hope to be on Thursday evening, after the press launch of the share issue, where we will celebrate owning our own stadium at last.
Observer: Smith savours night off the tiles with Kiwis
From today's Observer by Conrad Leach:

Smith savours night off the tiles with Kiwis

Last month Lilian Thuram was a runner-up in the Champions League final in front of 65,000 people at Old Trafford. Scott Smith, meanwhile, was helping Kingstonian see out their last few games in the Ryman Premier League, in front of a couple of hundred supporters.

Yet despite their vastly different career trajectories, the two players' paths may cross tonight in Paris. For Thuram it may feel like a comedown, but the group match at the Stade de France is the biggest in New Zealand's football history since they reached the 1982 World Cup in Spain.

While the Juventus right-back Thuram picks up 40,000 a week playing at the Stadio delle Alpi, Smith, a full-back who spent most of last season with Woking on a weekly wage of about 250, is not sure whether to attempt a return into professional football. He would be unlikely to earn as much money as he does as a tiler.

'I wouldn't say money drives me in football,' says the affable Smith. 'I don't know what does. I'm busier as a tiler than I am as a footballer.'

Smith, 28 and an international for five years, has to find his motivation from somewhere because the New Zealand media certainly can't provide any. The police outriders for the team bus outnumber the press interested in the Kiwis by three to one this week. There were only three police outriders.

Smith did play for Rotherham for a few years in the mid-1990s and featured for the All Whites in the 1999 Confederations Cup. Having not added to his 32 caps in the current tournament he is trying to make the most of it while he can. He says: 'It's nice to see all the big stars, and what happens to them, [but] will I play against Thierry Henry today? Depends who I kick in training.' New Zealand were eliminated on Friday when they lost 3-1 to Colombia and with nothing left to play for Smith should feature today. Some of his England-based team-mates have already been on view, namely Danny Hay, who played for Leeds before a move to Walsall a year ago, Oldham's Chris Killen and David Mulligan of Barnsley.

Smith may have slipped a bit too far down the football pyramid, but the Kiwis' English coach Mick Waitt, once of Lincoln and Notts County, is trying to get more of his players signed up with European clubs to hasten their improvement.

The All Whites at least have some fond recent memories, as they reached this competition by beating their arch rivals Australia 1-0 last year. That was on Bastille Day but any revolution in New Zealand football still looks a long way off.
Sunday 22nd June 2003
Supporters' Club Quiz Night
The Supporters Club are holding their next Quiz Night this coming Friday, 27 June at 7.30pm. The cost will be 5 per person and includes a fish and chip supper.

Teams of up to 4, and all are welcome. The quiz will be held at Kingsmeadow, and all profits from the evening are being donated to The K's Trust.
Gold Bond results - week 25
Week 25 20/06/03
2000 S.1839 D Hitchings

500 W.5316 Mrs Carpenter

200 FF2360 P Murphy
200 J.5016 Mr & Mr Cheetham

100 AA0344 G Watson
100 K.1340 P Duggan
100 G.4761 Mr Power
100 U.6528 H Nickson
100 L.1589 H Frost
100 J.0161 Mrs Livesey
100 R.3172 J Blackburn

50 GG2947 M Smith
50 F.4912 B Webb
50 J.1348 S Comer
50 J.2837 A Williams
50 K.3662 A Bell
50 BB2100 G Lloyd
50 AA2182 Mrs Stewart
Monday 16th June 2003
Ryman constitution passed
The constitution of the Ryman League was this evening passed with no objections at the Annual General Meeting. This means that Kingstonian FC will definitely take their place in the Premier Division of the Ryman League for season 2003/4.

Chairman Rajesh Khosla and Club Secretary Graham Richards would like to thank all of the Kingstonian supporters for their continued support, and look forward to seeing as many faces as possible at Kingsmeadow getting behind Kim Harris and the team.

One other piece of good news from tonight's AGM is that K's won the award for being the best team of the month for October 2002.
K's Trust: Election Manifestos
The candidate manifestos for the K's Trust Board Elections are now available from thekstrust.org. Members should all now have received their ballot papers.
Sunday 15th June 2003
Loaded - for men who should know better
Kingsmeadow has found it into the pages of mens' glossy magazine Loaded. If you really need to see the photos feel free to have a look.
Gold Bond results - week 24
Week 24 results:

2000 N.3862 H Gornall

500 T.1169 J Burns

200 AB6191 D Jaggard
200 PP5839 W Hutchinson

100 G.5295 R Dale
100 Z.0508 R Collum
100 D.3326 T Mower
100 Q.4163 Mrs Liptrot
100 FF4599 P McCorriston
100 Y.3584 G Smith
100 W.3500 S Humpreys

50 Z.1026 S Hatton
50 U.6515 J Deptford
50 GG6747 G Whelan
50 U.6375 Mrs Patterson
50 QQ2150 H Fitch
50 AD6908 Mrs Reed
50 N.2660 K Wills
Thursday 12th June 2003
Pre-season friendly
The club have pleasure in confirming a pre-season friendly versus Bromley to be played on Tuesday 29th July 2003 - kick-off 7.45pm - at Hayes Lane, Bromley. The full pre-season friendly list is available via the fixtures page.
K's Trust: BOARD ELECTIONS 2003
The following is the latest K's Trust press release:

BOARD ELECTIONS 2003

The first K's Trust elections are to be contested throughout the month of June. Nine positions are available on the Society Board, which will be supplemented by between two and six co-optees, who will be decided by the elected board.

The nomination process closed earlier this week, leaving ten people standing for election. They have each submitted statements in support of their candidacy which will be sent out to members over the coming weekend. The manifestos will also be made available to the local media at that time.

The ten people standing for election are, in alphabetical order:


ATKINSON, Richard
BLEVIN, Robert
CARBERRY, Andrew
DEADMAN, Karen
EKINS, Gary
KING, Micky
MURPHY, Mark
MURRAY, Simon
WINTERS, Gary
WINTERS, Sandra
The elections are being overseen by Bees United - The Brentford Supporters' Trust - and the Returning Officer will announce the results at the inaugural AGM during the week beginning Monday 7th July 2003.

[www.thekstrust.org]
James Pinnock
It seems that James Pinnock has left the club to join Conference Gravesend and Northfleet. In his two years at the club Pinno made 61 appearances - as well as 12 as a substitute - scoring six goals. You can view his entire K's career here.
Saturday 7th June 2003
Gold Bond results - week 23
Week 23 06/06/03
2000 P.3970 G Curtis

500 C.0854 C Thompson

200 AG6711 I Grewcock
200 F.0152 M Simons

100 J.6570 Mrs Parsons
100 FF5388 P Murphy
100 DD1695 J Huggan
100 HH0876 T Leadbetter
100 B.0854 M Cassie
100 A.0109 M Hamer
100 AA4682 Mr Draper-Smith

50 AG5791 I Gough
50 C.3495 G Allen
50 X.6978 P Hannen
50 L.1042 P Baker
50 C.2723 J Wells
50 P.1489 E Almond
50 R.6266 E Steel

Plus 35 x 25 Winners and over 350
Consolations of 5, 10 & 20.
Membership costs only 1 per week.
Monday 2nd June 2003
Clacton Town pre-season friendly
The club have confirmed that K's will travel back to Clacton Town for a pre-season friendly on Saturday 2nd August, kick-off 3pm. Apparently the flying circus is still in operation and will be running and they will ensure that the bar is well stocked up.
Kingsmeadow sale
From afcwimbledon.co.uk:

Kingsmeadow deal near completion

As you are aware we were hoping to be able to take control of the stadium, and the income from it, from Sunday 01 June 2003. However, we are still finalising all the details which is taking slightly longer than expected and as such are now aiming to sign the deal later this week.
Sunday 1st June 2003
Gold Bond results - week 22
Week 22 30/05/03

CORSA CAR
G.1449 C & S McKay

500 M.5838 A Molyneux

200 L.3303 D Hamilton
200 FF4880 G Wilton

100 B.3923 Mr Crossley
100 K.5113 J Ryan
100 AA2678 G Dinsley
100 V.2538 Mrs Forshaw
100 PP6921 K Townend
100 J.1253 J Bolton
100 H.6641 A Lofthouse

50 U.1067 J Daniel
50 C.3709 S Gillett
50 W.3917 J Camm
50 ZZ6529 A Potter
50 C.2362 E Scutt
50 V.1688 Mr Wood
50 E.3698 S Scott

Plus 35 x 25 Winners and over 350
Consolations of 5, 10 & 20.
Membership costs only 1 per week.