Friday 31st July 2009
Kingstonian 0-3 West Ham Utd XI
A talented young West Ham team won this pre-season friendly by three goals to nil in front of a crowd of 810 at Kingsmeadow. Matt Fry flicked in the opening goal midway through the first half, before recent signing from Chelsea Frank Nouble scored a fine solo effort just before the half hour mark.

K's were denied at the other end by Canadian youth international goalkeeper Adam Street, denying Carl Wilson-Denis twice before a fine diving save from former Hammer Ian Pearce.

Lineup:

1) Luke Garrard (13 Josh Willis)
2) Jamie Beer (16 Rob Sheridan)
3) Ryan Lake (15 Tom Dilloway)
4) Tommy Williams (12 Jon Coke)
5) Francis Duku
6) Max Hustwick
7) NJ Lampton (17 Scott Simpson)
8) Liam Collins (14 Luke Pigden)
9) Ian Pearce (19 Reggie Savage)
10) Carl Wilson-Denis (18 Christian Jolley)
11) Lewis Cook
Alan Dowson on West Ham
The manager spoke to us after the game and you can hear what he had to say via the audio player.
Congratulations Liam!
Congratulations to Liam Collins, whose partner gave birth to a baby boy yesterday.

Manager Alan Dowson comments, "Our midfield's busier off the field than it is on it! Liam's a great lad and he'll have his own football team at this rate!"
Tuesday 28th July 2009
Kingstonian v West Ham XI
This Friday sees a team from Premier League West Ham travel across London for Kingstonian's final home pre-season friendly. Making a welcome return to Kingsmeadow will be Hammers coach Jerome John, who was part of the K's championship winning team of 1997/98.

Team news for Kingstonian sees former Premier League winner Ian Pearce lined up to make his second appearance, against his former club for whom he played 151 matches between 1997-2004, whilst top scorer Bobby Traynor, midfielder Simon Huckle and defender Wayne Finnie are all away.

The West Ham XI squad is expected over the next couple of days, though a few names have already been confirmed. Scottish international Nigel Quashie is expected to captain the side, former England U21 international Calum Davenport - who played for West Ham and Sunderland last season - will also be playing. Hotly tipped young talent Frank Nouble - a new signing from Chelsea - and second generation players Andrea Zola and Oliver Lee - sons of Gianfranco and Rob respectively - will also be in action, as will Georg Grasser and Anthony Edgar who have returned from the recent training camp in Austria.

Pre-match arrangements: The bar will be open in advance of the game as usual and early arrival is recommended to ensure parking and timely admission. Note for West Ham supporters that the ground capacity is more than sufficient, whilst all tickets will be available from the turnstiles on the night (priced £9 adults, £6 concessions, £3 juniors).
Bobby Moore Fund - Project Brazil collection
There will be a bucket collection at Friday's West Ham game by Mark Harvey, who is a volunteer embarking upon Project Brazil and raising money for The Bobby Moore Fund.

The project will see 35 volunteers help the educational needs of a remote Brazilian village in the Chapada dos Veadeiros National Park. As well as leaving a physical legacy, each member needs to raise £4,000 in sponsorship and donations for The Bobby Moore Fund, leading research towards a cure for bowel cancer from which sadly Bobby died aged just 51 in 1993. Donations can also be made via Mark's JustGiving page where you can follow his progress.

Mark also currently has two special items on sale on Ebay. One is a Champions League matchball signed by UEFA President Michel Platini, and the second item is a pennant from FC Barcelona signed by seven of their star players including Thierry Henry, Samuel Eto'o and Lionel Messi. The item numbers for these are 120450977224 and 120450978082.

Further details on either Project Brazil or The Bobby Moore Fund for Cancer Research UK can be found via their website.
Monday 27th July 2009
Adam Thompson
The club is pleased to announce that defender Adam Thompson has signed a contract with the club. Adam made 41 appearances in his debut season last year and is the team's vice-captain.

Manager Alan Dowson comments, "I knew Thommo would do well for us when I brought him in and he proved himself to be the best defender in the division. This is a big plus for us and we've got the spine of the team on contract now."
Luke Naughton and Clement James
Goalkeeper Luke Naughton has joined Godalming Town whilst midfielder Clement James has left the club by mutual consent. Naughton made 17 appearances over two seasons with the club, whilst James turned out 7 times for the club.

Manager Alan Dowson comments, "Luke's gone out to Godalming as after a couple of seasons of excellent service what he really needs now is a run of 15-20 games together. We'll be keeping tabs on him there. Clement was very patient at the end of last season and is looking for a new challenge now. They're excellent lads and I wish them both the best of luck."
Saturday 25th July 2009
Metropolitan Police 1-1 Kingstonian
An injury-ravaged Kingstonian side made the short trip to Imber Court to face last season's playoff finalists Met Police. With 9 players injured or unavailable, two new trialists on show in the second half were former Jamaican international and Premier League player Jamie Lawrence and former K's striker Reggie Savage.

The home team opened the scoring through a close range header in the 41st minute, though the scores were levelled from the penalty spot by Tom Dilloway in the closing minutes after Savage had been upended.

Lineup:

1) Josh Willis
2) Rob Sheridan
3) Ryan Lake
4) Luke Pigden (14 Jamie Lawrence)
5) Tom Dilloway
6) Francis Duku
7) NJ Lampton
8) Tommy Williams (15 Christian Jolley)
9) Carl Wilson-Denis
10) Lewis Cook
11) Scott Simpson (12 Reggie Savage)

Manager Alan Dowson commented after the game, "We've come to a good side and battled hard in a good workout. We were missing a lot of players but that gave us a chance to play some others - unfortunately in the case of Jamie (Lawrence) it looks like he's come off with a cracked rib.

"It's sometimes easy for people to get frustrated but pre-season is all about preparation and not necessarily about results. As it is, I'm pleased with how it's going on both counts and looking forward to the rest of our schedule."
Fixture cards
The club have produced an official fixture card, featuring design elements from the new programme cover and the full list of fixtures for the upcoming season.

These are now available from Banquet Records, at 52 Eden Street in Kingston. They're free, and whilst one would usually be enough, supporters are encouraged to take more to pass on to friends/family/neighbours/colleagues. They will also be available at the West Ham game on Friday night.
Wednesday 22nd July 2009
Woking match report
The report of Saturday's game is now available.
Tuesday 21st July 2009
Chessington & Hook U 1-1 Kingstonian XI
A Kingstonian XI drew one-all against Chessington & Hook United at Weston Green Sports Club this evening.

Chessington opened the scoring midway through the second half from a corner before Christian Jolley levelled the scores soon after.

Lineup:

A Kingstonian XI drew one-all against Chessington & Hook United at Weston Green Sports Club this evening.

Chessington opened the scoring midway through the second half from a corner before Christian Jolley levelled the scores soon after.

Lineup:

1) Josh Willis
2) Rob Sheridan
3) Tom Dilloway
4) Simon Huckle (Stefan Martin)
5) Wayne Finnie (Stuart Booth)
6) NJ Lampton
7) Christian Jolley
8) Luke Pidgen
9) Bobby Traynor (Ali Dewar)
10) Scott Simpson
11) Clement James
Family Fun Day
This Sunday 26th July sees a Kingstonian Family Fun Day from 1pm-5pm at The Fountain public house in New Malden.

Team up with a mate and play in our unique football pitch against Kingstonian football players. The fun and games also includes a bouncy castle for the kids.

Raffle tickets are available on the day at £2 per strip, with prizes including: Signed Chelsea shirt, signed Fulham shirt, Ronnie O'Sullivan pool cue.
Monday 20th July 2009
Chessington & Hook United v Kingstonian XI
A Kingstonian XI will play away to Chessington & Hook United in a friendly match tomorrow evening. Kick off will be at 6.45pm and the venue is now Weston Green Sports Club, Longmead Road, Thames Ditton, KT7 0JF.
Update from Alan Dowson
Manager Alan Dowson comments, "I was really pleased with how everything went on Saturday, especially having Geoff Chapple, who did so much for this club and probably the greatest non-league manager ever, here.

"I told the (current) players to have a look at the legends match whilst they were warming up. Those players might have retired from the game now but they've achieved so much, and it still shows. It was a pleasure to watch.

"Speaking of spectacles, it was nice to see Iain Butler show his face for the photos after he won his big prize!

"We've done well against two of the better teams in Conference South so I'm pleased with that, but there's still a few weeks of pre-season left and still a lot to do. I'll be sending the trialists and a few of the lads to the Chessington game tomorrow, but will be resting those who've had the most football in the last week or so."
Saturday 18th July 2009
Kingstonian 2-0 Woking
Kingstonian beat Woking by two-goals to nil to regain possession of the Trevor Jones Memorial Trophy.

Bobby Traynor struck again to open the scores, blasting home on the quarter hour mark after a Lewis Cook cross, before Carl Wilson-Denis broke through to add a second in the 24th minute.

The visitors struck the woodwork as both sides went through a raft of changes in the second half, though there were no further goals.

Lineup:

1) Luke Garrard (13 Luke Naughton)
2) Jamie Beer (12 Rob Sheridan)
3) Ryan Lake (15 Tom Dilloway)
4) Simon Huckle (19 NJ Lampton)
5) Max Hustwick (14 Wayne Finnie)
6) Francis Duku
7) Liam Collins (18 Christian Jolley)
8) Tommy Williams (16 Luke Pidgen)
9) Bobby Traynor (17 Scott Simpson)
10) Carl Wilson-Denis (20 Davis Haule)
11) Lewis Cook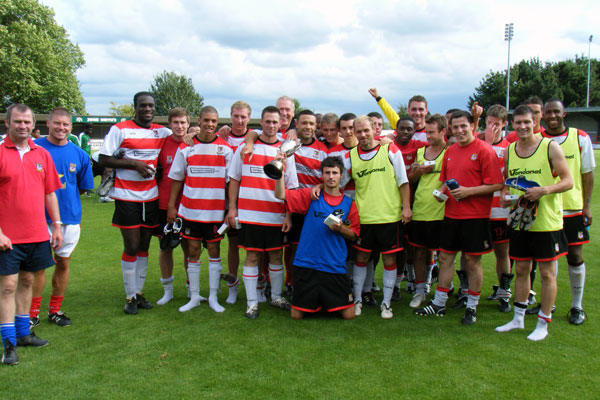 Legends still have it
The Kingstonian v Woking legends game proved every bit as enjoyable as anticipated, and a big thank you to all the players, including late guest goalkeepers Josh Willis and Luke Naughton.

Kingstonian:

Francis Vines
Phil Wingfield
Eddie Akuamoah
Wayne Brown
Gary Patterson
Geoff Pitcher
Scott Corbett

Woking:

Trevor Baron
Scott Steele
Andy Clement
Glenn Cockerill
Matt Crossley
Jimmy Dack
Martin Tyler

The game finished ten-nil to the K's team, with the goals scored by: Akuamoah (2), Wingfield (2), Pitcher (4), Brown, Vines.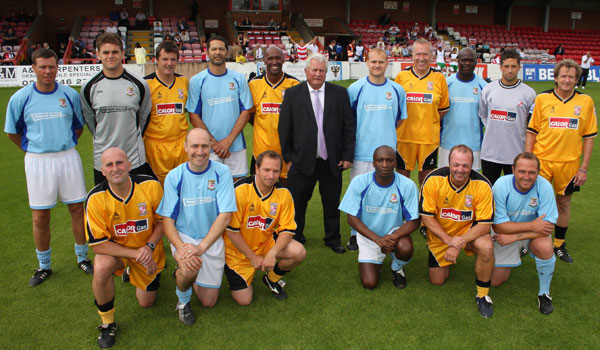 Photo: Chris Hatton - Kingstonian FC
Champion of the draw
Congratulations to Iain Butler, whose name was pulled out of the hat by Geoff Chapple to be named winner of the champions draw. Thank you to everyone who entered.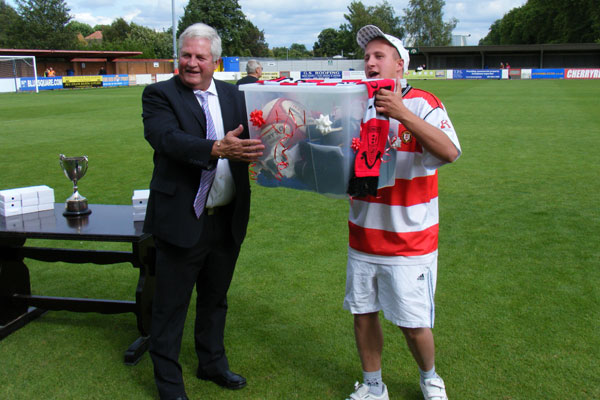 Photo: Ali Kazemi - Kingstonian FC
Friday 17th July 2009
Civic Reception photos
Pictures from the Civic Reception at Kingston Guildhall on 8th July are now available on this page.
Hampton match report
The report of Wednesday's game is now available.
Thursday 16th July 2009
New number
A new number has been launched by the club for general enquiries, on 07545 927 459. This will include recorded details on pitch inspections and match postponement as and when necessary.
Legends and Trevor Jones Memorial matches
This Saturday's pre-season friendly between former Conference National rivals Kingstonian and Woking will be for the Trevor Jones Memorial Trophy, contested each summer in remembrance of the popular former goalkeeper of both clubs. Kick off is at 3pm and should the scores be level at full time, the winner will be determined by a penalty shoot-out.

The match will be preceded by a special 6-a-side legends game at 2pm, featuring a number of highly respected and popular former players for the K's, Cards, and even both in some cases! To mark his standing at both clubs, 5-time FA Trophy winning manager Geoff Chapple will be taking the unique role of managing both teams.

Kingstonian Legends: Francis Vines, Phil Wingfield, Eddie Akuamoah, Matt Crossley, Scott Corbett, Adrian Blake or Steve Farrelly (TBC), Geoff Pitcher, Gary Patterson

Woking Legends: Trevor Baron, Laurence Batty, Scott Steele, Andy Clement, Eddie Saunders, Chris Sharpling (TBC), Glenn Cockerill, Martin Tyler

Kingstonian manager Alan Dowson comments, "Both clubs have a rich history and it's a great to get these players back for an event like this. They're really excited about it and I hope the spectators are too as it really should be an excellent day."

At half time Geoff Chapple will be doing the 'Kingstonian Champions Draw', where one lucky entrant will win a souvenir package including a number of unique items from Kingstonian's league winning campaign last season. There will be a last chance to buy tickets at the ground before the game.
Wednesday 15th July 2009
Kingstonian 1-2 Hampton & Richmond
A competitive pre-season game saw Conference South playoff finalists Hampton & Richmond Borough win by two goals to one at Kingsmeadow.

The visitors opened the scoring in the 9th minute, courtesy of a well-taken Francis Quarm free kick, before Bobby Traynor levelled the scores with a rifled strike in the 75th minute.

A scrambled effort from substitute Leon Yarnie restored Hampton's lead five minutes laters, and that was how it finished after Carl Wilson-Denis saw a late strike spectacularly saved.

Manager Alan Dowson comments, "I thought it was an excellent game where both sides really pushed eachother, and wasn't expecting anything less from one of Alan Devonshire's teams. It's still quite early in the pre-season programme but that's just what we need to push on, and it'll be more of the same against Woking on Saturday.

"We had a lot of good performances out there, but I've got to single out Carl Wilson-Denis in particular, who showed both touch and strength up against a strong experienced back line."

Lineup:

1) Luke Garrard (13 Josh Willis)
2) Jamie Beer (14 Jon Coke)
3) Ryan Lake
4) Simon Huckle (15 NJ Lampton)
5) Francis Duku
6) Max Hustwick (19 Wayne Finnie)
7) Lewis Cook (17 Scott Simpson)
8) Tommy Williams (18 Liam Collins)
9) Bobby Traynor
10) Carl Wilson-Denis
11) Christian Jolley (12 Luke Pigden)
Fixtures 2009/10
The fixtures for this upcoming season in the Ryman League Premier Division have been released and can be found on our temporary fixtures page here, until the database gets updated shortly.

The Kingstonian 2009/10 fixture list can also be downloaded as a pdf file (56Kb).
Monday 13th July 2009
Kingstonian XI 1-0 The Anzacs
Kingstonian beat a touring team of Australians and New Zealanders by a goal to nil at Grand Drive tonight.

Former West Ham and Fulham player Ian Pearce struck the only goal of the game midway through the first half for the K's, flicking in a close range header.

Scott Simpson went closest for the K's in the second half, firstly seeing a effort well saved before having another disallowed. The game ended with a worrying-looking injury to another trialist - former Lithuanian U21 international Vitalijus Jemeljanovas - though the post match scans have revealed no serious damage fortunately.

1st half lineup:

1) Josh Willis
2) Jamie Beer
3) Ryan Lake
4) Simon Huckle
5) Francis Duku
6) Max Hustwick
7) Liam Collins
8) Tommy Williams
9) Bobby Traynor
10) Ian Pearce
11) Lewis Cook

2nd half lineup:

1) Luke Naughton
2) Jon Coke
3) Ryan Lake
4) Leon Fisher
5) NJ Lampton
6) Tom Dilloway
7) A Trialist
8) Luke Pigden
9) Scott Simpson
10) Carl Wilson-Denis
11) Vitalijus Jemeljanovas
Sunday 12th July 2009
Match posters
Posters advertising the three home pre-season friendlies can be downloaded for distribution from the match posters page.
Saturday 11th July 2009
Raynes Park Vale 1-2 Kingstonian
Kingstonian opened their pre-season with a two-one win against Raynes Park Vale at Grand Drive.

Bobby Traynor opened the scoring from the penalty spot in the 49th minute before adding a second with a chipped effort minutes later. The hosts pulled a goal back on the hour mark, whilst Simon Huckle and Jamie Beer went within inches of adding to the K's tally.

Lineup:

1) Luke Garrard
2) Jon Coke (15 Jamie Beer)
3) Ryan Lake (16 Yinka Salaam)
4) Tommy Williams (14 Simon Huckle)
5) Wayne Finnie
6) Max Hustwick
7) Liam Collins (18 NJ Lampton)
8) Luke Pigden
9) Bobby Traynor
10) Carl Wilson-Denis (12 Scott Simpson)
11) Lewis Cook (17 Christian Jolley)
Raynes Park Vale XI 1-0 Kingstonian XI
The early kick off saw a team composed mainly of youngsters and trialists face their Kingstonian-Raynes Park Vale counterparts.

1) Josh Willis
2) A Trialist
3) Christian Jolley
4) Jason Einagan
5) Francis Duku
6) Tom Dilloway
7) Vitalijus Jemeljanovas
8) Leon Fisher
9) Simon Huckle
10) Jovan Spencer
11) Ali Dewar
Friday 10th July 2009
Surrey Senior Cup
Kingstonian have been drawn at home to Beckenham Town in the first round of the Surrey Senior Cup, with the winners at home to Crystal Palace in the second round.

Dates will be arranged in due course. Meanwhile, the club has not entered the London Senior Cup this season.
Wednesday 8th July 2009
Update from Alan Dowson
Manager Alan Dowson comments, "We've been training the team hard over the past weeks or so but I've been very impressed with the levels of fitness reporting back for pre-season.

"The three lads I've signed fitted in well, and as with any signings, I'm convinced that they'll make us better. There's still a couple we're looking at, including young midfielder Luke Pigden. Terry Brown told me he would have kept him if AFC Wimbledon had stayed in Conference South, but as things are he's become a free agent so we'll be having a closer look over a couple of games with a view to signing him.

"Lastly, I've read that we're about to sign Marc Charles-Smith but it's news to me and he's not a player on our list of potential targets."
Sunday 5th July 2009
A-grade for Hams
Congratulations to assistant manager Mark Hams, who passed his UEFA A-Licence today. Mark has been studying towards this for over a year, and photos can be found from his first trip to Lilleshall last year here.

Manager Alan Dowson comments, "I'm delighted for Mark as he's worked unbelievably hard over the past couple of season for this, and he was one of only 3 out of 16 to pass the course. I keep saying how highly I value my coaching team and it's nice to have a qualification like this to show it."

Mark himself meanwhile added thanks to everyone who has supported him throughout this period, in particular his wife who he called his "rock".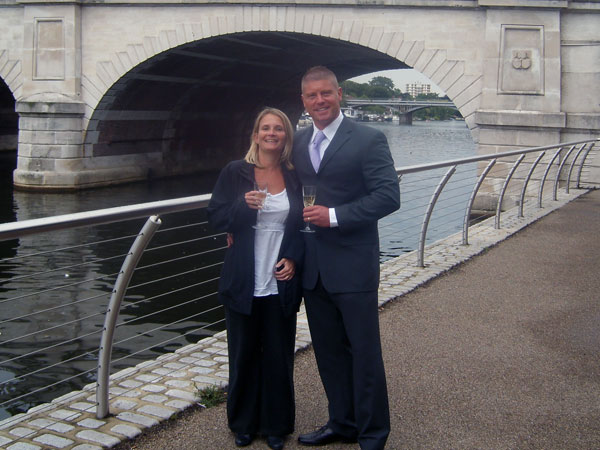 Photo: Mark Hams
Ryan Lake
The club is delighted to announce the signing of defender Ryan Lake (23) from Hampton and Richmond Borough. Ryan was a product of the Brentford Academy before joining Ashford Town (Middx) in 2004 and more recently Hampton, where he made around a hundred appearances.

Manager Alan Dowson comments, "Ryan is a great lad with a great left foot who will fill little Nick Rundell's boots well. He's won this league before and played at the next level up too, so he's looking forward to a new challenge with us."
Wednesday 1st July 2009
Lewis Cook
The club is delighted to announce the signing of midfielder Lewis Cook (25) from Staines Town. Lewis has Football League experience with Wycombe Wanderers, where he came through the ranks to make 19 appearances. Entered the non-league game in season 2004/05, with a season apiece at Windsor & Eton, Basingstoke Town, Lewes, AFC Wimbledon and Staines Town.

Manager Alan Dowson comments, "Lewis is a skilful winger who's done well wherever he's been. He's got an excellent delivery too, so the strikers will love him as much as the supporters will."
Josh Willis
The club is delighted to announce the signing of goalkeeper Josh Willis (20) from Ashford Town. Josh is an ex Chelsea and Gillingham youth player who has since been with Hastings Town and Sittingbourne, before spending last season at Ashford.

Manager Alan Dowson comments, "Josh has a lot of potential, and he showed that when we played Ashford at the end of the season. Luke Garrard had a great season and I'm happy with both Luke's, but it's time for us to up the competition for places."
FA Cup 2009/10
Kingstonian have been drawn away to Bognor Regis Town in the FA Cup sponsored by E.ON First Qualifying Round on Saturday 12 September 2009.

First Round Qualifying - Saturday 12 September 2009
Second Round Qualifying - Saturday 26 September 2009
Third Round Qualifying - Saturday 10 October 2009
Fourth Round Qualifying - Saturday 24 October 2009
First Round Proper - Saturday 7 November 2009
Second Round Proper - Saturday 28 November 2009
Third Round Proper - Saturday 2 January 2010
Fourth Round Proper - Saturday 23 January 2010
Fifth Round Proper - Saturday 13 February 2010
Sixth Round Proper - Saturday 6 March 2010
Semi-Final - Saturday 10 April & Sunday 11 April 2010
Final - Saturday 15 May 2010
FA Trophy 2009/10
Kingstonian have been drawn away to Metropolitan Police or Maldon Town in the FA Carlsberg Trophy First Qualifying Round on Saturday 17 October 2009.

First Round Qualifying - Saturday 17 October 2009
Second Round Qualifying - Saturday 31 October 2009
Third Round Qualifying - Saturday 21 November 2009
First Round Proper - Saturday 12 December 2009
Second Round Proper - Saturday 9 January 2010
Third Round Proper - Saturday 30 January 2010
Fourth Round Proper - Saturday 20 February 2010
Semi-Final L1 - Saturday 13 March 2010
Semi-Final L2 - Saturday 20 March 2010
Final - Saturday 8 May 2010 (Prov)
FA Youth Cup 2009/10
First Round Qualifying - Week commencing Monday 21 September 2009
Kingstonian v Pagham

Second Round Qualifying - Week commencing Monday 5 October 2008
Westfield or Mile Oak v Kingstonian or Pagham