Friday 30th April 2010
Playoff final - updated
Kingstonian will travel to Boreham Wood this Saturday for the Ryman Premier division playoff final. Kick off is at 3pm and a result must decided on the day, with the winners promoted to the Blue Square Conference league.

Boreham Wood progressed to the final following a 1-0 win at Aveley on Monday night. Their best ever league finish was second place in 1997/98, when they missed out on promotion as only the champions (Kingstonian) went up back then. K's came through 4-2 at Sutton and seeking a second successive promotion.

The address of the ground is Meadow Park, Broughinge Road, Boreham Wood, Hertfordshire, WD6 5AL. Those driving are requested to park their cars in the adjacent Brook Road car park.

To travel via public transport, the nearest train station is Elstree & Boreham Wood, located 1 mile from the ground at the other end of the town centre.

This is again considered a cup fixture and so the gate receipts are shared, with 25% going to the league and the remaining 75% shared between the two clubs. There will be a junior concession rate of £1 for those aged under eleven.
Tuesday 27th April 2010
Sutton United 2-4 Kingstonian
Kingstonian progressed through to the Ryman League playoff final with following a four-two win at Sutton United, in a semi final watched by a crowd of 1401.

Christian Jolley scored the opening goal of the game for the K's in the 11th minute, but it was Sutton who took the half time advantage, courtesy of goals from Bradley Woods-Garness and Steve Perkins.

An inspired second half performance however saw Alan Dowson's men prevail. Adam Thompson struck a low drive to level the scores five minutes after the break, before two super strikes from Bobby Traynor in the 63rd and 76th minutes secured the victory.

Full details of the match are now available.
Alan Dowson on Sutton
The manager spoke to us after the game and you can hear what he had to say via the audio player.
Bobby Traynor on Sutton
The striker spoke to us after the game and you can hear what he had to say via the audio player.
Monday 26th April 2010
End of season playoffs
Kingstonian will travel to Sutton United on Tuesday, kick off 7.45pm at Gander Green Lane, for the Ryman Premier division playoff semi final. A result will be decided on the night and the winners will face the winners of Monday's Aveley v Boreham Wood game in the final on Saturday.

A big crowd is expected and supporters are advised to arrive early (turnstiles open at 7pm). There is likely to be a lot of demand for car parking, so public transport alternatives are the 213 bus from Kingston which passes Gander Green Lane, and West Sutton train station is next to the ground.

The game is considered a cup fixture and so the gate receipts are shared, with 25% going to the league and the remaining 75% shared between the two clubs. Sutton's admission prices are £10/£11 Adults, £5/£6 Seniors, £3/£4 Juniors.
Playoff preview
Preview of tomorrow's playoff game, courtesy of the Ryman League:

Sutton and Carshalton were the pre-season title favourites but neither side lived up to their billing. Sutton, however, fared much better than their neighbours, who only avoided relegation on the last day of the season.

Although, in the end, Sutton finished as runners-up and qualified for the play-offs with ten points to spare, it was more of a struggle than those figures would suggest. The turning point seems to have been a 4-2 home defeat by Ashford on 23rd January, a result which put Ashford on the fringe of the play-off places and left Sutton in eighth place.

After that, apart from two defeats at Easter, the Us were unbeaten and a club with four championships to its credit since joining the league in 1964 will go into the play-offs as firm favourites to regain their place in Conference South. They spent four seasons in that league before finishing bottom in 2008 and, before that, had one five-year spell and another single season in the Conference proper.

Teenage striker Stefan Payne got their season off to an excellent start with a hat-trick in a 4-0 win over Margate but he soon departed for Fulham and it was left to Sam Gargan to take over the top scorers mantle. He has 12 league goals, Charlie Taylor eight, and no-one else has passed Paynes tally of six before he moved on.

Its a comment on the power of tradition in football that no-one will be shocked to see Kingstonian in the play-offs even though they had a considerably poorer record than fellow-champions Aveley as they won Division One South last season.

Ks can trace their Isthmian League career back to 1929 and they won the title twice before the war, adding a third in 1998. That was the start of a golden era. They won the FA Trophy in the next two seasons and in the 2000 semi-final beat Sutton 7-1 on aggregate, drawing 1-1 at Gander Green Lane before crashing in six unanswered goals at home. They were back in the Isthmian League a year later, however, and went close to going out of business during a four-year spell in Division One.

One of the problems always faced by promoted clubs is knowing how long they should keep faith with the players who took them up. Ks manager Alan Dowson seems to have got it right, though it was perhaps made easy for him when they lost their first four games by an aggregate of 19-5. It was hardly the way to start a promotion bid.

Several changes brought a 3-0 victory at Hendon in the next game as Ks were off and running, reaching the top five by mid-autumn and settling there. Like Aveleys Tuohy, Bobby Traynor had no trouble adapting to the higher level and last seasons Division One South top scorer, with 32, added 28 more in the Premier.

When Traynor scored the winner in a 2-1 victory over Sutton on Easter Saturday it seemed that Ks had almost clinched second place. It was to be their last win and was immediately followed by losses against the bottom two, Waltham Abbey and Bognor. Four straight defeats at the start, two points from five games at the end; the rest of the season must have been pretty good.

Their other meeting with Sutton, at Gander Green Lane in December, finished 1-1.
Saturday 24th April 2010
Kingstonian 1-1 Maidstone United
A one-all against Maidstone drop to fifth in the table, but secure an end of season playoff spot.

Matt Gray headed K's into the lead midway through the half, though the visitors levelled the scores in the 68th minute when Danny Hockton converted a much-disputed penalty.

Full details of the match are now available.
Alan Dowson on Maidstone
The manager spoke to us after the game and you can hear what he had to say via the audio player.
Season tickets
A reminder that supporters are still able to purchase early release season tickets until the end of this week. Forms are available from the club shop today, where payment can be made by cash or cheque.

The offer includes a price freeze, regardless of any changes in matchday ticket pricing. Adult and senior season ticket holders will be eligible to claim a free junior season ticket, whilst standalone junior tickets have been reduced to just £10. A new pricing category has also been introduced for students in full-time education, who will be able to benefit from a dramatic reduction in prices down to £30.
Friday 23rd April 2010
Hastings match report
The report of the Hastings game is now available.
Dartford match report
The report of the Dartford game is now available.
Wednesday 21st April 2010
Presentation evening
The Kingstonian Supporters Club Presentation evening will take place this Saturday 24th April, doors 7.30pm and presentations at 8.30pm, in the main bar at Kingsmeadow. There will also be a disco, nibbles, raffle and bar.

Entry is by (free) ticket only, available from Vicky Jones at the game on Saturday. There may also be a limited number on the door, but there is no guarantee.
Tuesday 20th April 2010
Walton & Hersham 2-1 Kingstonian XI
A Kingstonian XI made the short trip to Stompond Lane for an end of season friendly, which the hosts won by two goals to one following strikes in the 20th and 81st minutes. The K's goal was a lobbed effort by Matt Ferdinando in the 82nd minute.

Lineup:

1) Luke Garrard
2) Devon Williams
3) Marco Fanner
4) Max Hustwick (16 A Trialist)
5) Francis Duku (12 Michael Lyons)
6) Lee Hall
7) Matt Ferdinando
8) Luke Hickie
9) Chris Kigenda
10) Carl Wilson-Denis (14 Stefan Martin)
11) Dean Lodge

Manager Alan Dowson commented after the game, "Thanks to my old friends at Walton for hosting us at short notice. It was a good opportunity for us to a full 90 minutes for a few players and look at a few others. I thought Stefan Martin (youth team captain) did particularly well when he came on."
Sunday 18th April 2010
Friendly at Walton & Hersham
A Kingstonian XI will play a friendly away to Walton & Hersham this Tuesday evening, kick off 7.45pm at Stompond Lane. There will be no admission charge for this game.
Saturday 17th April 2010
Hastings United 0-0 Kingstonian
Playoff rivals Hastings and Kingstonian played out a scoreless draw at the Pilot Field which will finish K's above their hosts at the end of the season standings.

Hastings found Rob Tolfrey in inspired form early on, and with his defence the Kingstonian rearguard held off the increasing number of attacking opponents as the game wore on. Substitute Carl Wilson-Denis almost grabbed all three points in stoppage time, only to be denied by a last gasp save.

Full details of the match are now available.
Alan Dowson on Hastings
The manager spoke to us after the game and you can hear what he had to say via the audio player.
Friday 16th April 2010
Update from Alan Dowson
Manager Alan Dowson comments, "We don't do boring - one minute 66 points is looking good and the next you need to get a few more points. So as long as we don't get showered in volcanic ash we've got an exciting game to look forward too tomorrow.

"We've had a chance to have a good week's rest and training, whilst teams around us have been playing two or three times in the week, so we'll be looking to make the most of that."
Saturday 10th April 2010
Kingstonian 2-6 Dartford
Dartford were crowned Ryman Premier champions in front of a crowd of 929 at Kingsmeadow following a six-two win against the K's, whose hopes of holding on to second place took another blow in a tough week.

The hosts took a 5th minute lead through Elliot Bradbrook, an advantage which Ryan Hayes doubled in the 13th minute. Simon Huckle bravely headed Kingstonian back into the game just after the half hour mark, but Danny Harris restored the two-goal advantage going in to half time.

Bradbrook was again on target for the visitors on the other side of the break, before Bobby Traynor struck the second K's goal in the 56th minute. Any hopes of a revival were buried by some sloppy late play that saw Hayes score in the 70th minute and Lee Burns sign the champions off with a sixth in the 79th minute.

Full details of the match are now available.
Alan Dowson on Dartford
The manager spoke to us after the game and you can hear what he had to say via the audio player.
Waltham Abbey match report
The report of Wednesday's game is now available.
Bognor match report
The report of Monday's game is now available.
Friday 9th April 2010
Youth Academy launch and trials
Kingstonian Football Club has teamed up with Glyn School of Technology and sports coaching company SCL to offer a two-year NVQ in football coaching combined with a range of vocational and academic qualifications.

Football

Compete in the Conference Youth League against other top non-league clubs


6-8 hours of elite training by UEFA 'A' licenced coaches


Emphasis on progressing youth team players into the first team squad


Education

2-year programme


Study the NVQ level 3 in Football Coaching (equivalent to 2 A-levels)


Gain FA Level 1 & 2 Football Coaching Qualifications


Option to study additional A-level subjects


Trials
If you are aged 16-19 years and would like to combine your education with football the academy is holding trials:
Tuesday 13th April & Thursday 15th April, 1pm-3pm
Priest Hill Playing Fields, Reigate Road, Ewell, Surrey KT17 3DT

For more information please contact Mark Hams, Kingstonian 1st Team Assistant Manager at ksglynacademy@aol.com
Thursday 8th April 2010
Alan Dowson's monthly review
Well it's early Thursday morning and I've had very little sleep after last night's experience. However, we are a month on, and still second top with two weeks to go until the end of the season.

With some great excitement and hard work against Aveley and Sutton to shambolic against Bognor and Waltham Abbey. I could take the Bognor result as I thought we were robbed on a few occasions by a referee totally out of control. Waltham Abbey was a different story, and for Hamsey and I it was one of the worst nights we've had in the last few years. It's the worst I have ever seen Hamsey to be honest and we speak to each other half a dozen times a day. He was hurt and couldn't understand why players were not doing what he had asked them to do. We will bounce back, we have to but what I can't get over is the ill-discipline of what happened last night and that's got to come down to me. Thinking about it afterwards I should have stamped it out there and then. It was a bit of a jolly up on the bench, lads with mobile phones and even a player asking the Man Utd score during the game. Taking Jolley and Robbo out of it, the team is full of experience and to play without fight and rely on Tolfs to be man of the match is unacceptable.

I think players get looked after here better than a lot of other non-league clubs. I look at some and think if I was still a player I would love to play for a club like K's. We've got superb training facilities, the best coaching staff and coaches to all away games. Everyone knows what I think of Hamsey but people don't know that Martin Tyler took young Christian to the Arsenal v Barcelona match as part of his education in the game - where else would you get that? The ground facilities are excellent and the passion of our great and loyal supporters is unbelievable. We're setting up an academy and with Hamsey doing it, it will be one of the best in non-league, mark my words.

The players we have are a good bunch and deep down do care but it's all these things they should remind themselves of when they put in performances like last night. If I was one of them, not only would I be aiming to get us into the Conference South but I would be doing all I could to secure a future with Kingstonian.

Saturday's game is just round the corner and should be a cracking match against a team earmarked as champions-elect since August, so a great chance to bounce back. Come tomorrow it will be time to re-group and put our disappointment behind us and have another charge towards the Conference South. It can be done if we pull together and have a right go. It's no good me or the players talking a good game - it's time for us to prove a point when we cross that white line on Saturday. We're hoping for a good crowd which will be great for the club all round. I am hoping as many as possible will show their support again like against Sutton. They are the days you want to remember, and you can't become a bad side in a week.

On another note, I am delighted Chris Woolston has joined us as club sponsor. I first met Chris ten years ago when I used to coach Martin's son at Cobham. He was chairman at the time and is a top fella. He is and will be great for this club. I am also delighted that our other sponsors, Banquet Records, are going to stay in another capacity. Jon Tolley is another great fella and has helped Hamsey and I away from football. He's also a massive K's fan who you will see bobbing up and down behind the goal when we score!

So here we are - two weeks to go, hopefully three and all to play for. It should be an exciting time for the club, if we put Monday and Wednesday behind us and go back to doing the things that got us in this position we won't be far off. Thanks for your great support and I look forward to seeing you all on Saturday.
Wednesday 7th April 2010
Waltham Abbey 1-0 Kingstonian
Kingstonian slumped to a one-nil defeat away at bottom club Waltham Abbey. The hosts scored the only goal of the game in the 36th minute. Christian Jolley went closest for the K's with a low strike in the second half, but Rob Tolfrey was the busier goalkeeper throughout.

Full details of the match are now available.
Mark Hams on Waltham Abbey
The assistant manager spoke to us after the game and you can hear what he had to say via the audio player.
Tuesday 6th April 2010
Kingstonian associated with Prestige
Kingstonian Football Club is delighted to announce a two-year shirt sponsorship deal commencing August 2010 with Prestige Cars and Couriers.

Managing Director Chris Woolston has a wealth of experience in the business world and also non-league football, where he was recently Joint-Chairman at Merstham FC.

Kingstonian Marketing Manager Peter Bowers comments, "We are very pleased to welcome Prestige on board and look forward to some exciting times ahead together.

"We would also like to thank our friends at Banquet Records our shirt sponsors over two very successful years for pledging their ongoing support of the club."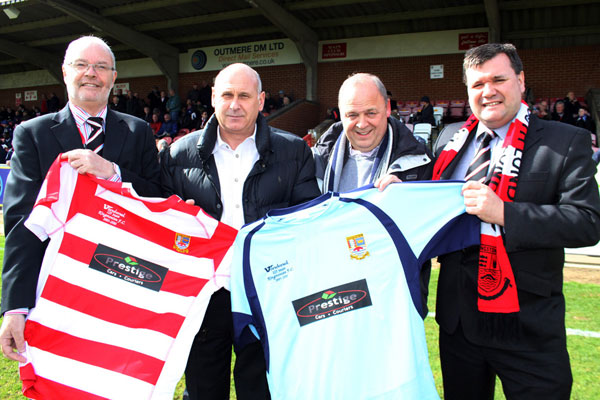 About our new sponsors

Prestige Couriers was established in 1977 to provide the very best in transportation services. The company has evolved into an integrated, sophisticated transportation system designed around the needs of both the corporate and private sector, whilst maintaining a special personal touch.

The range of services offered by Prestige has continued to grow and now includes Prestige Cars, motorbike deliveries, van deliveries, next day delivery services and international deliveries.

Prestige is a Public Carriage Office licensed operator, so every driver is fully licensed to meet all of the criteria that ensures clients are transported in a safe and secure manner.

Prestige Courier Services Ltd
Prestige House, 26 Sullivan Road, London SW6 3DX
Telephone: 020 7384 2300 / 2400
Email: sales@prestigecouriers.co.uk
Monday 5th April 2010
Bognor Regis Town 3-1 Kingstonian
Kingstonian suffered another three-one defeat at the hands of struggling Bognor Regis, and a retaken penalty again proved a key turning point.

Bobby Traynor had opened the scoring in the 29th minute, before referee Mr Wade awarded a penalty to the hosts for a push in the box. Michael Birmingham saw his spot kick superbly saved by Rob Tolfrey, but was afforded a second chance to put it away which he duly took.

Jason Prior headed Bognor into the lead three minutes later, and Christian Jolley's game was curtailed by an industrial challenge just before half time. Prior wrapped the game up with an 86th minute effort, whilst K's felt aggrieved after strong penalty claims following fouls on Traynor and Carl Wilson-Denis were ignored by the officials.

Full details of the match are now available.
Alan Dowson on Bognor
The manager spoke to us after the game and you can hear what he had to say via the audio player.
Peter Kenchington RIP
The club is saddened to hear of the passing of Peter Kenchington on Friday. Peter was the father of former K's goalkeeper, the late Trevor Jones. Our thoughts are with his family and friends.
Sunday 4th April 2010
Sutton match report
The report of yesterday's game is now available.
Saturday 3rd April 2010
Kingstonian 2-1 Sutton United
Kingstonian maintained and strengthened their second place in the table following a last gasp winner against nearest rivals Sutton United.

Sutton skipper Jason Goodliffe inadvertently opened the scoring for K's just before half time, chesting into his own net after Mo Harkin's strike had rebounded off the post.

Charlie Taylor levelled the scores in the 85th minute, converting a rebound after an initial strike off the post. League top scorer Bobby Traynor however had the final say as he raced through to slot in the winning Kingstonian goal with almost the last kick of the game.

Full details of the match are now available.
Alan Dowson on Sutton
The manager spoke to us after the game and you can hear what he had to say via the audio player.
1966 draw winner
Congratulations to Barry Vidler who with ticket number 00553 won yesterday's draw for the framed commemorative shirt signed by 8 members of the England 1966 World Cup winning team.