Friday 30th July 2010
Kingstonian 2-3 Fulham XI
A Fulham XI bounced back from two goals down at half time to win an entertaining game and the Trevor Jones Memorial Trophy that was being marked, by three goals to two.

Adam Thompson opened the scoring for the K's from the penalty spot, before adding a second just before half time. Fulham substitute Corey Gameiro however struck a quick second half hat trick to turn the game around and secure the win, despite some late Kingstonian pressure.

Lineup:

1) Rob Tolfrey
2) Dean Hamlin
3) Tom Bird
4) Max Hustwick
5) Tobi Jinadu
6) Adam Thompson (c)
7) Lee Hall
8) Jean-Sylvain Dossou
9) Carl Wilson-Denis
10) Orlando Smith
11) Dean Lodge
Tuesday 27th July 2010
AFC Wimbledon 2-0 Kingstonan
Goals in the final twenty minutes of the game from Jon Main and Lee Minshull saw AFC Wimbledon win this friendly by two goals to nil. Kingstonian had the better of the chances in the first half, whilst the Dons strengthened as the game progressed. Christian Jolley made a notable substitute appearance in the second half, in front of an appreciative crowd of 785.

Lineup:

1) Rob Tolfrey
2) Dean Hamlin
3) Tom Bird
4) Jon Boardman (c)
5) Tobi Jinadu
6) Max Hustwick
7) Adam Thompson
8) Jean-Sylvain Dossou
9) Carl Wilson-Denis
10) Lee Hall
11) Dean Lodge
This week
Kingstonian play AFC Wimbledon in a pre-season friendly at Kingsmeadow tonight, kick off 7.45pm. Please note that this is a designated away game, arranged as part of the Christian Jolley transfer, and therefore Kingstonian season tickets will not be valid tonight.

Two home games follow over the course of the next week or so, starting with a team from Fulham this Friday evening, and then the K's All Stars v Chelsea Legends special match next Wednesday 4th August. Season ticket holders will benefit from free admission to these two matches.
Friday 23rd July 2010
Kingstonian 3-2 Brighton & Hove Albion XI
Kingstonian beat a team from Brighton & Hove Albion by three goals to two this evening. Bobby Traynor and Adam Thompson scored for the K's in the first half, before Traynor netted the winner after the break.

Lineup:

1) Rob Tolfrey
2) Dean Hamlin
3) Tom Bird
4) Max Hustwick
5) Jon Boardman
6) Tobi Jinadu
7) Jean-Sylvain Dossou
8) Lee Hall
9) Bobby Traynor
10) Carl Wilson-Denis
11) Adam Thompson

12) Dave Ellard
13) Nic Taylor
14) Tom Duffy
15) Stefan Martin
16) Dean Lodge
17) Colin Hartburn
Thursday 22nd July 2010
The Non League Show
On Monday night Alan Dowson will be one of a number of guests from around the game on The Non League Show so make sure you tune from 8pm-10pm online or on BBC London 94.9FM.
Wednesday 21st July 2010
Alan Dowson and Mark Hams
The club is delighted to announce that manager Alan Dowson and his assistant Mark Hams have agreed to sign two year contracts with the club. Alan and Mark joined the K's in January 2007 and have overseen an upturn in fortunes both on and off the pitch. There will be a brief presentation on the pitch before the Brighton game next Friday.

Joint-Chairman Mark Anderson comments, "We are both delighted that Alan Dowson and Mark Hams have put pen to paper and confirmed that their futures lies with us at Kingstonian. We are all trying to build this club up so that we have both a fantastic team and management on the pitch and a great committee behind the scenes. Securing Dowse and Hamsey is a vital ingredient in this as we want to play at the highest level of football possible which is sustainable financially so K's will carry on for another 125 years."

Manager Alan Dowson comments, "This is a great club and we are very happy here so these deals give us all a bit of security and allows us to kick things on from here and see how far we can go.

"Hamsey is a young coach and the best out there in this league. He's from the streets and this is his first contract so I'm sure it means a lot to him. I wouldn't have signed without him, and we're both grateful for the support from the rest of the coaching staff. Coach Martin Tyler, goalkeeping coach Adrian Blake and scout Adrian Withers will all be staying as part of the team."

Mark Hams add, "I am grateful that the board feels we deserve the contracts. I remember when I was a young player and K's were always the big team around. It makes me very proud that we are working on improving our fortunes and I look forward to continuing to work with the best committee, manager, players and supporters."
Response to the FA decision
The club is disappointed with the nature and outcome of the response from the Football Association following the appeal and complaint lodged on 3rd May regarding the assault by a spectator on a Kingstonian player during the playoff final at Boreham Wood on 1st May.

Joint-Chairman Mark Anderson comments, "After two and a half months we have now received a brief letter of half a dozen short paragraphs, telling us that the matter will not be dealt with by what is supposed to be the body in charge of our sport.

"The response we have had demonstrates that our concerns have not been taken seriously, and whilst I can accept us losing our appeal with regards to the match, there were other serious issues that should have been addressed for the greater good.

"It is widely known that Boreham Wood have suffered crowd trouble on a number of previous 'big match' occasions, and there is no doubt it will happen again. The unwillingness of the FA to take action will allow that to happen again there and elsewhere, until finally a knee jerk reaction kicks in following a high profile incident.

"Our supporters were threatened before, during and after the match. Our players were more concerned about their safety than they were the game, and my coach driver was subjected to abuse from the opponents' youth team. All we now receive is a response that treats us with what looks like contempt and disdain. It makes me wonder if it might be time to look at something else to do with my life!"

Manager Alan Dowson comments, "I can't believe the non-response we've had from the FA. It's been brushed right under the carpet and it's a shambles and just pathetic. That wasn't footballers affecting a football match and it could now set a very dangerous precedent, especially at this level of the game."
Tuesday 20th July 2010
FA rule on Boreham Wood appeal
The club has just received the following letter, dated 19th July 2010, from the Football Association:

Boreham Wood v Kingstonian - 1st May 2010

Further to your letter dates 3rd May to Tarik Shamel, I write to advise you that the Football Association has conducted a full investigation into the incidents reported in your letter and the match referee's report.

The FA has taken into account Boreham Wood FC's preparations and planning for the above match, nothing that the club deployed 14 stewards and that police officers were also present in the ground.

We have noted that the offender who assaulted the Kingstonian player was arrested by police and has been banned by Boreham Wood FC for life. Further, that after the incident, police and stewards were sent to the area where the assault occurred to show a presence and no further incident occurred.

In the light of the experience at this match, The FA has given some operational advice for Boreham Wood FC to consider when stating a promotion play-off final or similar high-profile match.

As part of our investigation, The FA has also viewed the club's CCTV video footage of the alleged incident with the Kingstonian coach driver and does not see any case to answer on that incident.

After a full review of the facts in this case, The FA has decided not to take any further action in this matter. Boreham Wood FC have been advised that we may have to consider disciplinary action against the club if further reports of spectator misconduct should be received.

Yours sincerely,
Chris Whalley
Senior Manager, Stadia Safety and Security
Sunday 18th July 2010
Tooting & Mitcham United 1-0 Kingstonian
Kingstonian finished 4th in the Geoff Harvey Memorial Vase after a 1-0 defeat in the third place play-off against Tooting & Mitcham United. The only goal of the game came in the 23rd minute when Lino Goncalves converted a penalty kick.

Staines Town won the tournament after beating Corinthian-Casuals 3-0 in the final.

Lineup:

1) Nic Taylor
2) Devon Williams (15 Ellis Jones)
3) Steve Gilbert
4) John Dossou
5) Jamie Summers
6) Tom Duffy
7) Bam Suleyman (14 Gavin Quintyne)
8) Stefan Martin
9) Billy Dunn (18 Rawlings Omoruyi)
10) Chris Kiganda (16 Ade Lamina)
11) Dave Ellard
Saturday 17th July 2010
Corinthian-Casuals 1-1 Kingstonian
Kingstonian will play Tooting & Mitcham United tomorrow morning at 11am for third place in the Geoff Harvey Memorial Vase after losing their semi-final to hosts Corinthian-Casuals after an extended penalty shoot-out.

Glenn Boosey gave Casuals the lead after 25 minutes with a superb effort, before a Rico Morris own goal levelled the scores five minutes before half time. After a scoreless second half, the game went to a penalty shoot out that was won 7-6 by the hosts.

Penalties: Tolfrey (goal), Traynor (miss), Bird (goal), Hustwick (saved), Boardman (goal), Lodge (goal), Huckle (goal), Duffy (goal), Jinadu (miss).

Lineup:

1) Rob Tolfrey
2) Lee Hall (14 Michael Lyons)
3) Tom Bird
4) Max Hustwick
5) Jon Boardman
6) Tobi Jinadu
7) Matt Gray (15 Tom Duffy)
8) Simon Huckle
9) Bobby Traynor
10) Carl Wilson-Denis (12 Vito Narcisse)
11) Dean Lodge
Friday 16th July 2010
Fixtures 2010/11
The fixtures for this upcoming season in the Ryman League Premier Division have been released and can be found on our temporary fixtures page here, until the database gets updated shortly.

The Kingstonian 2010/11 fixture list can also be downloaded as a pdf file (50Kb).
Bobby Traynor
The club is delighted to announce that striker Bobby Traynor has signed a new two year contract with the club. Bobby has scored 109 goals from 159 appearances for the K's, and been awarded the League Golden Boot in each of the two past seasons.

Manager Alan Dowson comments, "We're cock-a-hoop about getting Bobby on to a new contract as he is the best goalscorer in the league, and he does that as part of our team. I've said before how he was my number one signing - as in my first signing, and also my best signing."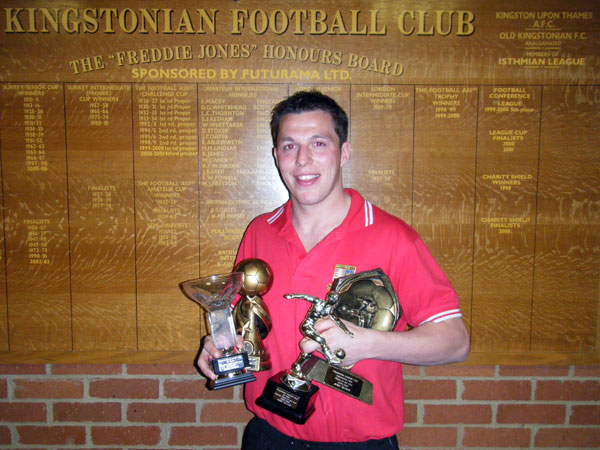 Golden Boot
Congratulations to Bobby Traynor for finishing as leading scorer in the Ryman League (Premier Division) for 2009/10 with 30 goals in league competition. This is Bobby's second successive League Golden Boot, having won it for Division One in 2008/09 with 32 goals.
Rob Tolfrey
The club is delighted to announce that goalkeeper Rob Tolfrey has signed a two year contract with the club. Rob made 30 appearances for the K's since his debut in November, making an outstanding contribution to the form that led to an eventual playoff place.

Manager Alan Dowson comments, "Rob plays a vital role in the team, and has shown both quality and potential in everything he does - 22 is very young for a good goalkeeper. He's also a good club man and I think the world of the lad."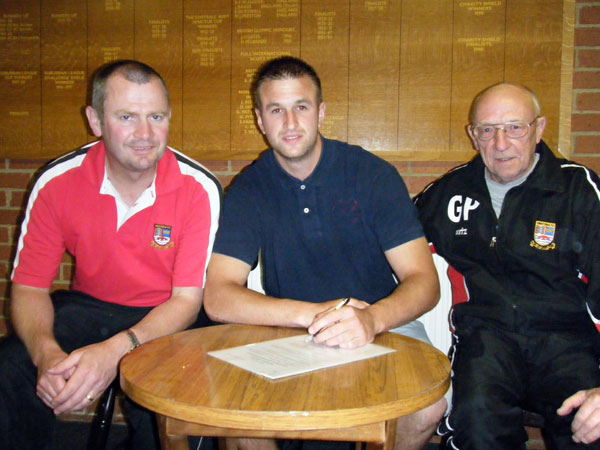 Photo: Kingstonian FC
Thursday 15th July 2010
Surrey Senior Cup
Kingstonian have been drawn away to Leatherhead in the second round of the Surrey Senior Cup, with the winners at home to either Mole Valley SCR or Egham Town in the third round.

Dates will be arranged in due course.
League statement
From the Isthmian League:

At a meeting at Wembley Stadium today the League has reached an agreement with Grays Athletic FC and East Thurrock United FC for Grays Athletic to play at East Thurrock's ground for the next 2 seasons. Consequently the League has agreed to admit Grays Athletic to Division One North of the Ryman League for next season.

This agreement is subject to certain conditions one of which is the approval of the FA Leagues Committee which meets tomorrow afternoon. Subject to that approval the fixtures for the Premier Division will be issued at 5pm tomorrow. The fixtures for the Step 4 divisions will be issued as soon as possible next week.
K's All Stars v Chelsea Legends
In the first of a series of events to mark the 125th anniversary of the club, a special pre-season match has been arranged, featuring a special Kingstonian FC All Stars team against the established Chelsea FC Old Boys.

The game will take place on Wednesday 4th August, kick off 7.30pm at Kingsmeadow Stadium. Tickets will be available on the turnstiles on the night and usual prices apply.

KINGSTONIAN PROVISIONAL SQUAD:
Members of the Kingstonian Vets team
Jim Stannard
Kenny Cunningham
Scott Fitzgerald
Alan McLeary
Ian Pearce
Billy McKinlay
Jimmy Case
Graham Rix
Glenn Cockerill
Matt Le Tissier
Andy Sinton
Marcus Gayle
Rod Wallace
Martin Tyler
Chris Sutton
Les Ferdinand

CHELSEA PROVISIONAL SQUAD:
Dave Beasant
Garry Stanley
Clive Wilson
Colin Pates
Gary Chivers
Keith Dublin
Paul Cannoville
Trevor Aylott
John Bunstead
David Stride
Kerry Dixon
Mick Harford
Ray Lewington
Ray Wilkins

Manager Alan Dowson comments, "We're about to start a landmark season for the club and so have decided that one of our home pre-season games should be a celebration of that. We've got some great players who have represented top clubs over the years taking part in this match and I hope we can get the bumper crowd it deserves. If anyone is able to add any sponsorship or help promote the game please let me know."
Tuesday 13th July 2010
League fixtures delayed
From the Isthmian League:

As a result of the ongoing issues being raised by Grays Athletic Football Club, the publication of the Fixtures for Season 2010/11, originally planned for Wednesday 14th July, will now be delayed until after a meeting called by The Football Association with the Club and the League, and other involved parties, on Thursday 15th July.
Sunday 11th July 2010
Winchester City 0-0 Kingstonian
Kingstonian opened their pre-season schedule with a scoreless draw at Winchester City in front of a crowd of 142 under the baking summer sun.

1st half lineup:

1) Rob Tolfrey
2) Dean Hamlin
3) Tom Bird
4) Max Hustwick
5) Jon Boardman
6) Tobi Jinadu
7) Matt Gray
8) Simon Huckle
9) Bobby Traynor
10) Dean Lodge
11) Lee Hall

2nd half lineup:

1) Rob Tolfrey (Lee Naylor)
2) Devon Williams
3) Steve Gilbert
4) Stefan Martin
5) Tom Duffy
6) Jamie Summers
7) Chris Kiganda
8) Adam Thompson
9) Billy Dunn
10) Vito Narcisse
11) Dean Lodge (Tom Bird)

Manager Alan Dowson commented after the game, "It's good to get playing again! We're still in the early stages of the pre-season programme so these games have elements of training in them and it's important to get a good workout. I'm pleased with the work that each of our lineups put in against a decent outfit Glenn is putting together down there. The new lads did well, in particular Tom Bird who I thought was excellent."
Friday 9th July 2010
Update from Alan Dowson
Manager Alan Dowson comments, "I've been looking forward to getting some fixtures through for the new season and it's good to see they were only a few days late from the FA.

"Whilst the cups are always important to us, these are one-off games and we'll league matches to focus on first. With the draws, it's good to get a home game in the FA Cup against anyone, and with the FA Trophy it's either a trip to Walton who we know well or a new team to the Ryman League in Faversham.

"We've been working hard in pre-season training and our friendlies kick off on Sunday away to Winchester. With the away games we tend to stick to local venues to make it easier for players and fans alike, though we do like to go for one further afield each year.

"So, on Sunday it's down to Winchester, and where my old friend Glenn Cockerill is now manager. Glen has been to quite a few of our games in recent years and has helped us out too so it will be nice to take a few people down there. They've got a game against Southampton on Saturday if anyone wants to go and Glenn will be more than happy to chat with fans afterwards. For our game we've gone for an earlier 1pm kick off to give people a chance to get back for the World Cup final in the evening."
Party for Jamie Street
A party has been organised at The Butterchurn, Erskin Road, Sutton, Surrey, SM1 3AS, on Saturday 31st July from 7.30pm to celebrate physio Jamie Street's upcoming wedding. Tickets are available from Alan Dowson before and after upcoming friendly matches, costing £5. There will be some food and music, as well as a raffle. Proceeds from the night will be presented to Jamie as a present ahead of his big day.

Manager Alan comments, "Jamie does pretty much everything here. He's been here longer than all of us behind the scenes and is K's through and through. The venue might be right in the middle of Sutton and Carshalton but the landlord is from Jamie's old local (John Nelson from the Maverick). Hopefully we get a good turnout as he really deserves it."
Thursday 8th July 2010
FA Cup 2010/11
Kingstonian have been drawn at home to Croydon Athletic in the FA Cup sponsored by E.ON First Qualifying Round on the weekend of Saturday 11 September 2010.

First Round Qualifying - Saturday 11 September 2010
Second Round Qualifying - Saturday 25 September 2010
Third Round Qualifying - Saturday 9 October 2010
Fourth Round Qualifying - Saturday 23 October 2010
First Round Proper - Saturday 6 November 2010
Second Round Proper - Saturday 27 November 2010
Third Round Proper - Saturday 8 January 2011
Fourth Round Proper - Saturday 29 January 2011
Fifth Round Proper - Saturday 19 February 2011
Sixth Round Proper - Saturday 12 March 2011
Semi-Final - Saturday 16 April & Sunday 17 April 2011
Final - Saturday 14 May 2011
FA Trophy 2010/11
Kingstonian have been drawn away to Walton & Hersham or Faversham Town in the FA Carlsberg Trophy First Qualifying Round on Saturday 16 October 2010.

First Round Qualifying - Saturday 16 October 2010
Second Round Qualifying - Saturday 30 October 2010
Third Round Qualifying - Saturday 20 November 2010
First Round Proper - Saturday 11 December 2010
Second Round Proper - Saturday 15 January 2011
Third Round Proper - Saturday 5 February 2011
Fourth Round Proper - Saturday 26 February 2011
Semi-Final L1 - Saturday 12 March 2011
Semi-Final L2 - Saturday 19 March 2011
Final - Saturday 7 May 2011
FA Youth Cup 2010/11
Preliminary Round - Week commencing Monday 6 September 2010
Molesey v Kingstonian

First Round Qualifying - Week commencing Monday 20 September 2010
Molesey or Kingstonian v Crawley Down or Carshalton Athletic

Second Round Qualifying - Week commencing Monday 4 October 2010
Molsey/Kingstonian/Crawley Down/Carshalton Athletic v VCD Athletic/Sevenoaks Town/Welling United/Sutton United
Thursday 1st July 2010
Luke Hickie
Midfielder Luke Hickie has been released by the club. Luke made 11 appearances since joining in January.

Manager Alan Dowson comments, "Luke came in and did a job for us, but it's an area where we've got quite a few good players ahead of him in the queue."