Monday 30th August 2010
Horsham 2-3 Kingstonian
Kingstonian recovered from going behind before snatching a last minute winner for the second time over the Bank Holiday weekend. This time away to Horsham, the hosts took the lead through Jay Lovett in the 14th minute before Bobby Traynor equalised from the penalty spot ten minutes into the second half.

Ben Andrews restored the home side's advantage just after the hour mark, though again Traynor responded from the spot. Defender Gary MacDonald, having headed against his own post just minutes earlier, was on hand to capitalise on a mistake by Mark Zawadski - briefly a former K's goalkeeper - to knock in a winning ball with pretty much the last kick of the game.

Full details of the match are now available.
Mark Hams on Horsham
Gary MacDonald on Horsham
Sunday 29th August 2010
Squad photo 2010/11
The players page has been updated for the current squad, following this week's photoshoot.

A wallpaper of the squad photo can also be found on the downloads page.
Hornchurch match report
The report of Saturday's game is now available.
Saturday 28th August 2010
Kingstonian 2-1 AFC Hornchurch
A late Carl Wilson-Denis goal secured all three points for Kingstonian against AFC Hornchurch in a late-running match. Tommy Black had given the visitors the lead on the quarter hour mark, before Dean Lodge levelled the scores just six minutes later.

Kick off was delayed by 15 minutes, allowing for the late arrival of the visiting goalkeeper Ollie Morris-Sanders, whilst the first half finished a further 20 minutes late after lengthy treatment was required for Hornchurch's Jamie Richards and later Simon Huckle. Simon is currently in hospital being treated for a dislocated elbow which is likely to keep him out of action for some time. Best wishes for a speedy recovery to Simon, and also Hornchurch's Elliot Styles who was also taken to hospital at half time, with a suspected fractured ankle.

Full details of the match are now available.
Alan Dowson on Hornchurch
Matt Gray on Hornchurch
Friday 27th August 2010
Chris Woolston joins the board
The club is delighted to announce that Chris Woolston has joined the board of Kingstonian FC with immediate effect. Chris' company, Prestige Couriers Services Limited were named as the main shirt sponsor at the start of the summer for a period of two years.

Malcolm Winwright comments, "With this appointment, I believe we gain further strength, not only on the Board of Directors, but also some appreciated financial commitment.

"Chris has significant non-league experience having previously been involved in management at senior level with both Cobham and Merstham football clubs. Both Mark (Anderson) and I are delighted with his arrival and the timing is perfect as we continue to stabilise and progress our Football Club. This appointment further enhances the quality of Board/Committee members working in the best interest of Kingstonian FC and we look forward to a long and successful association."
Billericay match report
The report of Monday's game is now available.
Tuesday 24th August 2010
Alan Dowson on Billericay
Tobi Jinadu on Billericay
Monday 23rd August 2010
Kingstonian 4-2 Billericay Town
An exciting opening home game of the season saw Kingstonian take all three points, following a four-two win against Billericay Town.

Bobby Traynor, returning to the starting lineup, opened the scoring with a deft lob in the 20th minute before Adam Thompson poked home from close range to double the advantage with 27 minutes played. Billericay pulled a goal back before half time with a fine strike by Dave Collis, and the visitors then levelled the scores straight after the break through Leon McKenzie.

K's were denied by the crossbar (Hustwick), post (Lodge), lineman's flag (Huckle), as well as former goalkeeper Ashlee Jones, but Dean Lodge proved too hot to handle as he was twice felled in the box in the final ten minutes. Bobby Traynor duly converted the penalty on both occasions. Billericay were meanwhile reduced to ten men with five minutes remaining when Cedric Ngakam was given his marching orders for a late foul on Max Hustwick.

Full details of the match are now available.
Sunday 22nd August 2010
Bury match report
The report of yesterday's game is now available.
Saturday 21st August 2010
Bury Town 0-0 Kingstonian
Kingstonian opened the season with a scoreless draw away to league newcomers Bury Town in front of the best crowd of the day at Ram Meadow.

Matt Gray went closest for the K's when striking against the crossbar in the second half, whilst the new all-new defence marked their first competitive outing with a clean sheet.

Full details of the match are now available.
Alan Dowson on Bury
Friday 20th August 2010
Update from Alan Dowson
Manager Alan Dowson comments, "We've been working hard as ever over the summer and can't wait to get going, especially as a lot of other leagues have already kicked off. Our first opponents Bury Town are new to the league but they're a good team and we'll expect a tough challenge.

"Mo Harkin and Bash Alimi are still out injured so won't be featuring, but the rest of the squad are all available for the opening games. We've played with some different formations over the summer, especially whilst Bobby Traynor was away, but he'll fit back in just like normal as he goes for a third league golden boot in a row."
Sam Clayton
The club is pleased to announce the signing of midfielder Sam Clayton from Tooting & Mitcham United, following a string of impressive performances in pre-season.

Manager Alan Dowson comments, "Sam has been doing well during pre-season and will add an attacking threat from the middle of the park. He'll be in the squad for tomorrow's game."
Wednesday 18th August 2010
Supporters Club membership 2010/11
New 2009/10 Supporters Club membership forms can now be downloaded from the forms page.
Supporters Club coach travel 2010/11
The Supporters Club will as usual be running coaches to away games this season. Prices and times of travel can be found on the coaches page.

Details are also listed regarding coach travel season tickets - which offer generous savings over the course of the regular season (17 league matches covered).
Monday 16th August 2010
Met Police 2-1 Kingstonian
A Kingstonian XI lost this friendly to a last minute Vernon Francis goal at Imber Court. The hosts had opened the scoring through James Field in the tenth minute before a neat finish from Billy Dunn had levelled the scores in the later stages of the second half.

Lineup:

1) Rob Tolfrey (13 Nic Taylor)
2) Lee Hall (17 Femi)
3) Anton
4) Tom Duffy
5) Uzo Opara (16 Tom Siefers)
6) Simon Huckle (18 Frank Knight)
7) Matt Gray (15 Orlando Smith)
8) Adam Everiss
9) Billy Dunn
10) Sam Clayton (12 Stefan Martin)
11) Ugo Okoro (14 Ali Dewar)
Saturday 14th August 2010
Leatherhead 2-4 Kingstonian
Adam Thompson grabbed a hat-trick as Kingstonian beat Leatherhead by four goals to two at Fetcham Grove. Thompson netted twice from the penalty spot in the 8th and 37th minutes, sandwiching a strike from close range. Carl Wilson-Denis completed the scoring with a neatly taken goal in the closing minutes, whilst the hosts got two goals of their own, via the penalty spot and a free kick.

Lineup:

1) Rob Tolfrey
2) Dean Hamlin
3) Tom Bird (Lee Hall)
4) Gary McDonald
5) Tobi Jinadu
6) Jean-Sylvain Dossou (Simon Huckle)
7) Adam Thompson
8) Max Hustwick
9) Carl Wilson-Denis
10) Matt Gray (Orlando Smith)
11) Dean Lodge
Tuesday 10th August 2010
Walton & Hersham 2-0 Kingstonian XI
Two goals in the first half won this game for Walton & Hersham against a couple of Kingstonian lineups composed mainly of trialists and youngsters.

1st half lineup:

1) Nic Taylor
2) Steve Gilbert
3) Adam Everiss
4) Tom Duffy
5) Gary MacDonald (c)
6) Devon Williams
7) Sam Clayton
8) Simon Huckle
9) Bobby Traynor
10) Billy Dunn
11) Orlando Smith

2nd half lineup:

1) Nic Taylor
2) Steve Gilbert (Malachi Thomas)
3) Adam Everiss
4) Tom Duffy
5) Uzo Opara
6) Alistair John
7) Danny Davenport
8) Simon Huckle (Tom Siefers)
9) Dave Ellard
10) Chris Kiganda (Adrian Blake)
11) Daniel Morris
Adam Thompson
The club is delighted to announce that defender/midfielder Adam Thompson has signed a new contract with the club. Adam has played 72 games in his two seasons at the club so far.

Manager Alan Dowson comments, "I've known Adam since he played his time in the youth team at Walton and he's a key part of any team. His determination and commitment levels are excellent and I expect he'll be one of our top performers again. He has the captain's armband at the moment and is showing the desire to keep it."
Jean-Sylvain Dossou
The club is pleased to announce the signing of midfielder Jean-Sylvain Dossou from Farnborough Town, following a string of impressive performances in pre-season.

Manager Alan Dowson comments, "With me from the north east and the lad from France, we understand eachother just fine - I call him Silver and he calls me Gaffer! We've been crying out for someone to put their put foot in in the middle and he's just that kind of player."
Monday 9th August 2010
Match officials required for Academy
The new Kingstonian FC Academy will be kicking off this September and requires match officials for home games.

A referee qualified at level 5 or above and two assistants qualified at level 7 or above will be required, and they will receive fees of £24 and £12 each respectively. Matches will kick off at 2pm on Wednesdays and the opening fixtures are: 15th September, 29th September, 13th October, 20th October.

If you are able to help please contact Mark Hams at ksglynacademy@aol.com
Saturday 7th August 2010
Godalming Town 1-1 Kingstonian
Late goals from Dean Lodge - an 83rd minute penalty - and Ali Zidane in the final minute saw Kingstonian and Godalming Town draw one-all in this pre-season friendly.

Lineup:

1) Nic Taylor
2) Dean Hamlin
3) Tom Bird
4) Gary McDonald (16 Simon Huckle)
5) Tobi Jinadu
6) Max Hustwick
7) Adam Thompson (18 Lee Hall)
8) Jean-Sylvain Dossou
9) Carl Wilson-Denis
10) Matt Gray (12 Orlando Smith)
11) Dean Lodge
Friday 6th August 2010
Gary MacDonald
The club is delighted to announce the signing of defender Gary McDonald (30) from Havant & Waterlooville. Gary played in the Football League for Peterborough United before spending four years at Woking, during which time he made 124 appearances for the Cards before winning the FA Trophy with Ebbsfleet United. He has since played in the Conference South for Bognor Regis Town, Hayes & Yeading United, as well as Havant.

Manager Alan Dowson comments, "It was important to move quickly to replace Jon Boardman whilst we're still preparing for the season, and Jon himself mentioned that his former teammate might be available. Gary has lots of experience and reads the game well so will be an important part of our defence."
Jon Boardman
Defender Jon Boardman has been released by mutual consent. Jon joined the club just a couple of months ago but has recently relocated to the Reading area and will therefore be joining Hungerford Town.

Manager Alan Dowson comments, "It's a disappointment to lose Jon as he's a good experienced player, but he's had a change in circumstances which meant he could no longer fully commit to our schedules. He enjoyed his time with us and we were pleased to have him but it wouldn't have been in our interests to keep a player in those circumstances. Good look to him for the future."
Wednesday 4th August 2010
Kingstonian All-Stars 9-1 Chelsea Legends
A highly entertaining exhibition match saw the Kingstonian All-Stars take the honours against a Chelsea Legends team, with a final score of nine-one.

The Chelsea team opened the scoring in the early stages, through a powerful strike from Rod Lampton - event sponsor from Trident Construction. Former Wimbledon and Jamaica player Marcus Gayle struck an impressive quartet of goals for the All-Stars team, before a change of lineup seeing the K's Vets take to the field for the second half.

Chuck Martini - no stranger to scoring goals - opened the second half scoring, with long-serving duo Phil Wingfield and Eddie Akuamoah adding further goals. Relative youngsters NJ Lampton (from the penalty spot) and Jon Coke roounded off the goals in the final stages.

First half lineup:

1) Chuck Martini
3) Kit Symons
4) David Howells
7) Jamie Lawrence
8) Scott Fitzgerald
9) Marcus Gayle
10) Martin Tyler
11) NJ Lampton
12) Ben Thatcher
14) Jimmy Case
17) Richard Shaw

Second half lineup:

1) Jerome John
4) Jon Coke
6) Mark Harris
7) Alan Dowson
8) NJ Lampton
9) Chuck Martini
10) Eddie Akuamoah
11) Scott Corbett
12) Mark Hams
14) Phil Wingfield
16) Adrian Blake

Chelsea lineup: Dave Beasant, Garry Stanley, Colin Pates, Keith Dublin, David Stride, Kerry Dixon, Gary Chivers, Ian Britton, Paul Canoville, Steward Robins, Rod Lampton
Tuesday 3rd August 2010
Dorking Wanderers 1-2 Kingstonian XI
A Kingstonian XI defeated Dorking Wanderers by two-goals, courtesy of goals from Billy Dunn in the 21st minute and Simon Huckle a couple of minutes later. Huckle had a second disallowed, whilst Nic Taylor saved a penalty late in the first half. The hosts did however pull a goal back late in the game.

Lineup:

1) Nic Taylor
2) Steve Gilbert
3) Devon Williams
4) Tom Duffy
5) Aaron Snelling
6) Sam Clayton (16 Michael Lyons)
7) Simon Huckle (15 Gavin Quintyne)
8) Stefan Martin (18 Anton)
9) Dave Ellard (12 Alistair John)
10) Billy Dunn (14 Chris Kiganda)
11) Orlando Smith
Monday 2nd August 2010
Kingstonian All-Stars v Chelsea Legends
This Wednesday 4th August sees a special match take place to mark the start of the club's 125th season, with a Kingstonian All-Stars team facing the Chelsea Legends. Tickets will be available on the turnstiles on the night and usual prices apply, whilst season tickets will be valid for admission. Kick off is at 7.30pm at Kingsmeadow Stadium.

The K's All-Stars will be managed by Alan Dowson and Frank McLintock, and will in the first half consist of former professional players from around the game. The following are provisionally marked to appear on the evening:
Jim Stannard, Kenny Cunningham, Scott Fitzgerald, Ben Thatcher, Richard Shaw, Kit Symons, Ian Hendon, Andy Hessenthaler, Alan McLeary, Billy McKinlay, Jimmy Case, Glenn Cockerill, Matt Le Tissier, Andy Sinton, Marcus Gayle

The K's All-Stars' second half team will be based mainly around the popular Kingstonian Veterans side, and will feature players and coaching staff from over the past couple of decades at the club. The following are provisionally marked to play on the evening:
Chuck Martini, Jerome John, Mark Beard, Mark Harris, Ian Pearce, Scott Corbett, Francis Vines, Steve Sedgley, Geoff Pitcher, Phil Wingfield, NJ Lampton, Rod Wallace, Martin Tyler, Steve Darlington, Eddie Akuamoah

The Chelsea Legends will be fielding a team from the Chelsea Old Boys - an official Chelsea FC team. They will be managed by Graham Rix and Ray Lewington on the night and their squad is expected to be:
Dave Beasant, Garry Stanley, Clive Wilson, Colin Pates, Gary Chivers, Keith Dublin, Paul Canoville, Trevor Aylott, John Bumstead, David Stride, Kerry Dixon, Rod Lampton, Mick Harford, Neil Shipperley, Chris Sutton, Ray Wilkins
All-Stars & Legends, presented by Trident Construction
Thank you to everyone who has assisted with and is supporting Wednesday night's Kingstonian All-Stars v Chelsea Legends game, from those taking part to those spectating or helping out on the night. In particular, thanks to our special event sponsor Trident Construction Ltd.

Rod Lampton from Trident comments, "After many years of supporting Alan Dowson and Kingstonian it is a great privilege to be able to run out to some true legends of the game (as well against my brother and former K's player NJ Lampton). I think it is a huge achievement that the club is having such a momentous anniversary, and to one where sporting greats like myself(!) will be participating in and honouring. Long may the club and spirit within it remain.

"As part of our continual support toward K's and its supporters, we offer a 10% discount on any work we carry out - just mention that you support Kingstonian. Visit www.trident-construction.co.uk for your building needs or www.tridentdrainage.co.uk to solve plumbing and drainage emergencies."

Former K's player NJ Lampton adds, "I have known Dowse for a number of years and have always kept in contact with him whether it was to do with football or on a personal level. When he asked if me and my brother would be interested in taking part in this special match we accepted without any hesitation. Dowse works harder than any other manager I have ever known or worked with. To play with and against such legends (including my brother!) will be amazing and I am really looking forward to returning to Kingsmeadow."
Sunday 1st August 2010
Update to friendly fixtures
This Tuesday 3rd August, a Kingstonian XI will travel to Dorking Wanderers, kick off 7.00pm.

The following Tuesday 10th August, a friendly has been arranged away to Walton & Hersham, kick off 7.45pm.
Youngsters impress at Wokefield Park
Well done to the group of Kingstonian youngsters who represented the club at Wokefield Park in Reading recently, where they took part in coaching sessions put on by A Licence (Part 1) candidates under the watchful eye of the cream of English FA tutors. The candidates - including former K's reserve team manager Matt Beard - reside at the venue for 2 weeks.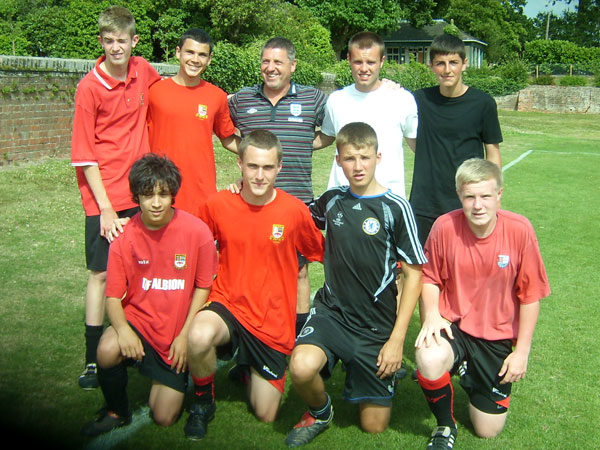 Pictured above with course tutor and ex West Ham player Geoff Pike are Jacob Bliss, Tom Drinkwater, Steff Martin, Josh Johnson, Benji Alvares, Charlie Dunn, Alex Mcmillan and Ben Ewing.

Mark Hams comments, "The boys have been an absolute credit to the club with the way they conducted themselves in very hot conditions. They displayed admirable punctuality, manners and courtesy with no fuss at all which make the life of the candidate a whole lot easier. The positive feedback and comments from the candidates go a long way to putting our club back on the map which is what we are always striving to do. The English FA tutors were also very complimentary regarding the lads' attendance.

"Very special thanks go to Mark Dunne from the Under 18's for his huge efforts in arranging the players' availability and to Keith Lyons at Hinchley Wood School for arranging a minibus at short notice. Thanks also go to Tony Procter at AFC Westend for his efforts in trying to arrange more players at late notice."