Champions 2008/09
"The victory on Saturday, amidst such fantastic scenes, must be seen very much as a work in progress and the first step in what we hope will be a successful period for the Club in the coming years", writes Mark Anderson, Joint-Chairman of Kingstonian FC.

"Malcolm Winwright and I both got involved because we believed that we could return Kingstonian to its rightful place in the pyramid. From the very sorry state in which we found the club, and with the support and assistance of so many, we have tried to create a secure platform from which Dowse and his managerial team can work their magic. What we have proven in the last three years is that the heartbeat of a football club goes way beyond the bricks and mortar of a stadium. It's about the people - our people - and their desire to help us in achieving our aim. We have one very fit and healthy football club which is looking forward with relish to the 2009/10 season."
Interviews
Matchday reporter Simon Murray was on the scene in the dressing room after the title was won on Satuday 18th April, and spoke to anyone and everyone! Listen via the K's Web audio player [WMA file - 5:26 - 1,312Kb].
Merchandise
Special edition 'Champions' t-shirts are available to purchase either online or from the shop at Banquet Records.
Photos
Photographer Chris Hatton has produced the official Kingstonian promotion images below. These will hopefully be available to purchase from the shop in due course.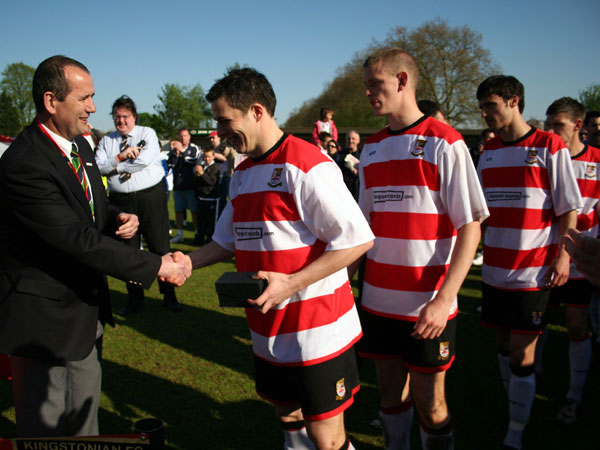 Photo: Chris Hatton - Kingstonian FC
'Champions 1'
Photo: Chris Hatton - Kingstonian FC
'Champions 2'
Photo: Chris Hatton - Kingstonian FC
'Champions 3'
Photo: Chris Hatton - Kingstonian FC
'Champions 4'
Photo: Chris Hatton - Kingstonian FC
'Champions 5'
Photo: Chris Hatton - Kingstonian FC
'Champions 6'
Photo: Chris Hatton - Kingstonian FC
'Champions 7'
Photo: Chris Hatton - Kingstonian FC
'Champions 8'
Photo: Chris Hatton - Kingstonian FC
'Champions 9'