Wednesday 1st October 2003
Trevor Jones
The club is deeply saddened to announce the death of Trevor Jones. Trevor was electrocuted at the Old Cranleighans Club where he worked.

Aged 34 tomorrow, Trevor was the club's Reserve Team Manager last season and was under-study to goalkeeper Lance Key for the whole of this.

The thoughts of the players, officials and supporters of Kingstonian FC are with Trevor's friends and family at this sad time.
Tributes from local newspapers
It wasn't just about the football with Trevor because he was such a character around the club. He was really well-liked and really popular among all the players and staff.
Kim Harris (Manager)
If I said to him I need £1million and he had it in his pocket he would have given it to me. He was a real bloke, a real person. If he said something he would have meant it. There was no pretence about him. He never turned anyone away - he had a heart the size of a bucket. It is just so rare that you can have someone like that.
Brendan Frawley (friend)
Trevor was the ever cheerful face of our Old Cranleighan facility at Thames Ditton. We shall miss him dreadfully and it will be impossible to replace him. But we must continue somehow to provide the facilities at our club.
Mike Fawcett (Honorary Secretary of Old Cranleighan Club)
Manager Kim Harris is devastated as he was especially close to Trevor. Trevor was a club man through and through, and showed it by ably filling a number of roles including player, coach, manager and even groundsman. When we were struggling last season he worked tirelessly for the club. He will be sorely missed by everybody here.
Gary Ekins (Kingstonian Press Officer)
Tributes posted on the K's Web forum
I'm deeply saddened at Trevor's death and would like to take this oppotunity to wish my condolence to his family, as i say i'm very sorry to hear this, Trev was a great charecter to speak to, he alway's had time for you? Always in our hearts, you are Trev?
K's fan
I knew Trevor through my hockey connections long before he became involved with Kingstonian FC. He had been manager of the Old Cranleighans Sports Club in Thames Ditton - with its hockey, rugby and cricket sections - where he lived and where the tragic accident occurred, for some five years. The tributes paid to him at Kingstonian have been echoed by all those at Old Cranleighans and in the world of the three other sports with which he was involved. I got to know Trevor even better as an avid follower of the Reserves for the past two years, first watching with Robert and later joined by Ali and Ollie. He led the team by word and example equally effectively from his regular position between the sticks or, amazingly well for a goalkeeper, from centre back. I will never forget the Beckham-like free kick goal he scored at Whyteleafe (then unbeaten on top of the Suburban Premier) - both for the way he refused to let any one else take the kick and then the amazed delight with which he and the rest of the team greeted the goal. All round the world of football, both in our current senior team and also at all the other clubs our reserves have dispersed to, there will be young (and older) players who owe an awful lot to his enthusiasm, knowledge of the game and encouragement. Trevor, you will not be fogotten. We all miss you and send our deepest sympathy to your parents and friends. So sorry I can not be at Kingsmeadow on Saturday to pay my respects.
Sean Cotter (Esher News and Mail Kingstonian reporter)
I've only just found out, as an occasional follower of the ressies I remember Trevor as one of the most vocal and encouraging coaches for the younger players. What can I say, such a terrible loss for all concerned, my condolences to his family.
Roger
Just want to pass on my deepest symphaties.
Jared (Sutton fan)
I was very sorry and shocked to hear of the sad news.i was part of the reserve team last year that trevor ran at kingstonian, id like to take this opportunity to thank trevors family on his behalf for all he did for me in developing me as a player because he helped me alot, whether it be bollocking me at half time for a mistake! or congratulating me on scoring a goal. There was never a dull moment when trevor was around and he was a great bubbly character, i dont think there was one person i knew of that didnt like trevor, everyone liked him. My thoughts go out to his family and friends, Rest in Peace trevor.
Matt Seldon
Very saddened by Trevor's death. 33 is too young for anyone. Thoughts are obviously with his friends and family. I didn't know him, but at the BBQ at Old Cranleighans after Grays at home he seemed like a really friendly, fun, guy. Reast in Peace.
Simon G
Whether he was managing the stiffs last year or deputising for Lance Key this year I always admired Trevor's commitment and enthusiasm. He took his football seriously, exactly the right attitude. He clearly loved life. Our thoughts are with his parents, family and friends, especially Trevor's mate Brendan, who all must be in shock. Kingstonian is more than just a football club so let's remember him on Saturday. The afternoon should be dedicated to Trevor, a real Kingstonian.
Phil Windeatt
I don't think you will find a guy who loved football any more than Trev did. He was a good goalkeeper, a good defender, a good manager, a good coach, and dammit above all he was a good man.
Robert Wooldridge
Losing anyone associated with a club as small as ours is something we all feel. To lose a man as young as Trevor, still in his prime and with so much left to give, is devastating. My condolences to all who knew him, loved him and relied upon him. And my backing for everyone who has already called for Saturday to be dedicated to Trevor. If we don't look after our own, we are nothing.
Robert Blevin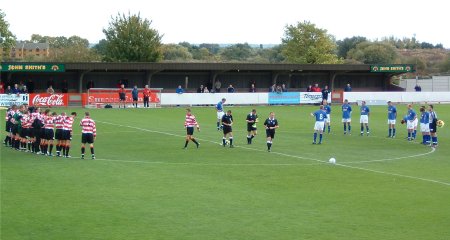 Photo: Kingstonian FC
It is so sad to hear of Trevor's death, and my thoughts are with his family. Having worked with him at the reserves last season, I could only praise him for his passion and commitment and echo what Robert says about him - just being good.
Ali Kazemi
I'd like to echo all of the above, and add my sincere condolences to his family and friends.
Richard Exworthy & family
I've just heard the terible news and I am shocked.Trev was a great player aswell as a gentlemen.I 100% agree that sats game should be dedicated to Trevor and also add my sincere condolences to all his friends and family.
Iain, John and Liam
I don't really have anything to add, just how shocked and saddened I am to hear this news. I'd just like to express my sincere condolences to his friends & family.
Simon Murray
All I could say has been said by the above postings. Personally, I found him to be a good clubman, popular and not without a sense of humour. My condolences to ALL his family and friends. My thoughts are with you.
Keith Parker
A lot of kind words have already been said. On behalf of Egham Town F.C. we would like to join in with you with our condolences to all concerned in this sadness. Trevor was a goal keeper for me at Epsom & Ewell and played at Egham Town before I came here. Trevor wil be missed in the Non-league game I myself will miss him I am very proud that Trevor was a very good friend of mine and will be sadly missed. Ada Hill his manager at Epsom & Ewell also sends his condolences. Please keep us informed of any arrangments to save upsetting the family. Egham Town will ask Whyteleafe for a mark of respect to be made on Saturday this I am sure they will agree to. Trevor you where a great bloke and we all where proud of you. R. I. P.
Pete Atkins
I have just heard the news about trevor and I'm shocked and saddened and have found it hard to take in. My thoughts go out to his family and friends. I know Trevor put a great deal of time and effort into Kingstonian and I know the club will treat his death with the respect that he deserved. I know Kim will lead everyone on at Kingstonian through this difficult time just how Trevor would have liked. RIP TREV.
Steve Sedgley
Echo all of the above sentiments-very sad news.
Dean
I am saddened to learn of the tragic news. I had not known Trevor that long, maybe two or three years, but always found him very good company and one of the few loyal and honest people within football. His encouraging and positive attitude towards the young players at K's was inspirational and I know all those that played under him hold him in high regard. Trevor was always prepared to help others and I am grateful for the times he has assisted me and others at Carshalton Athletic. I shall miss the friendly banter exchanged between our respective dug outs, which was always followed by a laugh in the bar afterwards. On behalf of everyone associated with Carshalton Athletic I offer my condolences and support to Trevor's family and those close to him.
Brian Baker (Reserve Team Manager, Carshalton Athletic FC)
With sympathy to Trevors family & all his friends at Kingsmeadow. Remembered by many Hamlet fans from his spell at Champion Hill in the mid nineties. Sorry we cannot be around to sign your book of condolence personally.
Mishi (DHFC)
Sincere condolences for the sad death of Trevor Jones, shows that there is a lot more to life than football.
Jezzer (KTFC)