Kingstonian 2-1 Aldershot Town
MATTY ELVERSON SCORES
The first crowd of the season over one thousand packed into Kingsmeadow for the penultimate home game of the 2001/2 season - although the fact that the best supported team in the league were the visitors was certainly a "helpful" factor in that. Aldershot headed North-East unbeaten in seven, but that run was ended by a home side clearly much improved as of seven days ago.

It was Steve Sedgley's side who started the better. Just three minutes were on the clock when those who had managed to turn up on time saw Tim Sills play in Greg Ball only for Gareth "howler" Howells to turn his shot aside with his foot. Not three minutes later and the ex-Sutton goalkeeper was called upon again to prevent a Liam Collins shot from distance.

Aldershot though spent much of the next twenty or so minutes giving the K's back line a thorough going over. Chris Allen crossed for Grant Payne, whose poor shot was saved only for the ball to make its way back to Allen whose much better shot was turned aside for a corner by Lance Key.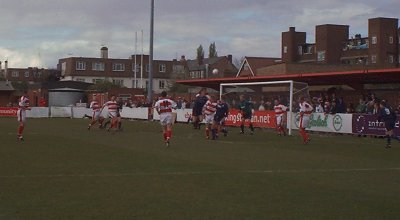 Photo: kingstonian.net
In fact, Chris Allen was provided with the ball again and again, and he gave Billy Mead a stern test. Such a stern test that at one point Peter Barnsby had to step in to remind the "full-back" just how to do his job.

Payne went close again with a header which went just wide, but then K's came even closer. A long ball from Ball - stuck out on the left wing - saw David Sadler head up and slightly out, allowing Tim Sills to crash in a right-footed shot which smacked against the post before Howells could even flinch.

Matt Elverson deflected a Mark Bentley shot up and over his own bar and Billy Mead cleared a Owen Coll header off of the line (kind of - it was probably going just wide) as Aldershot turned the screw. But then K's went down the other end and scored.

Collins crossed from the right as Sills and Coll tussled in the box. Sills went flying, but before the cries for a penalty could even be uttered, Greg Ball met the cross at the far post and headed superbly past Howells for his first goal for over two months.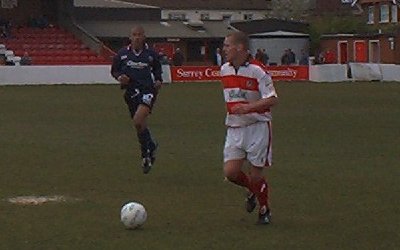 Photo: kingstonian.net
There was just time for Lance Key to prove his worth for the 681st time this season as he turned away a shot from Allen before the whistle went for the break. Aldershot had had just as many chances as their hosts, but one good finish split the sides.

The second period saw both teams attacking their - segregated - supporters, but as time wore on the comparisons to a pre-season friendly grew and grew. The main problem was, of course, the sunshine. Players, unaccustomed as they are to such weather in this inhospitable land, start to play two yard passes as soon as their pupils become dilated. The other problem was the fact that both teams' seasons have been over for a good few weeks (or months in K's case) now.

What action there was came mostly in front of the Shots' 'keeper, who was thankful for a slice wide by Sills not too long after the re-start. Yet as sometimes happens in friendlies, there was one incident which made the whole match worthwhile. A foul on Sadler was punished first by the referee with a free-kick and then by Matt Elverson as he rose to plant a header past Howells via the far post. This was a player who had never scored for the club - despite coming oh-so-close on oh-so-many occasions. His delight was evident to all.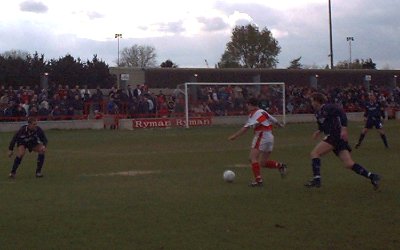 Photo: kingstonian.net
The match moved slowly towards its conclusion, with most chances of note falling to players in hoops. A James Pinnock corner was cleared back to the midfielder, whose second cross was cleared to the edge of the box. There waiting was Ball, who hit a very good shot only for Howells to tip over.

Aldershot almost made the game marginally more exciting after a corner from Allen was volleyed goalwards by Coll, but Mark Jones put an end to that with the afternoon's second goal-line clearance.

Ronnie Green - brought on in place of the injured Sadler - was given a great chance to move up from "fourth choice striker" when played through the Aldershot defence as they looked for offside. Pinnock played the ball, and Green had just Howells to beat. This he did (see below), but he took so long to do it that by that time three defenders had raced back. Two were beaten, but the third proved too much and the chance was wasted.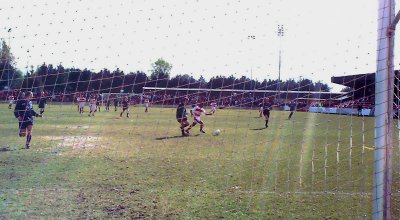 Photo: kingstonian.net
It did in fact look as though K's might rue that miss, as the visitors turned up the pressure considerably in the final ten minutes. Firstly a cross from the right found Allen, who set up Payne just in front of goal. His shot looked destined for the net, but once again Key was in the right place to deny the ex-Card. His shot from outside the box just a couple of minutes afterwards forced Key into what was an even better save - low to his right - as it looked to be one of those days for the striker.

Not so, as time had just moved into injury time when he got the goal that his display had deserved. A throw from the left allowed Brown to cross for Payne to tuck the ball neatly past Key. The remaining minutes were played with a deep sense of foreboding, but somehow the lead remained and at the whistle it was the home side who could claim the points.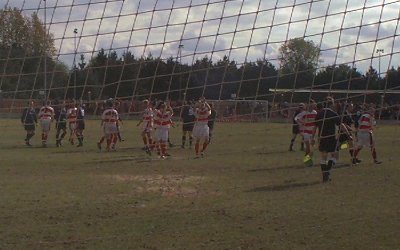 Photo: kingstonian.net
Aldershot are undeniably a good side. They had several good chances throughout this match, but the form of Lance Key - and a few poor finishes - meant that they couldn't score more than the one. K's took their chances well, but when it really matters the result might well be quite different. A definite improvement, but still much to be done.
Sat 13th Apr 2002
Kingsmeadow Stadium
1063
Isthmian League Premier

Kingstonian
2
Ball, Elverson
Aldershot Town
1

1
Lance Key
2
Billy Mead
3
Liam Garman

14

4
Peter Barnsby
5
Matt Elverson
6
Bashiru Alimi

12

7
James Pinnock
8
Liam Collins
9
Tim Sills
10
David Sadler

15

11
Greg Ball
12
Mark Royal

6

14
Mark Jones

3

15
Ronnie Green

10

Tim Sills
Gary Ekins