Basingstoke Town 2-0 Kingstonian
TIM "SILLS" THE WIN
The McDonaldsTM opposite The Camrose Ground, Basingstoke, has to be the worst fast food outlet within the M25. First of all there is accessibility. Divided by four lanes of fast moving traffic and endless fences, the trek looked difficult from the outset. However hunger, combined with a taste of Basingstoke's burgers in August, meant that this particular trek was not one to be shunned.

And so it was the three hoop-clad enthusiasts set off in search of sustenance. First of all there was the search for the opening in the fence to allow us to risk our necks on the A-whatever outside the ground. That found there was an interminable wait for the lights to change in our favour. Yet even when we had accomplished the crossing of all four lanes of traffic - in a record time of 2 minutes 47 seconds one might add - there were further barriers to be overcome before the delights could be ordered.

The Holy Grail was in the middle of the four-laned A-whatever and some sort of service road. A short foray up the former revealed no entrance. A short foray up the latter revealed no pavement. OK so we could have crossed over, but by this time, quite frankly, we wished we hadn't bothered. But finally we made it. And joy of joys - no queue.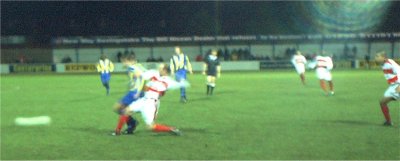 Photo: kingstonian.net
Yet more disappointment was just around the corner. You'd think that, seeing as every McMeal comes with fries, they'd have fries ready would you not? Well clearly logic doesn't work that way in Basingstoke. Three meals were ordered, all clearly containing fries, and all three had to sit by the till until the fries were ready. But the staff behind the counter were clearly so keen to impress that they served up the fries before they'd had a chance to warm up.

I won't bore you with the tale of the non-Coke Coca-Cola - you can probably fill in the details yourselves. By this time, we just wanted to get out of there. And so after making our way back across the A-whatever - in a somewhat slower time of 3 minutes 36 seconds - we got to the ground.

The evening took a down-turn - if that were possible - when Basingstoke scored after just 9 minutes. Mike Darvis crossed from the right, the K's back-line were clearly still negotiating the A-whatever, and the un-marked Tim Sills headed home. Richard Newberry almost made it two with a chip - far better than any served opposite - over Lance Key which just dropped wide of the post.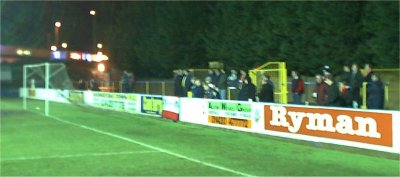 Photo: kingstonian.net
Ronnie Green did his best to cheer the faithful few when Peter Barnsby played him in behind the Stoke back line, but his shot clipped goalkeeper Scott Tarr's studs and didn't quite have the pace to cross the line. Stuart Girdler made sure of the no-goal by hoofing clear before any follow-ups could be claimed.

Lance Key was called upon to make another stupendous save, which he accomplished with a minimum of fuss. Newberry played in Darvis only for the Ryman Number One to tip over. Yet he was in no position to prevent the last chance of the half from going in - Newberry did that all by himself.

Another woeful bit of "understanding" between Barnsby and Thurgood saw Efan Elad's cross land on the head of Newberry some eight yards out, and with no defender within touching shouting distance the striker headed wide. Lance Key then gave Sean Thurgood's ear a Thoroughly Good bashing.

The half-time break offered the opportunity for a quick dash over the A-whatever, but most people declined. The bar looked to be a better proposition than the terrace for the second half, but after some prompting most made their way outside.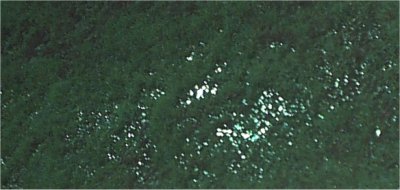 Photo: kingstonian.net
We really shouldn't have bothered. Newberry shot over, Barnsby got booked (after placing both feet into the shin of an on-rushing midfielder), Greg Ball and Danny Bolt came on, Newberry shot wide, Ronnie Green missed a sitter and Barnsby got booked for going through the back of another midfielder.

Individually, his two offences were just about worthy of yellow cards, but it was still a shame to see somebody sent off in such a match. Thankfully Scott Tarr didn't run up to Barnsby and give him a good kicking before he made his way down the tunnel.

The sending off was followed immediately by the second goal for the home side. A cross was sent in from the right wing, the newly-formed centre-defensive partnership of Bashiru Alimi and Sean Thurgood hadn't quite worked out who was marking who, and Newberry slotted home.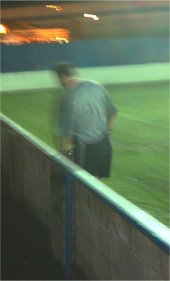 Yet the moment which made this trip worthwhile was still to come. Somebody fouled somebody (we weren't paying too much attention by this time) and the game stopped. Goalkeeper Tarr looked over his shoulder and quickly made his way to the edge of the pitch. A final check confirmed that everybody was watching what he was doing, and so he unzipped (or something) and let rip.

After that, nothing else mattered. OK so maybe it wasn't as bad as it sounds. The McDonalds' fun can be put down as an "experience", the first goal can be put down to Barnsby and Thurgood whilst the second was just unfortunate. Ronnie Green had chances that he will put away nine times out of ten, and K's still looked 120% better than they did in August. That said, it is a joy to know that it is at least nine months until we get to visit The Camrose Ground again.
Tue 27th Nov 2001
The Camrose Ground
187
Isthmian League Cup 1st round

Basingstoke Town
2
Kingstonian
0

1
Lance Key
2
Billy Mead
3
Mark Jones
4
Peter Barnsby
5
Sean Thurgood
6
Bashiru Alimi
7
Dave Clarke
8
Phil Wingfield

12

9
Mark Royal

15

10
Ronnie Green
11
Liam Collins

14

12
Danny Bolt

8

14
Max Hustwick

11

15
Greg Ball

9

Ronnie Green
Gary Ekins