Kingstonian 1-1 Basingstoke Town
SADLER'S WELL
After two defeats at the Camrose Ground already this season, Kingstonian were probably not looking forward to their Christmas meeting with Basingstoke. That must then be the reason why the team which has earned so much recent success was changed completely. Danny Bolt and Ronnie Green joined Dave Sadler on the bench, whilst Dave Clarke was nowhere to be seen. The result was that the K's front line was only at 50% effectiveness - with Greg Ball ploughing a lone furrow in front of the midfield fivesome.

Still there were two new faces for the K's faithful to get confused over - Craig Rocastle started on the right wing whilst Luke Dowling allowed Mark Jones to move further up field (and further away from dangerous opposition wingers thank God).

Basingstoke's last league victory was on October 30th, whilst Sedgley's Kingstonian are unbeaten at home. And at the end of ninety minutes both of those statements are still true. Two second half goals were shared, as a draw - probably a fair result - was played out.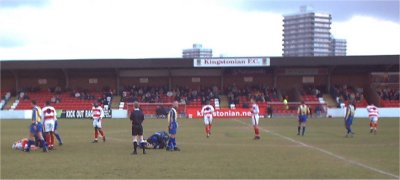 Photo: kingstonian.net
K's had the better of the opening - Stoke skipper Paul Wilkerson got his toe to a Rocastle cross just before Greg "skinhead" Ball could connect and Mark Jones was inches away from getting on the end of a Billy Mead cross - but the best moment of the first period saw the visitors test the sturdiness of Lance Key's woodwork.

Glenn Howes played a defence-splitting ball through to Warren Haughton. He shot with the outside of his right foot from the edge of the area but misjudged ever so slightly as his shot cannoned off of Key's right-hand post and bounced away. The centre-forward had another similar chance just moments later when Max Hustwick got a clearance from Jason Bristow all wrong. The ball bounced over the defender's head and into Haughton's path, but as is now customary, Hustwick saved his blushes by racing back and executing a superb sliding tackle before the shot was produced.

Key provided his own customary outstanding save when Jason Eaton headed a Simon Herbert right-wing free-kick towards the top corner - only for the keeper's hand to palm it away.

K's best spell came just before the break, and with better luck they might have opened the scoring. First of all Greg Ball took off on a good run on the right and won a corner for his efforts. Liam Collins swung it in and a (somewhat unmarked) Hustwick's volley was deflected over by Don Forbes. The following corner was cleared back out to Collins whose resulting cross looked destined to provide a goal.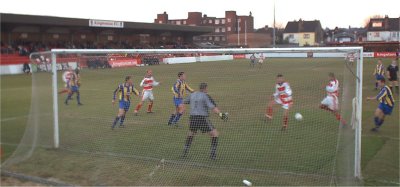 Photo: kingstonian.net
Hustwick - some three yards out - leaped but just failed to connect, but worry not, because Bashiru Alimi was right behind him, presumably to sweep the ball home. Not so. The ball struck the midfielder's chest, bounced away from him (above) and was hacked clear. And so the break was reached at nil-all.

David Sadler was introduced in place of Eddie Duah during the interval - and we're told that this was definitely not because Greg "scaredy-cat" Ball was getting "a bit frightened on his own".

Still, it took just ten minutes for the change to reap its reward. More good work from Rocastle on the right saw a cross come in towards Sadler. His jump was above Bristow, but his header looked weak. Yet little did we all know that the new turf installed in both Kingsmeadow goalmouths was the "extra-springy" type. The ball bounced down in front of Scott Tarr and bounced up and past his out-stretched hand for a slightly lame, but still very important, opening goal (below).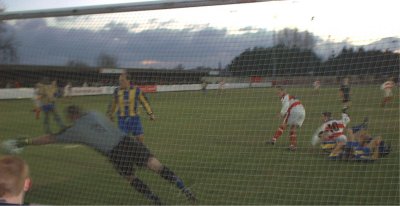 Photo: kingstonian.net
Basingstoke took this as the encouragement that they needed. For the next twenty or so minutes all of the real pressure was at Key's end of the ground, and it finally told. Luke Dowling was called upon to clear a shot from Eaton off of the line after dual mistakes by Hustwick and Key and substitute Tim Sills hit the top of the bar with a cross before the deserved equaliser came.

Dowling fouled Haughton on the Stoke right, Wilkinson sent the free-kick in to the near post and Eaton headed into the top right-hand corner via Lance Key's left hand. It was a simple goal, but thoroughly deserved.

The home side immediately set about restoring their lead with their own spell of pressure as Danny Bolt replaced Mark Jones. Collins hit the top of Tarr's bar with a corner of his own and Sadler's ball across the face of goal was just missed by Ball before Ronnie Green was brought on in place of the leading scorer. Greg "Moaning Minnie" Ball took his place on the bench, but only after something of a heart-to-heart with Sedgley.

The remaining chances all fell to Kingstonian, but none were converted. Green came closest with a volley wide, but a one-one scoreline made everyone happy. Christmas is a time for sharing after all.
Sat 29th Dec 2001
Kingsmeadow Stadium
487
Isthmian League Premier

Kingstonian
1
Sadler
Basingstoke Town
1

1
Lance Key
2
Billy Mead
3
Luke Dowling
4
Peter Barnsby
5
Max Hustwick
6
Bashiru Alimi
7
Eddie Duah

15

8
Craig Rocastle
9
Greg Ball

14

10
Mark Jones

12

11
Liam Collins
12
Danny Bolt

10

14
Ronnie Green

9

15
David Sadler

7

Craig Rocastle
Gary Ekins