Billericay Town 1-1 Kingstonian
SEDGLEY ABSENT IN SEARCH FOR CENTRAL SAVIOUR
Kingstonian's first league visit to Billericay's New Lodge ground since 1986 was made in the absence of Steve Sedgley who, according to reports, was looking for a much-needed central defender and accompanying his sick mother at the same time. All the best Mrs Sedgley.

Now few K's fans would argue with the fact that Lance Key will walk any end of season "Player of the Year" votes - but his display at the start of this match was not one of his most memorable. With just a couple of minutes gone he sliced a Sean Thurgood backpass over his own shoulder for a corner-kick, and that was played to Sacha Opinel who blasted his long ranger just over.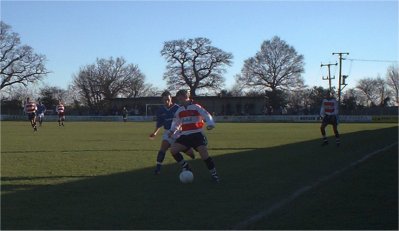 Photo: kingstonian.net
A poor start from the visitors was almost put out of the minds on the ten minute mark though. Key kicked long, Sills won the flick on and Liam Collins dashed onto the ball just to the right of the area. His right-footed shot was aimed right in the top corner of Gavin King's net, but the goalkeeper did superbly well to get a finger-nail on the ball to divert it onto the angle of crossbar and post and out.

Billericay's front pairing of Jamie Wallace and Kelechi Opara caused endless problems for Thurgood and Max Hustwick, and Wallace thought he'd scored the afternoon's first goal when he headed home a corner from Joe Baker. But the referee had spotted a foul and the goal was wiped out.

Greg Ball limped off not long after this early scare, and Town took the lead not long after that. Andy Tomlinson played the ball into the middle from out wide on the left, Thurgood swung at the ball but managed just to play the ball straight to Gary Henty who was on the edge of the box and he made no mistake as he easily beat Key.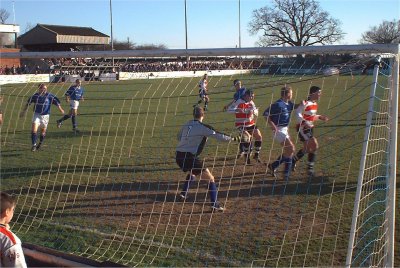 Photo: kingstonian.net
It was no more than Billericay deserved in truth, and the home side came close to extending their lead on several occasions before the half was brought to a halt. Tomlinson's cross from the left was horribly sliced just wide of his own goal by Thurgood and Opara sent his shot just wide after a superb move involving Baker and Henty.

Yet K's still managed to craft chances of their own to make the hard-luck tale for the manager that bit more believable. A foul on Craig Rocastle saw a free-kick from James Pinnock inadvertently flicked on at the near post by Dean Morris. Thurgood was rushing in at the far post, the ball smacked into his face and then smacked into the crossbar.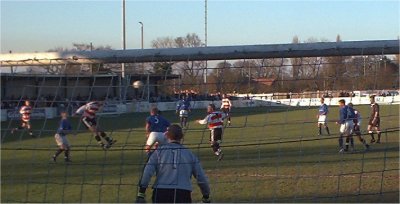 Photo: kingstonian.net
David Sadler - on for the injured Ball - sent a volley straight into the arms of King after a good move saw Sills and Collins combine well, but at the break the home side had the lead, and deservedly so.

Billericay started the second period as though they were playing a good defence - by attacking for all they were worth. A cross from Henty within thirty seconds of the restart set up Opara from in close but Key saved well, and it was then left to Wallace and Lee Williams to combine for the next miss.

A cross from the impressive Baker on the right landed in between Wallace and Williams with no defender close enough to intervene, yet somehow when the shot finally came in from Williams, Key was again on hand to deny Town the second goal.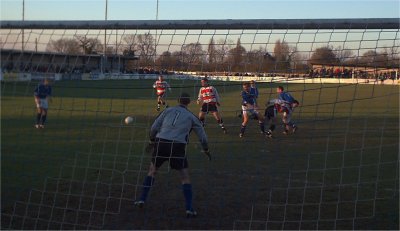 Photo: kingstonian.net
K's began to get back into the game on the hour mark, and Sills came close to marking what might be his last game with his fourth goal. Billy Mead crossed from deep and the striker got to the ball just ahead of King. His header from six yards out was goal-bound but it was so slow that the goalkeeper had time to trot back to his line and pick up the ball to make a "save".

Yet King could do nothing about the next chance. David Sadler had been doing very well since coming on, and to please those who say he "just needs a goal" he provided one with twenty-five minutes remaining. A long ball from defence was headed on by Sills, Sadler and Jeff Woolsey sprinted after the loose ball, Sadler got there first and touched the ball forward (possibly with his upper-arm) and unleashed a fine shot past King from just inside the box. His celebration (below) showed his relief - let's just hope that this goal does him more good than his one at Kingfield did.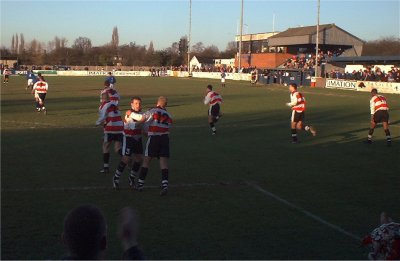 Photo: kingstonian.net
In truth the game petered out somewhat after the equaliser, with both teams seemingly happy to settle for a face-saving point. K's had a good shout for a penalty turned down after Chris Moore pushed Sills in the back, but that would have just caused confusion over who should take the penalty.

As it was the match ended in a one-one draw - and few seemed that bothered. K's really didn't deserve to win this match, and it was only a couple of fine stops from Key and a good finish from Sadler which meant that they didn't. It is perhaps unfair to single players out, but the sooner Sedgley (and his mum) find a new centre-half the better, and the sooner captain Craig Rocastle decides to start playing for more than five minutes per match the better.

There is the nucleus of a good side at Kingsmeadow, but before any talk of championships can start, several positions need strengthening.
Sat 16th Feb 2002
New Lodge
614
Isthmian League Premier

Billericay Town
1
Kingstonian
1
Sadler

1
Lance Key
2
Billy Mead
3
Mark Jones
4
Max Hustwick
5
Sean Thurgood
6
Liam Collins

15

7
James Pinnock
8
Bashiru Alimi
9
Tim Sills
10
Greg Ball

12

11
Craig Rocastle
12
David Sadler

10

14
Ronnie Green
15
Craig Lewington

6

David Sadler
Gary Ekins