Boreham Wood 1-3 Kingstonian
CAN'T SEE THE WOOD FOR THE THREE
The last competitive visit of a Kingstonian team to The Elstree Studios Boreham Wood's Broughinge Road ground saw a nail-biting one-nil win for the hoops, as the march towards the 1998 Isthmian League Championship got within spitting distance of its conclusion. Sadly the 2002 League Championship Trophy will not be heading down Jack Goodchild Way, but those in yellow (shirts as well as horrible socks) and blue did much to shorten their odds for next season.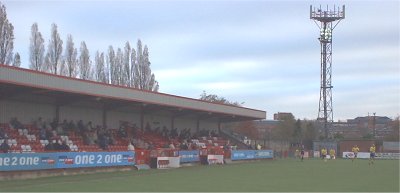 Photo: kingstonian.net
The home side reportedly had five players missing through injury and suspension so had to "bring in the youngsters". K's made no such excuses - they really had no choice. With Liam Garman and David Sadler still injured, Phil Wingfield was able to make a welcome re-appearance - albeit only making the bench. Greg Ball and Ronnie Green were given the chance to add to their seven goals in their last four games.

But in fact it was Danny Bolt who almost had the first chance of the game. A quick throw from Dave Clarke on the right allowed Ball to cross to the winger after a good turn, but goalkeeper Scott Ward just got there first. Yet the home side, fresh from their two-nil victory over Aldershot two weeks ago, probably had the lion's share of the opening fifteen minutes, and came close themselves when Brian Jones shot from distance only for Lance Key to save.

Yet as time wore on Kingstonian began to exert more pressure on their opponents. Ward intervened just as Green was about to head home another Ball cross and Liam Collins set Ball up only for him to head over. Just a minute later and a terrible pass from Julian Capore saw Ball and Micky Engrell compete for a loose ball on the edge of the Wood area only for the goalkeeper to just about clear his lines (below).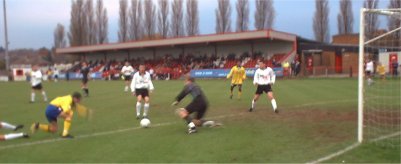 Photo: kingstonian.net
But the pressure finally reaped its reward on 29 minutes. Ward rolled the ball out to Engrell on the left, but a slip allowed Green to nip in. He played a pass through for Greg Ball to run onto, a defender got a touch and the ball rolled away from the centre-forward. Ward slid out to tidy up, but a crunching challenge from Clarke spun the ball free, and Ball (below, hidden) was on hand to shoot home from just outside the box for his fifth goal in as many games.


Photo: kingstonian.net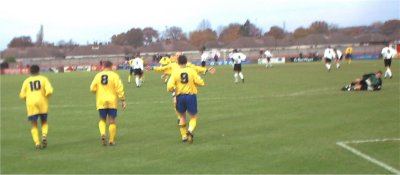 Photo: kingstonian.net
Not two more minutes had elapsed before the lead was doubled. Max Hustwick played a long ball down the left hand side of the pitch for Green to run onto, he ran at - and beat - Ward, and coolly slotted home from a tight angle for his fourth goal in as many games.

Until half-time, there was just one team in the game. Every time K's got the ball they looked as though they might score. They didn't, but at the break the game was as good as won.

Pah! Not two minutes of the second period had gone when a tackle from Bashiru Alimi saw the ball drop to defender Lee Harvey some thirty yards from goal. He closed his eyes, swung his right foot and hoped for the best. Hopefully he opened his eyes in time to see the ball enter the net, as it was a corker of a goal. Lance Key did all that he could to keep it out, but so perfect was the shot that he had no chance. All of a sudden there were worried looks where nothing but confidence had been seen just moments before.

For the next ten minutes the game was certainly in the balance. There were few clear chances for either side, but one could sense that the Wood youngsters knew that this was their chance to get back into the game. They came close when Billy Mead was called upon to hack the ball off of the line after Key was challenged by Gary Dixon following a corner. A foul on the goalkeeper was belatedly awarded, but the worried looks were spreading.

Yet no sooner had the looks arrived, they were wiped away by a fantastic spell of K's play. Mark Jones started it all off with a long shot of his own. Scott Ward saved fairly comfortably, but then inexplicably threw the ball straight to Liam Collins. His cross was met by the in-rushing Greg Ball at the near post, but the goalkeeper redeemed himself with a fine save.

Alimi shot just over after a corner was cleared to him on the edge of the box, but what followed really summed up the improvement seen in this Kingstonian team. For some three or four minutes no Boreham Wood player touched the ball. Passes were exchanged between all of the outfield players, and the home side didn't have a clue as they were forced to run hither and yon in a desperate attempt to regain possession. What would have been the finest move ever seen at Broughinge Road was only ruined when Danny Bolt shot over at the culmination.

The third goal finally came just after Greg Ball had seen his first time shot well saved by Ward. Another ball was played through the Boreham Wood defence for Ronnie Green to run onto, and once again he showed his composure as he slotted the ball between Ward's right foot and the base of the post for his fifth goal in four games.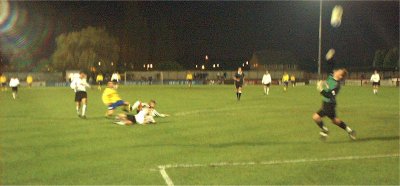 Photo: kingstonian.net
Things almost became worse for the home side, as first Danny Bolt saw his shot from the edge of the area well saved (above), followed by Greg Ball's shot wide when played through for a run at Ward.

Three-one perhaps doesn't reflect the superiority shown in this match, but there can be no doubt that this Kingstonian team is light-years ahead of its early season predecessor. And not a hockey stick in sight.
Sat 24th Nov 2001
Broughinge Road
287
Isthmian League Premier

Boreham Wood
1
Kingstonian
3
Ball, Green (2)

1
Lance Key
2
Billy Mead
3
Mark Jones
4
Peter Barnsby
5
Max Hustwick
6
Bashiru Alimi
7
Dave Clarke
8
Danny Bolt
9
Greg Ball
10
Ronnie Green
11
Liam Collins
12
Mark Royal
14
Phil Wingfield
15
Sean Thurgood
Ronnie Green
Gary Ekins