Canvey Island 2-0 Kingstonian
CANVEY AT A CANTER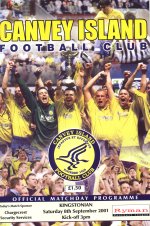 A trip over the mud-flats of Essex to the home of Trophy Holders Canvey Island didn't sound the most appealing of occasions, and so it proved. The team who, last May, took over where Geoff Chapple's Kingstonian left off, had scored fifteen goals in their six games so far - compared to K's five. And so nobody was really all that surprised at the outcome.

The overcast day almost started brightly (in a non-meteorological way) when K's almost broke the deadlock with but four minutes played. Bashiry Alimi swung in a corner from the left, Eddie Saunders and Chris Duffy jumped for the ball only for it to reach Steve Brown on the edge of the area. His shot wasn't far over, but the good start was encouraging.

Yet just sixty seconds later Canvey led. Adam Miller played a one-two with Steve Tilson on the left and shot home from twenty yards. The head dropping from those in hoops - both on and off the pitch - was noticeable. Miller came close to making it two not long after when he met a cross from Steve Parmenter at the far post but headed wide. The home supporters claimed that there was a push from skipper Peter Barnsby but play continued.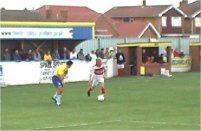 K's came close to scoring on this dreary day after fifteen minutes when Steve Brown did well to get in a cross from the left and David Sadler similarly did well to get his head to the ball. His effort beat goalkeeper Ashley Harrison but Ben Chenery was well positioned to head the ball off the line. There was still a chance to pounce on the rebound, but the referee bizarrely gave Alimi - stood well behind several players at the time - offside.

Alimi was given a chance of his own not long after when Sadler and Brown again combined well on the left, but the youngster's shot was high, wide and ugly. The head dropping continued.

Lance Key proved his worth as time wore on when a superb run from Chris Duffy saw him travel some fifty yards, although the lack of a challenge hopefully worried those on the bench. He finally made it into the area, beat Barnsby, but then saw his shot well saved by Key's left hand.

The last few minutes of the half saw a concerted effort by the visitors to get back onto level terms. Mark Jones produced a couple of inviting crosses, although neither Brown nor Sadler could RSVP in time, and then Sadler came as close as he has to opening his account. An Alimi corner from the right was met by Barnsby who headed goalwards. As the ball flew over the top of Sadler and John Kennedy it looked fairly obvious that it would be saved, so Sadler deflected the ball up. From three yards out he managed to beat the goalkeeper, but he also managed to lift the ball over the bar.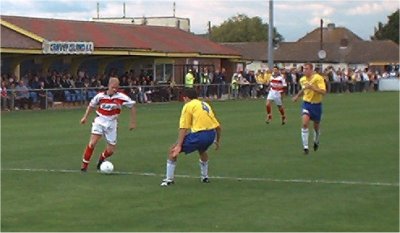 The half-time break provided an opportunity for the re-introduction of Max Hustwick for Stuart Munday. However, changing the right-back has never had much of an impact on any game, and so it proved again. But having said that, K's did almost claw a goal back immediately. Steve McKimm (back after his faux pas at Maidenhead) passed to Steve Brown on the left, who managed to persuade the linesman to keep his flag down. He crossed into the middle where Mark Beard was just beaten to the ball by Parmenter - who then harangued everybody about him for allowing such a chance.

Parmenter then almost made it two at the other end when a K's corner was hoofed clear to him and he shot just wide from 25 yards. Lance Key was nowhere.

And in the same way, just a few moments later, Key was nowhere when one became two. Sadler gave the ball away in midfield, the ball was played square to Miller and he shot home from 20 yards out. The heads almost hit the ground they dropped so low.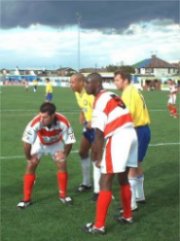 Yet to be fair K's didn't quite give up. Sadler was given a chance by Brown from the edge of the box, but he shot hopelessly wide, and he was then played in by Luckett only to see his shot from the left well saved by Harrison. His punishment was swift: replacement by Ronnie Green, with Greg Ball also coming on in place of Mark Jones.

Canvey also made their own changes, with ex-K Lee Boylan (he who scored at Kingfield lo those years ago) coming on to a chorus of boos from the K's fans. He almost got his revenge when he forced two late saves from Key, but in the end two was well and truly enough.

And so the horrible start to the season continues, and there looks to be little evidence of a change in fortunes. The team is changing constantly - partly due to injuries, suspensions and poor form - and that can help nobody. Something needs to be done before the few people who are watching the team realise that this season is, in effect, already over. Roll on next August.
Sat 8th Sep 2001
Park Lane
632
Isthmian League Premier

Canvey Island
2
Kingstonian
0

1
Lance Key
2
Stuart Munday

14

3
Colin Luckett
4
Peter Barnsby
5
Eddie Saunders
6
Bashiru Alimi
7
Mark Beard
8
Steve McKimm
9
Steve Brown
10
David Sadler

15

11
Mark Jones

12

12
Greg Ball

11

14
Max Hustwick

2

15
Ronnie Green

10

Lance Key
Gary Ekins