Kingstonian 2-1 Canvey Island
NEW BOYS STILL THE WIN
Seven days ago against Woking, for forty-five minutes at least, Kingstonian proved that they could compete on equal terms with a team from a higher division. Against league leaders Canvey Island a week later, they proved that they are not only capable of competing with better teams, but that they now have the quality to win such matches.

It has been said that Canvey are on something of a poor run, but ten straight league wins prior to their defeat by Gravesend tells the true story. Here was a team which few would deny deserve an opportunity to compete in the highest echelons of non-league's pyramid, and a team which ripped Bill Williams' Kingstonian side to shreds back in September.

Due to last week's administrative faux-pas, Peter Barnsby stepped down to watch from the tunnel, whilst recent signing Leon White made his first start alongside Max Hustwick. Tim Sills, a loan signing from Basingstoke, came straight into the team, whilst neither Danny Bolt nor Ronnie Green even make the bench. The visitors had ex-England star (sic) Julian Dicks in their defence, whilst ex-K Lee "missed from a yard" Boylan started on the bench.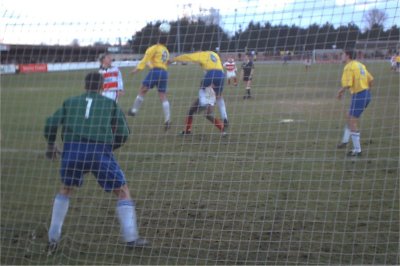 Photo: kingstonian.net
Not five minutes had passed before Sills made up for knocking K's out of the League Cup (like we cared anyway) with his first goal for the club. Peter Smith played a pass back to Ashley Harrison in goal, but clearly uncomfortable on his right-foot, and under pressure from Greg Ball, the goalkeeper's kick went straight to David Sadler. His quick thinking allowed him to pass square to Sills who took one touch to control and a second to squeeze the ball under Harrison's diving frame to open the scoring.

The lead should have been doubled five minutes later when Sills played a ball through the "hands up if you can't be bothered chasing" Canvey defence for Sadler to run onto. Confidence certainly seems to be lacking in such situations at the moment for him, and once again a woeful finish saw the ball blasted wide from ten yards out.

The league leaders tried to take advantage of the let-off and began to exert pressure on the Kingstonian defence. Spencer Knight picked up the ball free on the left, and after a one-two with Wayne Vaughan, saw his shot well saved by Lance Key's left hand. Not long afterwards a corner from Vaughan was cleared to the edge of K's box to Paul Cobb. His shot looked destined for the net, but Hustwick did extremely well to get his head in the way of the ball to clear.

The first moment of real controversy came with half an hour on the clock. Tim Sills crossed from the left for Greg Ball, who got to the ball just ahead of Dicks and took the ball on into the area. Harrison came out to meet him, Ball fell to the ground, the home fans cried out for a penalty, but referee Mr P Toyer gave just a goal-kick and a caution to Ball for simulation. It may be that the angry reaction of the Islanders was to blame for the punishment, but most people gathered behind Harrison's goal agreed that the decision made was wrong. Greg Ball showed where his feelings lay by applauding the crowd's berating of Mr Toyer.

Just a couple of minutes later Sadler almost restored his confidence with the second goal. Craig Rocastle played him in on the right-hand side of the box, but his shot across goal was mis-directed ever-so-slightly. The ball cannoned against the far post, bounced back across the front of goal before being turned aside by Knight. A second appeal for a penalty was then turned down when Knight cut out a Sills cross inside his own six-yard box. Neither official was in a position to see the crafty use of the hand, but again, those behind the goal were left in no doubt that their side had been hard done by.

The second period began with most of the possession falling at the feet of those in hoops, but the first real chance fell to the visitors. Knight beat Billy Mead on the left and whipped in a cross. Paul Cobb had made a late run into the box, and when he met the ball it looked as though he must score. Yet somehow he managed to shoot a few yards wide leaving Key relieved.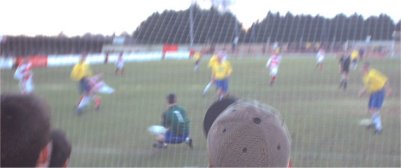 Photo: kingstonian.net
There was then a sustained period of pressure from Kingstonian, started when Sadler's shot from the right was well saved by Harrison (above). Several corners were won in quick succession, and several chances were spurned. Craig Rocastle took one from the right, Greg Ball won the near post leap only to see his flicked header hit the post and bounce away. Another corner was won, cleared to the edge of the box but turned back in by Dave Clarke. A deflection took the ball over the Island's defence but Greg Ball's attempted chip was saved well by Harrison once more.

The introduction of Lee Boylan saw boos of derision aimed at Canvey's leading scorer, but his response was perfect. Rocastle lost the ball in the middle of the field to Mark Stimson, his first time pass sent Boylan clear and he finished with the minimum of fuss from the edge of the box via Lance Key's right-hand post. All of a sudden, instead of defending a three or four goal lead - which wouldn't have been undeserved - Kingstonian had to get themselves back into the game.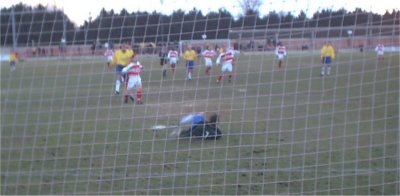 Photo: kingstonian.net
Chances were now being created at either end in what had become an absorbing match. Knight saw his shot brilliantly saved by Key, as did Boylan moments later, whilst Hustwick headed disappointingly over and Sadler was once more thwarted by Harrison at the other end.

Another Boylan shot hit Mead on the line, and another Sadler shot was saved after a superb move involving substitute Eddie Duah and Clarke as time ticked on into the last few minutes.

A foul on Greg Ball by Dicks was correctly punished with a Kingstonian free-kick, and once again the big men came up from the back. Dave Clarke sent the ball in and it was aimed at the edge of the six yard box. Greg Ball and Ashley Harrison both went for the ball, Harrison with arms all over the striker, and Ball with his back firmly lodged into the goalkeeper's midriff. Neither got a telling touch, but the ball bounced out to the edge of the six-yard box where it was gleefully swept in by Leon White.

The league leaders were furious when the goal was allowed, and Harrison - amongst others - pursued the referee back to the half-way line in a desperate attempt to persuade him to change his mind. He didn't and the Kingstonian players celebrated in front of the main stand.

It's not really possible to decide whether the goal should have stood or not. From where this reporter was standing it certainly looked as though Harrison was pulling Ball back, but it was still somewhat surprising when the goal was allowed to stand. Canvey will no doubt dispute the goal, but in the end it was nothing more than Kingstonian deserved.

Yet there was still time for both sides to miss easy chances. Neil Gregory sent a ball through the K's defence, and Stimson looked to have a simple chance to turn joy into despair once more. Key did what he could as he came out, but Stimson still should have scored. He will then be bitterly disappointed at his horrible miss.

Greg Ball also missed an easy opportunity when he headed an Eddie Duah cross wide deep into injury time. But as the whistle went justice was seen to be done. Kingstonian had the vast majority of the possession, and missed several gilt-edged chances. That they only won with a disputed late goal merely added to the excitement of those present. Kingstonian had deservedly beaten the league leaders - roll on August 2002.
Sat 19th Jan 2002
Kingsmeadow Stadium
754
Isthmian League Premier

Kingstonian
2
Sills, White
Canvey Island
1

1
Lance Key
2
Billy Mead
3
Mark Jones
4
Leon White
5
Max Hustwick
6
Craig Rocastle
7
Dave Clarke
8
James Pinnock

14

9
Greg Ball
10
David Sadler
11
Tim Sills

12

12
Eddie Duah

11

14
Bashiru Alimi

8

15
Sean Thurgood
Dave Clarke
Gary Ekins