Kingstonian 0-2 Enfield
E'S ARE GOOD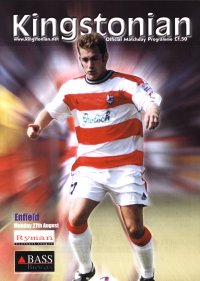 On the day that the cricket season finally came to an end in the poorer parts of Surrey, it looked for half an hour as though Kingstonian were ready to kick-start their own campaign. Sadly, an hour or so later, those hopes were in tatters, as pre-season relegation favourites Enfield walked away with a deserved two goal victory.

The K's team which emerged into the Bank Holiday sunshine was once again somewhat shuffled from the eleven which performed so poorly two days before. In for a debut came Stuart Munday, which meant that Peter Barnsby moved to start at right-back. Ronnie Green kept his place up front, whilst Colin Luckett moved back to his more accustomed defensive station. Enfield included Lee Allen who played three times for K's last season, and pre-season trialist Joe Nartey. Amusingly (and irrelevantly) one of their substitutes was called Adam G Ant...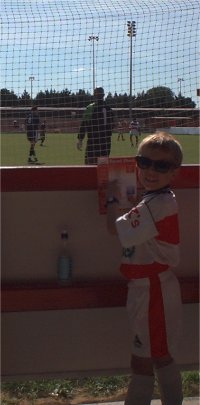 The match started in an unusual way - with pressure from the red and white hoped ones being exerted upon the visiting defence. Danny Bolt sent in an early cross from the left, Green and James Ayres both missed the ball and Dave Clarke saw his effort blocked by the "diminutive" Vas Soteriou. Clarke then sent in a long throw from the right where both Bolt and Steve McKimm were a whisker away from connecting. Bolt was then presented with an even better chance when Green and Billy Mead played a one-two which allowed the former to cross towards the edge of the box. But the chance went begging when, instead of shooting with his right foot, Bolt tried to somehow flick the ball across his body with his left. If only he had two feet.

Ronnie Green had a couple of chances, but was often competing in the air against Ayres who was almost double his height. However on the ground he was showing once more that he really deserves to start every game at the moment. With some half an hour gone he combined well with Clarke whose mis-hit cross was just about tipped over by Kenny Addai in the Enfield goal.

Yet despite all of this pressure no goals had come, and the E's weren't shy on punishing K's for their lack of finishing. With just nine minutes to go to the break, George Georgiou unleashed a shot from the edge of the box, the ball deflected to the left of the area and Lee Allen executed an impressive volley into the top right-hand corner of the net.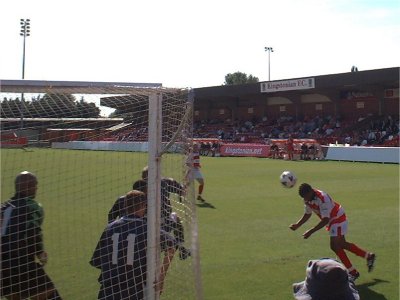 K's responded immediately with their best effort on goal to date. Danny Bolt sent in a corner from the right, Ronnie Green met it at the far post with his head (see above) and Addai pulled off an impressive save as he dived to his right. And so at the break Enfield led one-nil, thanks to their only effort on goal.

In reality, the second half saw all of the optimism which had been built up in the first period thrown away. K's did come close on a number of occasions, but as time wore on gaps started to appear at the back and Lance Key was called upon more and more often to save the blushes of those in front of him.

Joe Nartey was given an early chance to make Bill Williams regret his decision to release him when Gary Hoy crossed from the right to present him with an almost open goal from ten yards out. Somehow the striker fired wide.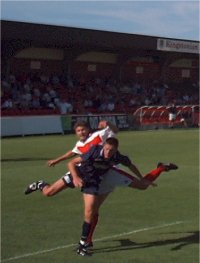 Greg Ball had been introduced for his second appearance, and he again showed enough to hope that his chances may be longer next time. He did well to dispossess Steve Magona and to play in Steve Brown on the right, but the shot from out wide was a hopeless waste when both Ronnie Green and Danny Bolt were well placed in the centre. Green then made a similar mistake when he was played in by Steve McKimm only to see his shot blocked when three players were sprinting into position in the middle.

Lance Key produced a fantastic save just afterwards when a Peter Barnsby clearance smacked against Nartey. The ball flashed goalwards from ten yards out and Key did superbly well to knock the ball wide for a corner. His second brilliant save of the day came with ten minutes remaining. A goal-kick from the hobbling Addai was flicked on by Georgiou and Nartey nipped in unchallenged to shoot from twenty yards wide. Again Key was alive to the danger and he saved low to his left.

By this time things were getting desperate for K's as they started passing as they had on Saturday - i.e. by kicking the ball off the pitch instead of to each other. And Enfield continued to try to capitalise. Ayres played in Nartey, he skipped around Simon Stewart with the simplest shimmy and fired in another shot which was well saved by Key.

In response Bill Williams introduced defender Max Hustwick for centre-forward Steve Brown and placed Peter Barnsby up front. The defender-cum-striker was given a chance within minutes when a Greg Ball effort was cleared to him. His effort was also blocked. Immediately after, Enfield broke away and K's were thankful for Hustwick's presence as he stopped Nartey from shooting.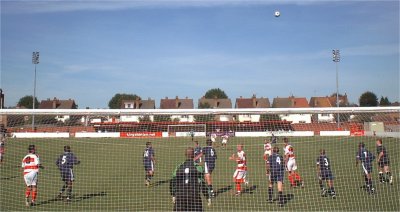 The second goal came with just one minute remaining. Martin Rufus picked up the ball on the left and played a simple ball to Georgiou. He turned Simon Stewart and shot home into the bottom-left from the edge of the area. The majority of the 560 present took this as their cue to depart, with the benefit that those remaining could finally hear the tannoy in the almost deserted stadium. Before the referee belatedly put everyone out of their misery Greg Ball produced a good save from Addai when he cut in from the left, but that really was as good as it got.

And so Kingstonian's horrible run continues. Once again, had there been a K's centre forward capable of finishing off some of the huge number of chances created, there would have been no problem here. Enfield started the game looking like the relegation candidates that they are said to be, but K's lack of finesse meant that they grew in confidence as the game went on. In truth, if it weren't for Lance Key, the score could have been doubled. Forget the Conference - let's concentrate on staying in the Ryman Premier League.
Mon 27th Aug 2001
Kingsmeadow Stadium
560
Isthmian League Premier
1
Lance Key
2
Stuart Munday
3
Colin Luckett
4
Peter Barnsby
5
Simon Stewart
6
Steve McKimm
7
Danny Bolt

15

8
Dave Clarke
9
Steve Brown

12

10
Ronnie Green
11
Billy Mead

14

12
Max Hustwick

9

14
Greg Ball

11

15
Mark Jones

7

Lance Key
Gary Ekins