Hampton & Richmond Borough 0-0 Kingstonian
ELEVEN MEN FRUSTRATED BY BEAVERS
Kingstonian's new owners - the Khosla family - made the short trip to Hampton and Richmond Borough's Beveree Stadium to watch their new charges in their penultimate match of the season. Kingstonian's last trip to the Beveree had seen Gavin Holligan make a scoring debut - but sadly nothing of such note occurred on this occasion.

The only changes from Tuesday's nil-nil draw at Chesham were the introduction of Liam Collins who came in for the injured Bashiru Alimi, and David Sadler's replacement of Tim Sills - also injured. The home side had ex-K Stuart MacKenzie in goal after he had recovered from his own injury.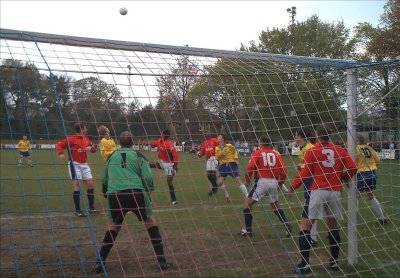 Photo: kingstonian.net
The majority of the chances of the first-half fell to the visitors - Greg Ball shooting just wide early on and Matt Flitter being called upon to steer a James Pinnock cross-cum-shot away from the danger zone with MacKenzie beaten. However the two clearest chances of the half fell to the Beavers.

Firstly Craig Maskell saw his left-footed volley well saved by Lance Key after Gavin Rose had laid the ball back to the striker. Not long afterwards Maskell came even closer. Ronnie Gould played a ball square from the right wing and the forward's shot went inches past Key's right hand post.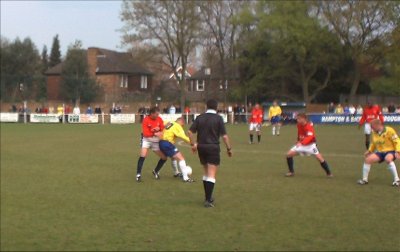 Photo: kingstonian.net
K's finished the half strongly though. Greg Ball, again playing on the left, was played in by Ronnie Green only for his shot - and not a bad one - to bend backwards to become a pass to Liam Collins on the opposite wing. His pass inside fed James Pinnock, but his shot also went wide. Collins himself saw a shot saved by MacKenzie just before the break.

The second half began with seemingly all of the pressure on Stuart MacKenzie's goal. David Sadler saw his shock blocked by Flitter - with Greg Ball standing in front of goal unmarked - Collins saw his shot blocked by the head/arm (depending at which end of the ground you were stood) of Sam Sloma, while Sadler's later effort was deflected wide by Phil Dicker only for the referee to signal a goal-kick.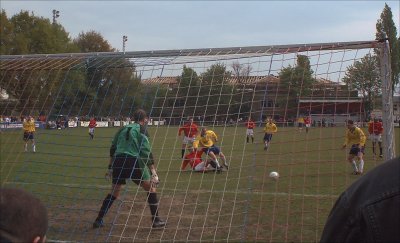 Photo: kingstonian.net
Hampton did have chances of their own, most notably when Marvyn Watson danced around Mark Jones after playing a one-two with Gavin Rose and set up Richard O'Connor. He danced around Max Hustwick and unleashed a fierce left-footed shot at goal. Key did well to keep the ball out, but it signalled to the K's back-line that they wouldn't have it all their own way.

With the worries of the regular season gone, the last twenty or so minutes saw some open football, played with none of the stresses seen during a promotion/relegation campaign. Pinnock beat two players and set up Sadler only for MacKenzie to stop the ball high to his left (below) and Dicker came close at the other end on two occasions within seconds of one another after an O'Connor free-kick.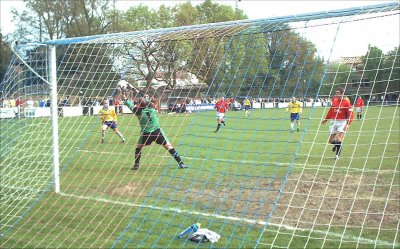 Photo: kingstonian.net
The best chance of the afternoon for the visitors fell to Greg Ball with some fifteen minutes remaining. Liam Collins collected the ball on the right-wing, beat Sloma and crossed for the left-winger. The cross got a slight deflection on it, which must be the reason why Ball's head was some distance under the flight of the ball as it came across. Just six yards out and any connection would have opened the scoring - as it was the ball trickled away harmlessly.

Sadler was presented with several chances of his own as time ticked on, but the closest anyone came to scoring wasn't until the very last minute. A fantastic move from the home side involving Maskell and Raphael Nade ended with Richard O'Connor's shot only for Key to turn the ball aside with a blinding save.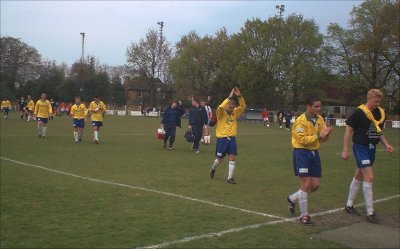 Photo: kingstonian.net
Hampton weren't exactly the best side Kingstonian have faced this season - who can forget Brockenhurst after all? - but they were a fair side who presented a stern test. One can but hope that, if this match was to take place in twelve months' time, the increase in importance of such a meeting would mean that K's would come out on top. But for some poor finishing and good goalkeeping they might have done on this occasion.