Kingstonian 1-2 Heybridge Swifts
K'S SWIFTLY BUDGED ASIDE
For half of this, the last match of this most harrowing season, it looked to all the world as though the Kingstonian team had realised that a new dawn was upon us, and that they wanted to be a part of it. One of the most one-sided forty-five minutes seen this season saw K's just the one goal ahead at the break, and how they paid in the second half.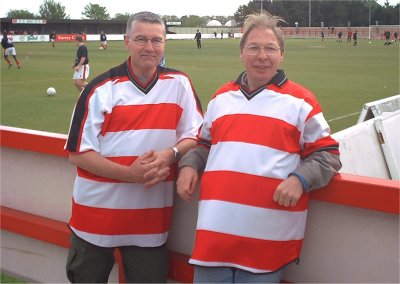 Photo: kingstonian.net
The pre-match talk had, once again, centred on the new owners - present for their first home match - and next season's new kit (above). Little attention was paid to the game in prospect, but a storming start by those in their, now out-dated, hooped shirts had everyone focussing on the reason they were all there - football. And what a joy it is to say that.

The home side should have taken the lead with just two minutes gone. A storming run on the left by the even-more skin-headed than usual James Pinnock saw four Heybridge players left for dead and his cross fell perfectly for David Sadler. His headed effort from the near post saw less than a perfect connection however, as he flicked the ball across Kingsley Banks' goal - and that not for the last time on this afternoon.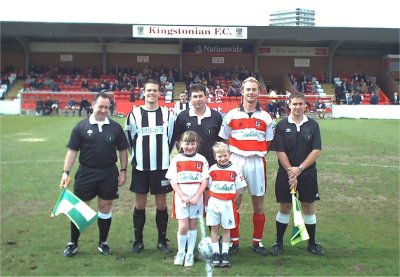 Photo: kingstonian.net
Still, no matter. On ten minutes the opening goal came, and from an obvious source. Pinnock - looking for all the world an ex-Football League player - was played in on the right by Craig Lewington, and - ignoring his own chance to shoot - passed to Greg Ball who had made a run in to the left of the area. The pass across bobbled just in front of Ball, so he took one touch to control and a second to shoot. The Leekey Swifts defence (© B Frawley) couldn't keep it out, as an intended clearance from Josh Leeke managed only to divert the ball across the line for Greg Ball's fifteenth goal of what has been a fine season for him personally.

Heybridge's solitary effort of the half came and went five minutes later when a mis-hit shot from Sean Caton looped up and over Player-of-the-Year-elect Lance Key, struck his left-hand post and bounced across the face of goal and away.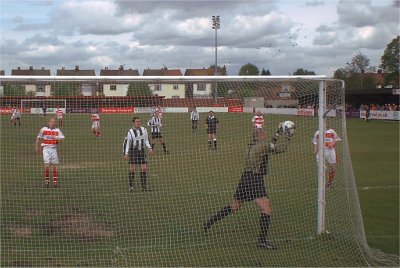 Photo: kingstonian.net
The close thing seemed to inspire K's to ever greater heights. Tim Sills should have scored when he connected with a Mark Jones cross but headed wide; Banks did well to then deny Sills after a fine run and cross from Liam Collins on the right and another cross from Jones almost crept in at the near-post before Banks grabbed the ball on the line (above).

The half ended as it had begun - with a poor headed finish from David Sadler. Another fantastic run from Collins on the right saw him finally halted by a wall of three defenders. A quick one-two with Lewington set him free once more and his cross to the near post was perfect. But once more Sadler's connection was too fine as he sent the ball across the face of goal (below).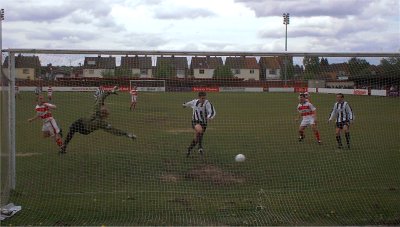 Photo: kingstonian.net
Although the lead at the break should have been greater than one, Heybridge had shown little to worry those who desperately wanted a top half finish. Yet just as most of the first half chances had fallen to those in hoops, so the majority of those in the second forty-five fell to those in stripes. Jamie Window could have pulled the goal back within minutes of the re-start as he headed just wide following a right-wing corner when he might well have done better.

Matty Elverson came close to easing the nerves as he made a rare foray forward only to be denied by Banks, but it was Heybridge who were the stronger, and so it was proved. A cross from the left-wing was flicked on by Caton at the near post and Kevin Budge was in the perfect position to turn the ball in at the far post.

Banks was called upon to keep the scores level when Tim Sills met a Collins cross from the right (below). His headed effort was drilled into the ground, but as the ball bounced up again the Swifts' goalkeeper flung his right arm out to turn the ball aside.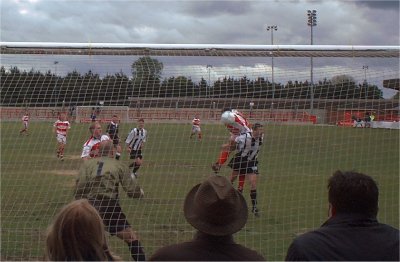 Photo: kingstonian.net
K's had certainly come into the half more as it wore on, but still the best chances were being created by the visitors. And so it was little surprise when they scored again. The home side had sent several players forward looking for a second goal, but that was still no excuse to allow Paul Abrahams to collect the ball on the edge of his own area and run fifty yards without being challenged.

His task was a simple one, as he picked out Budge on the left. However the strike from the centre-forward was nothing short of spectacular. He shot from some twenty yards perfectly into the top-right-hand corner of the net leaving Lance Key stranded, and leaving the K's defence and midfield to apologise to one and all.

There was time for one last effort from K's, but once again it produced nothing other than a near thing. A free-kick was sent into the middle allowing Sadler to flick on to Collins on the right. His shot was saved well by Banks, and as the ball flashed across goal (below) it looked for a second as though Sills would turn it in. He couldn't quite reach it though, and so minutes later the season ended as it had begun - with a home defeat.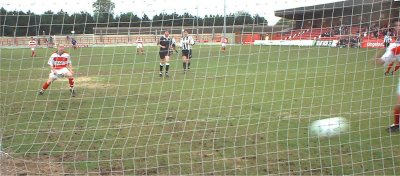 Photo: kingstonian.net
In the final reckoning, even though this result saw K's plunge three places to fourteenth, much good can be taken from this game. And indeed this season. The events which occurred during October have been well documented, but the turn-around has been nothing short of phenomenal. To play two-thirds of the season with an average age somewhere just above the national voting age is an accomplishment in itself. To beat teams such as Canvey Island and Aldershot with those players is a fine achievement.

It would be unfair to single out one player as the star (that's what the End of Season Lance Key Awards Night was for after all), as there have been so many plus points this year. None of Liam Garman, Max Hustwick, Matt Bradford, Bashiru Alimi, Liam Collins, David Sadler or Greg Ball had even been heard of at the start of the season, yet they were the corner-stones of some fine performances. Add to that the more obvious prowess of Lance Key, Mark Jones, Peter Barnsby, Dave Clarke, James Pinnock, Ronnie Green and Tim Sills and hopes must be high that next year might just be one to remember for all the right reasons.
Sat 27th Apr 2002
Kingsmeadow Stadium
389
Isthmian League Premier

Kingstonian
1
Ball
Heybridge Swifts
2

1
Lance Key
2
Max Hustwick
3
Mark Jones
4
Peter Barnsby
5
Matt Elverson
6
Craig Lewington
7
James Pinnock

14

8
Liam Collins
9
Tim Sills
10
David Sadler
11
Greg Ball
12
Mark Royal
14
Bashiru Alimi

7

15
Liam Garman
Liam Collins
Gary Ekins