Kingstonian 2-2 Hitchin Town
A HITCH IN TIME SAVES NINE TEN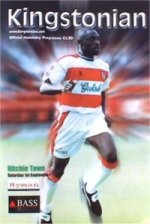 Three points from a possible twelve wasn't exactly the start to the season dreamed of, but by the time Hitchin came to Kingsmeadow (just after 2.30 in actual fact) that was the reality for both teams. Some of the more cynical present had labelled this a relegation "six-pointer", but there were still hopes amongst the (ever dwindling) home faithful that the tide could still be turned.

Manager Bill Williams kept his word to get rid of those whom he considered to be under-achieving, and so absent from the starting line-up were Steve McKimm, Danny Bolt, Ronnie Green and - most surprisingly of all - Colin Luckett. The last three made it onto the bench, whilst McKimm had to be content with a seat in the stand. The re-shuffle meant a debut for reserve player Bashiry Alimi and a first start for Greg Ball, with Mark Jones coming in at left-back.

Mark Beard was also making his first start of the season, and his was the first chance when he fired a right-footed shot in from the edge of the area forcing Nick Webb to save well in the first few minutes. Shortly after Steve Brown played in Ball on the K's left, and his run took him into the corner. Scott Cretton went over to compete, Ball pushed him over, the referee laughably waved play on which allowed Ball to cross into the area. Billy Mead almost got a touch before the ball was cleared to Alimi whose shot looked destined for the net before Nick Grime made a name for himself for the first time by clearing from off the line.

With twenty minutes gone Hitchin showed some attacking prowess of their own. Stuart Beevor played a fine ball to Cliff Akurang who then produced a sublime piece of skill to leave Simon Stewart for dead - and not for the last time. The shot came in from some 25 yards and Lance Key was thankful to see it go just past his left-hand up-right.

The best chance of the half came and went on the half an hour mark when Mead headed to Brown on the right. His cross was sent into the near post where Cretton sliced his clearance towards the edge of the area. There waiting was Billy Mead who had an easy chance to fire home past Webb. But instead of that he dragged his right-footed shot quite a substantial distance wide of the post and held his head in shame.

Hitchin took what was in truth a slightly undeserved lead with nine minutes remaining to the break. Akurang - who was proving to be a constant thorn in the K's defence's side - worked his magic on the left before crossing for Robert Kean to shoot. Lance Key proved his worth once again with a fine save low to his right, but following up was Shaun Marshall who wasn't likely to miss from three yards with the goalkeeper lying helpless on the ground.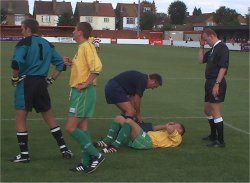 A good spell of K's pressure immediately followed this, and from the third corner in quick succession Greg Ball headed goalwards only for Nick Grime to make a name for himself for the second time by heading off the line. There was just time then for Stuart Munday to collect a caution for a foul on Akurang - who else? - in the corner before the half-time whistle sounded.

The second half started with an early chance for Alimi to further enhance the reputation of the K's reserve side when a good move ended with a shot from the youngster. Jon Bone managed to get a foot in the way, but the deflection only allowed Steve Brown a chance from the right. He looked up and crossed for Ball, but his shot also hit Bone and this time bounced off for a corner.

There were appeals for a penalty for Hitchin with nine minutes up when a cross from Kean was blocked by Stewart. The referee shook his head, but it mattered little a moment later when the lead was doubled. The ball was played from right to left to Akurang who must have been somewhat lonely, so absent were any defenders. His run took him slightly wide and Stewart had done well to get back.

Yet he must have wished he hadn't bothered as Akurang turned him first one way then the other. When he decided that he'd toyed with the defender enough he turned once more, leaving Stewart on his backside, and turned his attentions to Lance Key. In truth Akurang did superbly to tempt the goalkeeper off his line, Key tried to pounce on the ball but failed miserably, the striker turned and finally put everyone out of their misery by firing the ball into the right-hand side of the goal. It was a fantastic goal from a fantastic player.

K's responded to this second setback immediately when Mark Jones produced his umpteenth good cross from the left, this time aiming for the far post. The ball was headed on to Greg Ball at the far post, and his header from out wide looked to have pulled K's back into the game. Yet somehow Ian Scott - at that point laying on the line with Steve Brown almost on top of him - managed to get his head to the ball and divert it onto the post and out. There followed a mad scramble in front of goal with shots from Mark Beard and Billy Mead being blocked. Still Hitchin hung on.

Dave Clarke finally made a positive contribution to the game by executing a perfect - and perfectly fair - tackle on Scott. Sadly for the visitors Scott could take no further part in the game and was taken away on a stretcher. Just after this Colin Luckett was finally introduced in place of Billy Mead, and this had nothing other than the expected effect on the team. Mark Jones was finally released from his defensive duties and there now looked to be more composure on the ball (well, for those who weren't wearing the captain's armband).

And one goal was pulled back within a couple of minutes. Mark Jones produced another good cross from the left and, with Steve Brown paying close attention, Scott Cretton headed past his own goalkeeper to half the deficit. There then followed another good spell of K's pressure with Simon Stewart heading a corner against Beevor. This led to another corner which was again met by Stewart. This time he managed to get a clear effort in on goal, but there waiting was Nick Grime to make his third goalline clearance of the afternoon. Some felt that he had used his hands on this occasion, but referee Mr P Randall disagreed and the protests were waved away.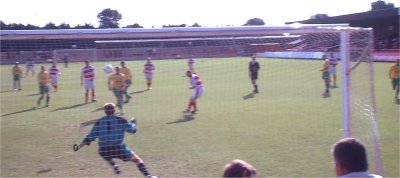 Danny Bolt was introduced in place of Steve Brown, and he managed to show the sort of form which would make it impossible to drop him. It's just a shame he had to be dropped to produce it. A shot from him was deflected just wide for a corner on the right, and this led to Colin Luckett seeing a header very well saved by Webb (see above). And then everything became so much more difficult.

Stuart Munday (who, if you remember, was suspended for the first three matches of the season) fouled Scott Cretton on the edge of the visitors' box and the referee had no hesitation in reaching for his cards. The fact that just a red card was shown was quite inexplicable, but the end result - Munday departing slightly earlier than anticipated (below) - could not be disputed.

With just over five minutes remaining Ronnie Green was unleashed on the tiring Hitchin defence. Still, they managed to get several rests when they sat on the turf, held various parts of their anatomy and were allowed a visit from the physio. Yet all of their tricks didn't prevent K's scoring what was in truth a well-deserved equaliser.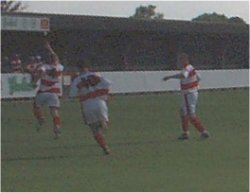 The seventy-eighth (or so it seemed) corner of the afternoon saw Bolt cross from the left and Scott flick on. Greg Ball retrieved the ball on the right and his cross was met perfectly by Peter Barnsby who headed home from six yards out. His celebration (right) was nothing compared to Simon Stewart's. Still, that mattered little as K's got the point which was the least that they deserved.

The whistle went just a couple of minutes later, and the majority of K's fans were happy to accept that the team had been slightly unlucky to be two goals behind. That they had showed enough fight to come back to level the score - and some of that with one less man - does show that there may finally be some semblance of team spirit amongst the troops. And with notable performances from Bashiry Alimi and Greg Ball, there is proof for those who are still under-performing that their places are not guaranteed.
Sat 1st Sep 2001
Kingsmeadow Stadium
488
Isthmian League Premier

Kingstonian
2
OG, Barnsby
Hitchin Town
2

1
Lance Key
2
Stuart Munday
3
Mark Jones
4
Peter Barnsby
5
Simon Stewart
6
Bashiru Alimi
7
Mark Beard

15

8
Dave Clarke
9
Steve Brown

12

10
Greg Ball
11
Billy Mead

14

12
Danny Bolt

9

14
Colin Luckett

11

15
Ronnie Green

7

Greg Ball
Gary Ekins