Maidenhead United 0-1 Kingstonian
KEY LOCKS OUT MAGPIES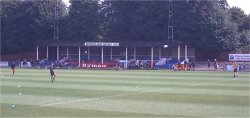 It is said that teams who win championships must have the ability to win they play poorly. If the same applies to when they play appallingly then hopes that Kingstonian will make an immediate return to the Conference must be high.

This game provided ample evidence - as if it were needed - that the Ryman League is hugely different from the highest reaches of non-league football; that the vast majority of the summer signings need to do much to prove that they deserve to play for the club; that the management duo still need to work on the players' fitness, control, passing, shooting, tackling, heading; and that Ronnie Green looks to be the one shining light so far this season.

K's claimed their first points of the campaign in extremely hot conditions at Maidenhead's York Road ground, against a team who looked as if they knew what was needed to win in this league. The opposition may not have had players with the same reputations as their visitors, but theirs possessed the fighting and battling qualities which were so obviously lacking from Kingstonian.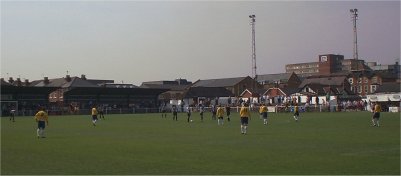 Things could have turned out so differently had a fifth minute appeal for a penalty not been turned down by referee Mr. L.Bonaldi. Dave Clarke sent in a long throw from the right, Steve McKimm headed the ball up and Tim Cook clearly blocked the ball with his left arm. Mr Bonaldi disagreed and play continued.

Ronnie Green - handed his first start of the season - had a chance to impress when a long hoof (and we saw lots of them) from Simon Stewart landed in front of him. He showed his pace by getting there ahead of defender Steve Croxford, but his first touch was a poor one as it took him wide and onto his left foot. He still managed to get in a shot, but Croxford had recovered well and blocked.

Peter Barnsby headed a Danny Bolt corner wide before he then did his best to hand Maidenhead a goal. A long clearance bounced just over his head, and as he turned he attempted to head back to Lance Key. He got it all wrong though, as the ball landed short and Key had to dive in with Paul Scott. The attacker got there first though, but thankfully his shot went just wide of the unguarded goal.

The half was finally brought to a close just after Stewart was booked for a foul on the half way line, and at the break it was easy to tell who was the happiest: Maidenhead. K's had showed themselves unable to pass correctly, unable to cross correctly, unable to tackle correctly and unable to shoot correctly. The second half just had to be better. Didn't it?

Well not really. Max Hustwick was introduced for Sean Thurgood at the break, as the formation changed from what was a 4-4-2 with Colin Luckett in midfield, into a 3-5-2 with Hustwick, Barnsby and Stewart playing at the back. The break looked to have done some good for the yellow shirted ones, and they nearly grabbed an early lead. Bolt crossed from the goal-line on the left and found McKimm in the middle, but his flicked effort rolled some twenty yards wide.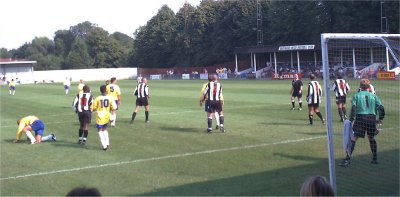 The visiting supporters finally had something to cheer when Ronnie Green picked up the ball just inside the United half and set off on an impressive run. His shot from the edge of the box was deflected upwards, Steve Brown chested down the rebound and fired in his own shot which was also blocked, before Green headed the second rebound goalwards. But thankfully Richard Barnard was in the right position to grab the ball before the excitement levels got too high.

McKimm went close from a quickly taken free-kick from the edge of the box, and Matt Glynn cut in from the right and fired just wide before K's finally showed some semblance of skill. Bolt was the first when he cut in from the left and fired in a shot from eighteen yards. Barnard did very well to turn this one aside, but his next intervention wasn't so good.

Maidenhead had a throw in their own right-back's corner of the field, but they threw the ball to Danny Bolt. He crossed in for Ronnie Green, Barnard started to come, changed his mind, stopped, and as Green headed in the goalkeeper was stuck in no-man's land. It was still a very good header from the striker though, as he had to get the ball up and over the goalkeeper and back down under the bar. He did it though, and K's led.

The unexpected (and probably undeserved) one goal advantage was almost thrown away with eight minutes to go though, when Simon Stewart pulled the shirt of Steve Arkins in the area. Mr Bonaldi correctly pointed to the spot and it was down to Lance Key and Lee Channell to vie for the title of hero.
The kick went to Key's left, he guessed correctly and pulled off an impressive save with his left hand. And so the lead was still intact, with time running out fast. This was, in truth, the last real opportunity for Maidenhead. Substitute Greg Ball (scorer for the reserves in mid-week) went close on one occasion but ended up with just a corner-kick. McKimm and Mark Jones had words before the midfielder tried, and failed, to waste more time. Words were then exchanged between McKimm and supporters as tempers became frayed. And the dispute continued after the final whistle.

And so at the end of the day K's had won three points. But let's be clear about this: the performance was unacceptable if the aims of the club are anything but relegation. Ronnie Green and Lance Key might have come out of the game looking better than most, but nobody really deserves praise after such an inept performance. Maidenhead must be sure-fire relegation contenders if they couldn't beat a K's team as bad as this - and bad really is the only word to describe it. There remains much work to be done.
Sat 25th Aug 2001
York Road
335
Isthmian League Premier

Maidenhead United
0
Kingstonian
1
Green

1
Lance Key
2
Dave Clarke
3
Colin Luckett
4
Peter Barnsby
5
Simon Stewart
6
Steve McKimm
7
Danny Bolt

15

8
Billy Mead
9
Steve Brown

12

10
Ronnie Green
11
Sean Thurgood

14

12
Greg Ball

9

14
Max Hustwick

11

15
Mark Jones

7

Ronnie Green
Gary Ekins