Purfleet 1-1 Kingstonian
BROWN LEAVES IT LATE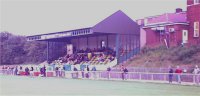 On Saturday 2nd May 1998 Kingstonian played out a one-one draw at the Thurrock Hotel, Purfleet, with Lenny Dennis scoring a late equaliser to spare the blushes of the just-promoted team on a rare off day. On Monday 3rd September 2001 at the same venue, it was left to Steve Brown to equalise late on - it's just a shame that the performance this time around wasn't exactly out of character.

Another re-shuffle had been performed prior to this match, with Colin Luckett stepping back into his left-back role, which allowed Mark Jones to play further up the field. With David Sadler fit to resume, Brown was given his turn to look on from the bench, whilst Billy Mead disappeared without trace.

Dave Clarke's long throws have been threatening so far this season - although claims that these were the sole reason for his purchase are being hotly refuted - and this was proved once more as he set up the first chance of the autumnal evening, although Mark Jones scuffed his right-footed shot wide.

Eleven minutes were on the clock when Purfleet - unbeaten in their five games so far - really should have taken the lead. A cross was played in from the left to Martin Buglione whose shot cannoned off of Lance Key's right-hand post. The rebound fell to Jon Keeting ten yards out, but he fired his shot across the face of goal.

Not long after that, Steve Marshall had a chance to do what Buglione and Keeting had failed to do when he was played through the horribly square K's back line for a one-on-one with Key. Thankfully for the visitors, the goalkeeper did well to get out in time to block.

Things could have gotten far worse for Kingstonian mid-way through the half when Bashiry Alimi committed an horrendous foul on Kieren Adams. His two-footed jumping stamp on the Purfleet defender's right ankle had the majority of the crowd wincing, and those K's fans present working out how the team would be reshuffled to compensate for the red card. Yet for some reason the referee decided that a caution was enough punishment and Alimi was able to continue. Sadly the same couldn't be said of Adams, who limped off a few minutes later.

The K's side was having it's fair share of possession, but there was little urgency in the play, which was shown by the lack of clear-cut chances. There were a couple - Peter Barnsby headed an Alimi free-kick just wide and Clarke shot wide after a good Sadler run - but in truth Steve Mead in the Purfleet goal had nothing more than goal-kicks to worry about.

The not-exactly-unexpected goal for the home side came on 27 minutes, and it really was a simple affair. Buglione crossed from the left and Paul Linger headed home at the near post. Whoever should have been marking the striker failed in their mission and K's went behind. And it almost became two not long after when substitute Mark Goodfellow attempted an overhead kick from the right-hand side of the penalty area, with Key watching thankfully as it cleared the post.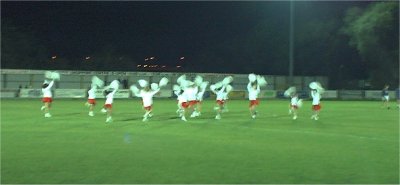 The second half was fairly similar to the first, with Kingstonian having a large chunk of the possession, but doing little of note with it. Those chances that were created generally came from free-kicks - such as when Simon Stewart almost connected with Alimi's left-wing inswinger - but again, Steve Mead was never really tested.

Mark Beard was provided with one chance when Jones and Clarke combined well to play the ball into the middle. Mead finally had to exert himself by entering the 50-50 challenge with Beard, neither got a telling touch, and it was left to Gary Howard to clear things up as he blasted the ball high over his own crossbar.

Purfleet were still creating the clearer chances of the evening, and they came close to doubling their advantage when they won a corner on the left. Jimmy McFarlane jumped with Barnsby at the far post, the striker won the contest, but saw his header cleared off of the line by the well-placed Luckett. The K's defender then had a chance of his own at the other end when he got onto the end of an Alimi cross, but his direction wasn't quite right as he headed over.

As time wore on, more and more K's fans trooped off into the Essex evening. But those that did leave missed the one moment of inspiration. Steve Brown had been introduced in place of Jones, and in his few minutes on the pitch Brown managed to show what sort of form he is capable off (it's just a shame that he had to be given the shock of being dropped to produce it).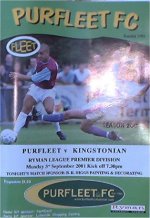 By this time the match was deep into injury time. Luckett took a throw on the left and found Beard. His flicked header was collected by Brown on the edge of the area and with his back to goal. The big striker turned in a split second and unleashed the first shot on target of the night. Mead was clearly surprised that Brown had managed to get a shot in from such a position, and he was even more surprised when the ball bounced under his body and into his net.

And so K's rescued a point with a late equaliser for the second match in a row. Although this is unlikely to be "the turning point" it should provide more evidence for all that some of those players who have been under-performing are capable of far better things. Now it's up to them to produce it.
Mon 3rd Sep 2001
Thurrock Hotel
486
Isthmian League Premier

Purfleet
1
Kingstonian
1
Brown

1
Lance Key
2
Stuart Munday
3
Colin Luckett
4
Peter Barnsby
5
Simon Stewart
6
Bashiru Alimi
7
Mark Beard
8
Dave Clarke
9
Greg Ball
10
David Sadler

15

11
Mark Jones

12

12
Steve Brown

11

14
Eddie Saunders
15
Ronnie Green

10

Lance Key
Gary Ekins