St Albans City 2-2 Kingstonian
SAINTS HOLD NEW-LOOK HOOPS
So there I am: I go away for two days, miss all the news about the club's financial troubles, and just as I am about to leave for Clarence Park I check out K's web and there it is in all its gory detail. I don't believe this, it can't be happening. But it is. So with a heavy heart I jump in my trusty Rover and off we go. Monsoon conditions on the A3, but a clear run round the M25, stop at my mate Rob's for lunch and loan of notebook and digicam, and at 12:59 we walk into Clarence Park. Where is everyone? Er, clearly mostly somewhere else, and as for the team, who are these people? Where are Simon, Colin, Wingers (ah, yes, he is here) and the rest? And how will they play together? And why are there more K's shirts in the crowd than City? And how come we are making more noise - is this some parallel universe?

Well, just 4 minutes in and things are looking surprisingly good. Dave Sadler is threatening up the middle, but then the first City corner as Barnsby rescues Lance Key in an uncharacteristic moment of uncertainty. But Dave Clarke is alert and the danger is cleared upfield. The team are settling into a well-organised pattern: Sedge marshalling the troops in vocal fashion from the bench, Greg Ball working his socks off, and times when 21 players are in the City half. But Simon Martin for the home team looks sharp, and on 11 minutes a dangerous cross is well cut out by Lance Key. At the other end Wingers is earning his salary (that is, if the team are going to be paid this week) with a couple of goal-bound headers. And in the ebb and flow, Danny Bolt has a hopeful long-ranger, whilst at the other end Billy Mead's rash challenge on Ryan Moran leads to a free kick from which a great header is well kept out by Key (see below).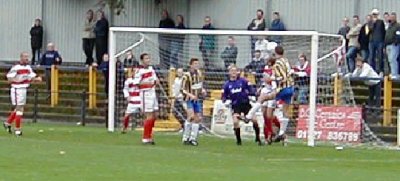 Photo: kingstonian.net
Now our star is clearly hurt, rubbing his lower back (no, not quite that low!), and visibly restricted in his movement. Then it's back up the other end, as a Wingers cross is headed wide by the impressive Clarke, then back the other end as Rob Smith is through the middle. Key tips the ball away for a corner, but oh dear, from said corner, Simon Martin pops up to give Key no chance and its 1-0 (below).


Photo: kingstonian.net
Only a couple of minutes on and a long throw (one of many) from Freddie Hyatt creates danger but the defence are up to the task and the ball is safely away. But in the next attack Simon Martin is clear in space, but as Gary Wraight shapes to cross the ball his right leg becomes a second left leg and over he goes. Then to the other end, for a fierce Bolt dipper that doesn't, but somehow stays inside the ground. Then comes a potential turning point. Simon Martin decides to go in on a hooped hero already on the ground (and hiding his number from me so who got the kicking I am not sure). As one would expect, the ref goes for the top pocket but just a yellow for that? Sorry Simon: you are a good player but there is no need for that, and you should have been off matey. And for good measure, Barnsby gets yellow carded for showing too much interest in the proceedings.

And then, just as we are checking the time (and considering a run for the tea bar) Greg Ball is elbowed in the back, and over he goes. In the box. Penalty. Treatment time. Then up steps Bolt (see below). No mistakes. 1-1.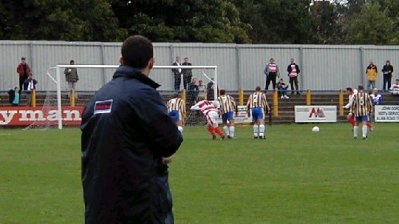 Photo: kingstonian.net
And just a minute or so later, its tea-time, as your intrepid reporter goes in search of the official team sheet (which is wrong) and his intrepid assistant (who has been yelling 'come on you City' for some time now) gets the tea. This takes an age, but it's a pretty decent brew.

And so to round 2.

Four minutes in. and Barnsby is through, wins a corner, the goalkeeper is fouled and Greg Ball picks up the loose ball and shows us how it's done. 1-2 to us, and poor Richard Wilmot is booked arguing with the ref for not giving the foul on him. But what he doesn't realise is that the sinner is actually a Saint. Then on 55 minutes an incident-packed goalmouth scramble, and how the ball doesn't end up in the City goal remains a mystery. But it doesn't.

Anyway, the ebb and flow continues, and from another long-range Hyatt special Barnsby is content to concede a corner. Sadly for us the smiles are soon on City faces, with a tidy Derek Brown header restoring symmetry to the score on 65 minutes (see below). 2-2.

From an amazingly incompetent kick-off, City get the ball straight back and the clearly struggling Key is tested again. By this time it is clear that the referee is having a very consistent game. He is consistently letting all manner of minor fouls go on both sides, but thankfully no-one really tests the boundaries so no serious damage is done. Then a booking for Richard Evans, though in fairness it looked from the stand as though Bashiru fell over his own feet. By this time we hooped ones are seriously thankful that City are not taking advantage of Key's immobility. He can't really run at all now, at one point unable to prevent a corner which thankfully is wasted. 70 minutes is up and a now rather tired Sadler makes way for Kamara, whereupon, a propos nothing in particular, we have a flash shower which is over almost before it starts.

Then some excellent determination as Wingers takes on, and nearly beats, 4 City defenders at once, and at the other end a brilliant save from Simon Martin (who should have been in the bath, but maybe we have been there already), then another good stop from Martin again: this guy is good. On 85 minutes City manager Steve Cook makes an appearance for Nabil who has just come back from injury but looks like he will be straight back on the treatment table (good luck mate). And so the ebb and flow continues to no great consequence, with various promising moves fizzling out. Just before the end Hyatt shoots over, and shouts something about his luck: didn't quite catch what you said there!

And so the time came for Mr Beadle to have one last blow of his whistle, and the teams trooped off, with K's fans clearly feeling as though the trip was worthwhile and demonstrating this with plenty of vocal support to the last.

My thanks to Janet for the lunch (yummy bacon and egg rolls), Rob for the excellent photos and help with this report, and to Matthew for making me a super note-book after mine got left at home in all the excitement. To the Directors who are keeping the club afloat out of their own pockets, making it possible for us to watch our beloved hoops in action. And to the players and management for making me proud again of our great club, putting in a convincing performance that was worth supporting. I have criticised them on the forum for 'not wanting it' in recent months. They did at Clarence Park.
Sat 6th Oct 2001
Clarence Park
307
Isthmian League Premier

St Albans City
2
Kingstonian
2
Bolt (pen), Ball

1
Lance Key
2
Billy Mead
3
Mark Jones
4
Peter Barnsby
5
Max Hustwick
6
Bashiru Alimi
7
Danny Bolt
8
Dave Clarke
9
Greg Ball

15

10
David Sadler
11
Phil Wingfield
12
David Bass
14
Jon Leacock
15
Alim Kamara

9

Bashiru Alimi
Phil aka No 7