Sutton United 0-0 Kingstonian
WHEN'S THE REMATCH?
Kingstonian and to a lesser extent their Surrey neighbours from Gander Green Lane were amongst those expected to be in the shake up competing for a Conference place going into April. The reality now that April is here is that a solitary point now separates the sides who lie in decidedly mid table territory with little else than pride to play for over the next half dozen games.

Ex K's Phil Wingfield and Scott Corbett were forced to miss the game through injury but Eddie Akuamoah made the starting eleven after recovering from his own injury to lead Suttons attack. Even more galling than the sight of the K's legend in a yellow and brown shirt, was the extra appendage that was the captain's armband.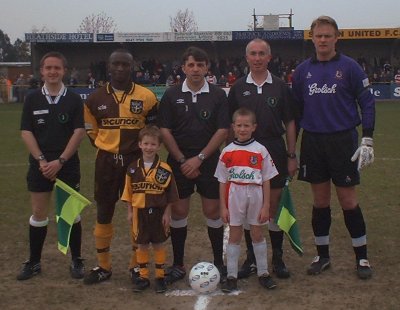 Photo: kingstonian.net
In the continuing absence of Peter Barnsby, Lance Key was Eddie's corresponding peer, and he almost gifted Sutton an early lead when he uncharacteristically flapped at a corner, Rob Haworth somehow managing to send the ball flying wide when presented with an open goal.

That apart, K's enjoyed the best of the early exchanges in a scrappy opening twenty minutes, Sadler seeing his goalward bound header well saved after good work down the left flank by the impressive Alimi.

After 25 minutes came the half's, and perhaps the games, pivotal moment. Eddie was sent clear for a run through on goal, or he would have been had Matt Elverson not stuck out a hand to divert the course of the ball. Whether or not a covering defender would have made it back is debateable, but the referee obviously thought so - deeming a yellow card sufficient punishment much to the vociferous protestations of Eddie in the direction of the official and also a verbal blast towards Sedgley in the K's dugout (below).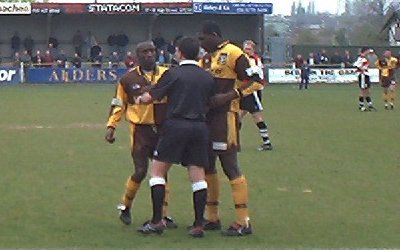 Photo: kingstonian.net
Suttons sense of injustice was almost doubled when from the clearance of the resulting free kick Clarke surged down the right wing, cutting to the by-line before picking out Sadler, but his header flew just wide.

The tackles were starting to fly in and the temperature was rising, Elverson walking a fine tight rope with one or two firm challenges.

The last League game between the sides at Gander Green Lane ended in a two all draw with Sutton scoring all four goals, and it was Stewart Hammonds who almost broke the deadlock in K's favour (below) when he headed clear with Sills waiting for a simple tap in - his header brushing the post as it went out for a corner.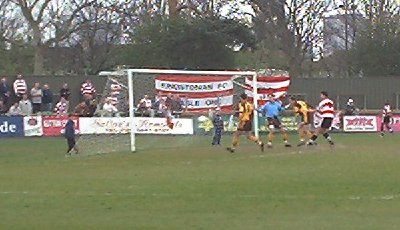 Photo: kingstonian.net
With the pace and the heat turned up a notch it was a tad surprising that when Matt Gray broke through the cluster of midfield players in the centre circle Hustwick backed off. But back off he did, and some more, and K's were almost punished but for a fine fingertip save from Key right on the stroke of half time.

Into the second half and K's best chance of the game fell to Ronnie Green within the first few minutes. Clarke played a one two with Sadler on the edge of the box before crossing to the far post where Green was waiting to head home. But the young striker is in the middle of a barren run in front of goal and failed to convert a chance that he would have snapped up six months ago.

Eddie was just inches away from a Nick Drew cross shot which flashed across the face of Keys goal, and Sills was unlucky when a scuffed clearance from a corner fell to him, but his left foot volley flew over the bar.

As the game drew to a close K's had their foot firmly on the gas, Sutton seeming to be more than happy with a draw. But for all K's endeavour they failed to make any real clear cut chances, and when Clarke (arguably K's best player) was switched from the right to the left wing to make way for substitute Eddie Duah, K's momentum slowed.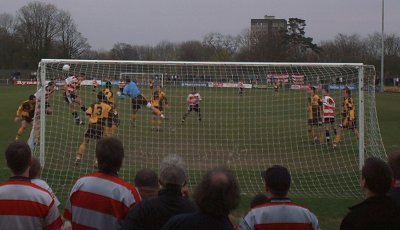 Photo: kingstonian.net
A point away from home is no bad thing, especially considering our away form this year. How different things may have been if Ronnie Green had taken his golden opportunity or if Elverson had received his marching orders in the first half we'll never know.

What is apparent however is that with a bit more luck and more confidence in front of goal Sutton will be there for the taking Tuesday week. A side content with a nil-nil draw at home to a side (only just!) below them in the league have got to be worth having a real go at when they visit Kingsmeadow.
Mon 1st Apr 2002
Gander Green Lane
949
Isthmian League Premier

Sutton United
0
Kingstonian
0

1
Lance Key
2
Billy Mead
3
Mark Jones
4
Mark Royal

12

5
Max Hustwick
6
Matt Elverson
7
Bashiru Alimi
8
Dave Clarke
9
Tim Sills
10
David Sadler

14

11
Ronnie Green
12
Craig Rocastle

4

14
Eddie Duah

10

15
James Pinnock
David Sadler
Simon Murray