Basingstoke Town 0-1 Kingstonian
BASINGSTOPPED
K's travelled to The Camrose Ground looking to extend their unbeaten league run to two months against a side who were just above them in the league table. After starting against Sutton a week before, Ronnie Green was a notable absentee whilst Chris Whelan - just signed from Walton and Hersham - made his debut in the midfield.

The visitors started in determined mood, with Phil Wingfield heading a right-wing James Pinnock free-kick cross not far wide after but four minutes. Yet it was the visitors who began to take control as time wore on. <<insert big number here>>-goal striker Craig McAllister was clearly in the mood to show Queens Park Rangers just what they had turned down.

He latched onto a long ball from the back, played in Efan Elad on the edge of the area only for the number 8 to shoot straight at Lance Key. A couple of minutes later and Key did have to exert himself. Again McAllister was the creator - this time setting up ex-K Neville Roach to shoot. Key saved well with his legs, but the pressure grew.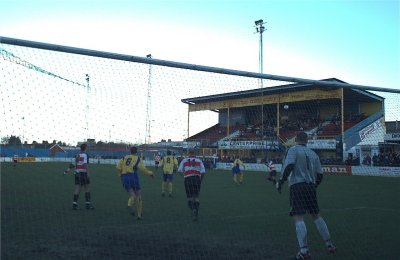 Photo: kingstonian.net
Things got slightly worse for the K's defence when Matt Flitter limped off with a groin strain with less than fifteen minutes on the clock. Craig Lewington was brought on in his stead, with new-boy-Whelan moving back into his more accustomed central defensive role.

Not a minute later and Basingstoke had crafted the best opening of the game so far. A cross from the right was headed back across goal by Alex Ewing to Roach, stood well inside the six yard box. Unmarked, Roach had ample time to pick his spot and give his side the lead - instead he blasted high over the bar to waste a wonderful chance. Quite how he managed to miss so spectacularly from so close in would take some explaining.

This seemed to provide something of a wake-up to the hooped ones. The defence finally started to take notice of where each other was, and things started to flow up-front. Scott Tarr had to be at his best to keep K's out when, on twenty minutes, Pinnock crossed, Wingfield and Bashiru Alimi combined to set up Tim Sills. His shot from the edge of the area was brilliantly turned aside by the 'Stoke keeper.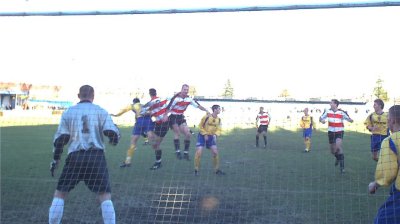 Photo: kingstonian.net
Lance Key did his bit at the other end too, firstly saving low from Roach and then challenging McAllister just when the striker looked set to head a right-wing cross home. Yet the best chances of the second quarter certainly fell to K's. Lewington set up Mark Jones for a shot as he entered the area from his left-wing position, but he chose to delay his shot, allowing Tarr to get into position to save. The half ended with the visitors well on top, and with Tarr saving once more - this time from Wingfield when Pinnock was rather better placed.

The second-half opened with chances for both sides - Mark Jones executing a superb tackle just as Roach waited to turn in McAllister's cross, and Sills smashing a free-kick into the wall after Alimi had been brought down when very well positioned on the edge of the Basingstoke box.

The opening goal finally came just before the hour mark. A right-wing corner came in from Pinnock but sailed over the head of all to Jones on the left. He managed to squeeze his cross in between two Basingstoke defenders, and rising highest was Peter Barnsby at the back stick to head in via Tarr's crossbar for only his second ever K's goal.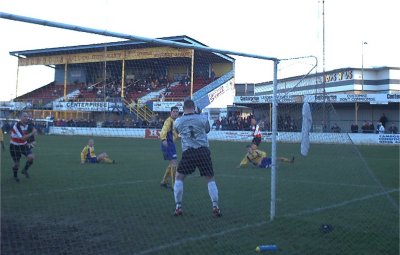 Photo: kingstonian.net
The lead was almost extended on two occasions almost immediately afterwards. A foul on Mark Jones led to another free-kick from the edge of the box, but this time Sills managed to miss the wall, producing a quite superb save from Tarr as he dove high and to his left. From the resultant corner Julian Sills headed goalwards only for his effort to strike Ricky Allaway on the line.

The remaining fifteen minutes saw all of the pressure just in front of Lance Key. Roach and McAllister together tried everything and more to get past the K's defence, but in the end they stood firm. Substitute Toby Sumner came closest to earning a point for his side when he got on the end of a Roach cross only for Key to produce another superb save low to his left.

And so Mr Harris kept his unbeaten league run going. This was another performance which saw a lot of pressure soaked up towards the end, but K's had ample opportunities to score throughout the match to counter the "lucky to win" arguments. Chris Whelan made a very impressive first appearance, whilst the defence in general showed how they have improved of late.
Sat 1st Feb 2003
The Camrose Ground
484
Isthmian League Premier

Basingstoke Town
0
Kingstonian
1
Barnsby

1
Lance Key
2
Max Hustwick

15

3
Mark Jones
4
Matt Flitter

14

5
Peter Barnsby
6
Julian Sills
7
James Pinnock
8
Chris Whelan
9
Tim Sills
10
Bashiru Alimi
11
Phil Wingfield

12

12
Scott Edgar

11

13
Adrian Jones
14
Craig Lewington

4

15
Liam Collins

2

16
Craig Rocastle
Mark Jones
Gary Ekins