Kingstonian 2-0 Billericay Town
JEROME'S UNHAPPY RETURN
Billericay travelled to Kingsmeadow, along with more than a handful of their supporters via a free coach to the game, on the back of a fine start to the season that had seen them overcome a few of the fancied sides to rise to third place in the table. This was always going to be just about the toughest test Kingstonian had faced this season, and so it proved.

With Greg Ball crutching his way around the ground, there was space up-front to be filled. With Ronnie Green absent it was left to James Pinnock to wear the number ten shirt in support of Tim Sills. There was also a return for Max Hustwick in place of Jamie Leacock, as the league's only unbeaten side switched to a flat back four - in front of the returning Lance Key.

However it was the visitors who made by far the better of starts, with ex-K (look, he played two games so that just about counts) Paul Fewings up front trying to prove to those that remembered him that he really is a good player. In actual fact it was his strike partner Mark Graham who was looking the livelier, setting up Martin Carthy only for Julian Sills to make a good block.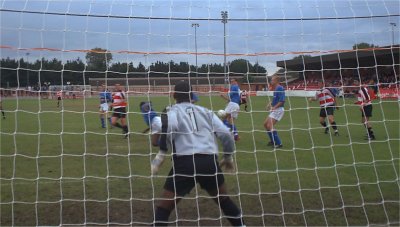 Photo: kingstonian.net
Yet strangely that was really it as far as incidents went in the opening twenty minutes of the game. Billericay certainly had the majority of the possession, but they never quite managed to turn this into chances. The front-two for K's were kept fairly quiet by the visitors' back-line, leaving ex-K Jerome John (look, he played loads of games so that definitely counts) somewhat under-employed.

Once the twenty-five minute mark had been reached things started to change. The Kingstonian midfield came more into the game as an attacking force, with Dave Clarke continuing to show his improvement from this time twelve months ago. He combined with Liam Collins to conjure a chance for Bashiru Alimi, only for the midfielder - again stuck out on the left wing - to head over from close in.

Pinnock went close from slightly further out when he collected an Alimi throw and cut in from the left, but his shot was just too high. Sills had a chance from a similar position not a minute later, but his effort was so wide that the corner-flag was in more danger than JJ's goal.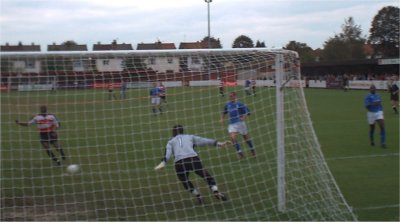 Photo: kingstonian.net
Fewings had a couple of chances late on in the half but saw his first effort well saved by Key low down to his left. On the stroke of half-time a slight lack of awareness in the K's defence meant that Fewings was able to meet a Richard Graham corner under little or no pressure, but the centre-forward headed disappointingly over as the half ended goalless.

The second half was though a completely different story. Where the first forty-five minutes had seen a contest littered with silly mistakes, poor passing and little incident, the second was almost the exact opposite. Tim Sills headed over a left-winged Pinnock corner within a minute of the re-start, and from there K's never looked back.

The opening goal should have come on the ten minute mark when Clarke played a ball back to Alimi on the left and his cross was met by Sills in the middle. The striker couldn't quite get the right connection though, and the ball spun just wide of Jerome's left-hand post.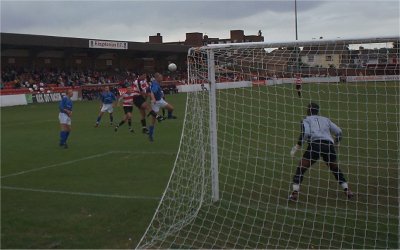 Photo: kingstonian.net
However, the deserved goal was just a couple of minutes away. Liam Collins was played in by Lewington on the right and his cross was aimed at Sills in the middle. The goalkeeper came out, got a touch on the ball to prevent Sills from heading home, but the ball dropped in front of Alimi who headed in his second goal in as many games before John could react.

With Craig Lewington threatening to boil over once again he was replaced by Mark Jones, allowing Alimi to move back into his more accustomed central role, as K's really began to make their opponents work.

Sills almost made it two when he met another cross, this time from Jones after he had skipped around Graham on the left, but he headed just over. Still, the second never looked to be far away, and when it came it was worth the wait. Dave Clarke burst through a hole in the 'Ricay defence and made his way to the edge of the area. Pinnock and Collins were up in support, but as the ball was played square it was the ex-Gillingham man who collected the ball and smashed in his first Kingstonian goal (below). Gleeful wasn't quite the word as he disappeared under a pile of bodies.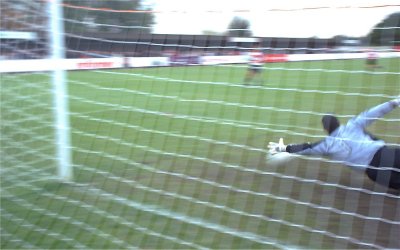 Photo: kingstonian.net
At this time it seemed as though more and more goals would come, but it didn't quite work out that way. Credit must go to Billericay for this as they continued to harass the K's midfield, but there can be no doubt that the home side deserved all three points.

And so once again a fine performance from the ever-improving Kingstonian. Everybody knows that the size of the squad may prove difficult as time goes on - and particularly as we enter the phase where K's are the only team to be playing every Saturday and Tuesday - but on the evidence shown against Billericay there can be no doubt that this squad is capable of great things.
Sat 5th Oct 2002
Kingsmeadow Stadium
543
Isthmian League Premier

Kingstonian
2
Alimi, Pinnock
Billericay Town
0

1
Lance Key
2
Max Hustwick
3
Sean Thurgood
4
Craig Lewington

12

5
Matt Flitter
6
Julian Sills
7
Liam Collins
8
Dave Clarke
9
Tim Sills
10
James Pinnock

14

11
Bashiru Alimi
12
Mark Jones

4

13
Adrian Jones
14
Neil Lampton

10

15
Luke Fontana
16
Jamie Leacock
Sean Thurgood
Gary Ekins