Canvey Island 1-1 Kingstonian
CANVEY ICELAND
With fewer than twenty-four hours having passed since news broke of Steve Sedgley's departure from Kingstonian FC, it was a somewhat unusual atmosphere for a match at the home of one of pre-season's fancied teams. Canvey may not have quite met their expectations so far, but there was no doubt that Kim Harris' first managerial test was to be a stern one.

The eleven selected by the caretaker saw a couple of significant changes from those sent out by his predecessor. Mark Jones took the number three shirt, whilst Scott Steele started up alongside Tim Sills, leaving James Pinnock to partner Phil Wingfield on the wings. Matt Flitter, returning from a hamstring injury, only made the bench.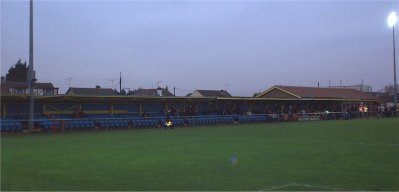 Photo: kingstonian.net
The match was played in conditions akin to those experienced by polar explorers - suggesting that the decision not to purchase long sleeved shirts for the players was an ambitious one at best. Still, Kim's K's started fairly well. Pinnock and Dave Clarke combined well on the right setting up Max Hustwick to cross. This he did, and Wingfield met the ball with his head only for Ashley Harrison to pull off a comfortable early save.

The home side did have moments where it was they who were doing the pressuring, but the first half an hour saw almost all of the chances fall to those in hoops. Peter Barnsby headed not too far over from a corner, Ben Chenery was called upon to clear a dangerous cross from Jones, Steele sent a lob wide when well placed on the edge of the area and Wingfield saw his lobbed effort saved by Harrison.

So when the goal came for Canvey it was slightly against the run of play - on chances at least. Julian Sills was adjudged to have felled ex-K Lee Boylan on the edge of the area, Mark Brennan touched the ball to the side and another ex-K (just) Steve Parmenter drilled the ball under/through the wall and in to Lance Key's left.

The half ended with the scoreline unchanged, but that not for the want of Canvey's efforts. They totally dominated the latter stages of the half leaving Kingstonian slightly fortunate to be just the one goal to the bad at the break.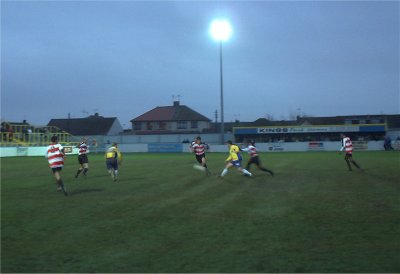 Photo: kingstonian.net
With Sedgley absent it was left to Harris to give the by-now-regular half-time gee up, and he seemingly did a fair job, for K's started the second period in a much brighter frame of mind. Jones had an early chance to equalise after Pinnock's cross had been touched out by Harrison, but the full-back's finish was a long way wide.

Dave Clarke picked up his fifth caution of the season - ensuring a pre-Christmas suspension - before Canvey came as close as they could to repeating their first half goal. Another free-kick from the edge of the area was touched to Parmenter by Brennan, but this time Key turned the ball away. Not far though, because the rebound was pounced on by Chenery, whose effort struck the side of the net.

Now Mark Jones has had a difficult season. Constantly in and out of the side, he must have been delighted to have been given the nod in Harris' first selection. He celebrated the decision with a fine display, and even managed to score. On 22 minutes he took off on a "head down aim straight" run which took him past three defenders before he fed Wingfield. His cross to the far post was headed down by Sills, and there waiting was Jones himself, who swept the ball home to record his third of the season. Clearly delighted, his team-mates celebrated by burying him at the bottom of a pile of bodies (below).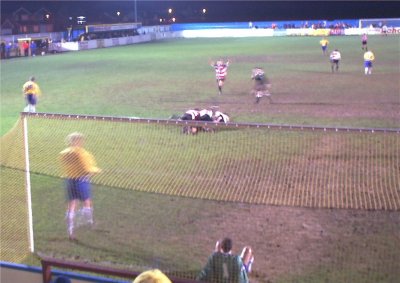 Photo: kingstonian.net
However, the work done in getting back into the game was almost un-done immediately. Canvey went straight down the other end and won a corner. It was played back to the edge of the area where Parmenter shot. The ball was missed by Barnsby, allowing Boylan to send in his own effort from much closer to goal. Key dispelled any remaining doubts in his confidence with a fine save low to his left.

Pinnock was called upon to head off his own goal-line shortly after, as Canvey really went for the win. K's were finding it difficult to get out of their own half whilst Canvey were by now creating all of the chances. Key proved his worth once more when Neil Gregory headed a Boylan cross goal-bound only to see the goalkeeper produce another fantastic save low down to his left.

By this time Liam Collins had come on in place of Wingfield, Jones had been cautioned for dissent and Craig Lewington had replaced Craig Rocastle. Clearly fed up with being cautioned and then being involved in a substitution, this time Lewington did it the other way around, picking up his seventh yellow card of the season not one minute after entering the fray.

The referee, Mr A Parker, somehow decided that five additional minutes were to be played, and for each of those five the ball was in the Kingstonian half, as Canvey strove for the winning goal. The defence managed to hold out though, ensuring that Kim Harris started off his reign with a point.

In the circumstances this was a fine performance from Kingstonian. Canvey are certainly a good side, whatever their current place in the table, and to come to their own patch and gain a draw just twenty-four hours after your manager resigns is a fine achievement.
Sat 7th Dec 2002
Park Lane
483
Isthmian League Premier

Canvey Island
1
Kingstonian
1
Jones

1
Lance Key
2
Max Hustwick
3
Mark Jones
4
Julian Sills
5
Peter Barnsby
6
Craig Rocastle

14

7
James Pinnock
8
Dave Clarke
9
Tim Sills
10
Scott Steele
11
Phil Wingfield

12

12
Liam Collins

11

13
Adrian Jones
14
Craig Lewington

6

15
Bashiru Alimi
16
Matt Flitter
Mark Jones
Gary Ekins