Kingstonian 4-2 Enfield
JONES TAKES HIS CHANCE
Kingstonian started their home match versus Enfield looking to extend their unbeaten run to a magnificent seven, whilst the visitors were looking to move out of their relegation place in the season's early table. At the end of ninety minutes it was the hooped ones that were celebrating - but not with as much room to spare as there might have been.

A mini-reshuffle had been forced onto Steve Sedgley with the loss of Tim Sills to his ankle injury, with Ronnie Green being the one to take-over. There was also no place for Mark Jones, but an early injury to Phil Wingfield - who was forced off with a hamstring pull - meant that he only missed the first ten minutes.

The wing-back took a couple of seconds to settle into the pace of the game, and then set up the opening goal. Greg Ball played a ball down the line for Jones, and as he looked up he saw a horde of players approaching the near post. He calmly sent the ball past all of those, setting up a chance for Liam Collins. The ball bobbled ever so slightly in front of the number seven, but his right-footed volley was sweetly struck and nestled into Lionel Perez's (yes, that Lionel Perez - below) bottom corner.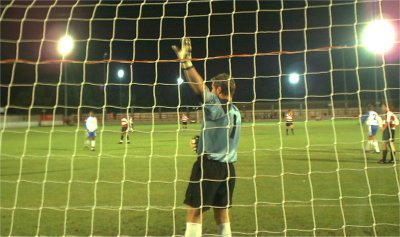 Photo: kingstonian.net
It was a fine goal that was fully deserved, and in the opening twenty minutes it looked as though it would be the first of several. Indeed it took until just past the twenty minute mark for the second goal to arrive. Collins attacked on the right and played a good ball in behind the defence for the on-rushing Greg Ball. He played a ball across the goal and that man Jones arrived in the nick of time to smash the ball home for his first of the season. Not quite sure how to celebrate, he first ran towards the bench with finger extended, but then did a quick U-turn and jumped into the delighted crowd.

Apart from a couple of chances for the visitors - most notably when Owen Paynter struck the post after a corner - most of the pressure came from those in red and white. That the score was still two-nil at the break was unfortunate, but seemed not to be a problem.

This looked to be even more so when the initiative was again grasped by K's as the second-half began. Ronnie Green was provided with a fine chance with just six minutes on the clock, but managed to head over from six yards after a good run and cross by Jones (below).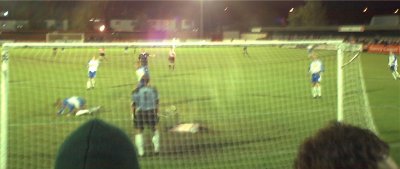 Photo: kingstonian.net
The lead was extended though, and in comical fashion. Ex-K Mark Boyce played a square ball to defensive partner Lee Doherty - who was stood on the edge of the centre-circle at the time - Ball challenged, Doherty slipped and Ball was in. Running alone from a long way out is always a stern test, but he did very well to keep calm and even better to slot the ball past Perez's right-hand to make the score three-nil. And with that the game was as good as over.

Pah!

Just a minute later an Enfield attack was thwarted by a foul by Craig Lewington on the edge of the K's box. The referee was happy just awarding the free-kick, but after some "persuasion" from Lewington he produced a yellow card for dissent too. Steve Sedgley acted immediately and replaced Lewington with Bashiru Alimi - whose first job was to watch from the wall as Paul Armstrong fired the free-kick home to pull one goal back.

What had been a comfortable, assured performance from Kingstonian suddenly became anything but. Passes were mis-placed, tackles were mis-timed and Enfield realised that this was their chance. They took it too, pulling a second goal back just five minutes later. Stuart Maynard sent in a corner from the left and Dembe Traore rose at the far post to head home a simple goal.

Doherty went close to making up for his defensive faux-pas when he headed across goal from another Maynard corner just after, as Enfield threatened to over-run their opponents. Yet somehow K's managed to re-establish their grip on the game.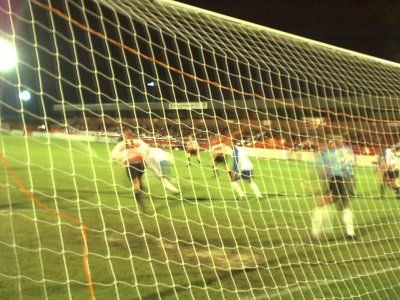 Photo: kingstonian.net
Jones went close again when he got on the end of a Dave Clarke cross, and Alimi managed to scrape the outside of a post when he slid in to connect with a cross from Jones.

The final ten minutes saw chances for both sides, as the result remained in serious doubt. Collins volleyed over and Greg Ball managed to shoot at Ronnie Green, whilst at the other end Matt Flitter intercepted a cross that Jay Richardson was waiting to head home and Julian Sills turned away a good shot from Traore.

But the nerves were finally settled with a killer fourth from K's in the ninetieth minute. Jones played in Ball on the left and his cross was met by Collins at the far post. His first shot struck Richardson, but with Perez now out of position he was able to turn the rebound into the unguarded net to confirm the home win.

The management team were presumably not best pleased with the period of play that allowed Enfield back into this game, but apart from that twenty minute spell this was a very good performance from a K's side missing four regulars. If ever there was a time when confidence should be high then this is it.
Tue 24th Sep 2002
Kingsmeadow Stadium
358
Isthmian League Premier

Kingstonian
4
Collins (2), Jones, Ball
Enfield
2

1
Lance Key
2
Jamie Leacock
3
Sean Thurgood
4
Craig Lewington

15

5
Matt Flitter
6
Julian Sills
7
Liam Collins
8
Dave Clarke
9
Ronnie Green
10
Greg Ball
11
Phil Wingfield

12

12
Mark Jones

11

13
Adrian Jones
14
James Pinnock
15
Bashiru Alimi

4

16
Neil Lampton
Mark Jones
Gary Ekins