Hampton & Richmond Borough 2-2 Kingstonian
BEAVERS BOUNCE BACK
The last day of August saw Kingstonian still twiddling their thumbs in the last days of their suspension, and saw Hampton and Richmond Borough record their only win of the 2002/2003 season thus far against Bishop's Stortford. On this Boxing Day morning the home side were, by some way, bottom of the league, making K's - poor away record et al - nothing but favourites.

Changes were made to the side ahead of the hectic Christmas programme, with Peter Barnsby, Craig Rocastle and Phil Wingfield absent ahead of the more physical match expected with Boreham Wood, leaving Julian Sills and ex-Beaver Matt Flitter to make up the centre of a back four.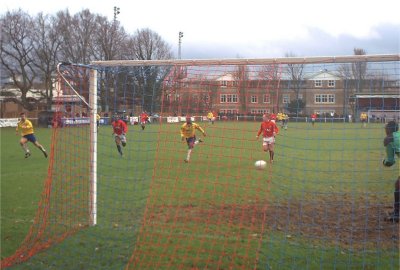 Photo: kingstonian.net
The start was atypical of recent Boxing Day contests - a chance after just a minute. A throw reached Scott Steele on the left wing and his cross was met by Tim Sills. His header did force Andy Iga to save, but there was little concern on the goalkeeper's face.

The best opening of what was a hugely uneventful first thirty minutes fell - literally - to James Pinnock. An "old-fashioned up and under" from Julian Sills dropped some thirty yards from goal and was controlled superbly by James Pinnock. His immediate shot just cleared the bar, denying him what would have been a fantastic goal.

Bottom of the league (lest we forget) Hampton did have a fine chance of their own in the first period when Dave Cory played in Richard Thompson on the left side of the K's area. For some reason the defence had gone awol, but Sills managed to get a superb last ditch tackle in just as the striker was poised to open the scoring.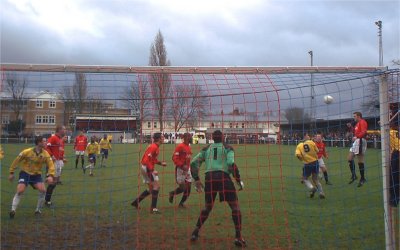 Photo: kingstonian.net
As the break approached, most of those watching were happy to accept that they were watching twenty-two players going through the motions as sometimes happens on Boxing Day. But one moment of finery appeared just before half-time. Steele received the ball on the left, cut inside and unleashed a right-footed shot over and beyond Iga into his top-corner for a quite superb goal.

If the first half was like Christmas Day with the relatives, the second was like New Year's Eve with, well, interesting people. Two early changes for K's did little to change the pattern of the match, with the away side having the upper hand. The deserved second goal came after ten minutes, but from a surprising source.

Substitute Neil Lampton played in Tim Sills on the right of the area, and as he tried to charge through defenders the ball bounced across the face of the goal for the other substitute - Bashiru Alimi - to turn the ball in from eight yards out. Two goals up against the league's bottom side and thoughts could turn to the leftover turkey.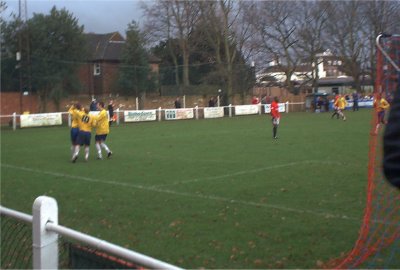 Photo: kingstonian.net
Up step Julian Sills. Those who were at Boreham Wood in the FA Cup will remember his own goal-backpass on that occasion. This time it was only slightly less-worse. From just inside his own half Sills sent a powerful bouncing ball back towards Lance Key and goal for no clear reason. The goalkeeper slipped as he tried to move to his left to intercept the goalbound effort and was left with no alternative other than to palm the ball aside.

The referee correctly awarded a free-kick for a backpass, Mark Jones slyly threw the ball away to delay the taking of said free-kick, but not slyly enough as he was shown a yellow card for his efforts. Ex-Junior-K Ashley Sestanovich touched the ball to Lee Riddell whose shot, via at least fifteen deflections from the massed ranks of the yellow-shirted ones on the line, bulged the net. Hampton were back in the game.

To be fair - and why would we be anything but? - K's did all that they could to immediately restore their two goal cushion. Tim Sills spurned three decent chances within a few minutes - one from a Pinnock cross and two from Dave Clarke. Neil Lampton also wasted a fine opportunity when he shot weakly and wide after being played in by Clarke. Yet just as the pressure looked to be unbearable, Hampton went down the other end and equalised.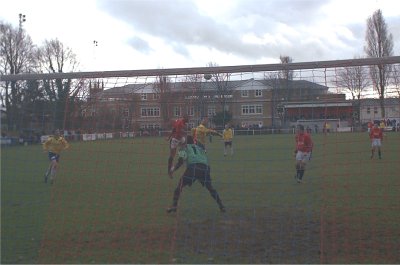 Photo: kingstonian.net
Sestanovich cut in from the right and, after Sills missed his tackle, played in Riddell. His shot from the edge of the area was going some ten yards wide until it smacked into the face of Max Hustwick, diverting the ball just inside Lance Key's post. Two should have become three for Hampton just a moment later when the ball dropped to Tony Houghton six yards out after a save from Key. The chance looked to be an easy one, but the ball ended up in the side netting, with Houghton's head ending up in his hands.

Julian Sills - who had, to be fair, had a pretty good game the two goals excepted - did his best to make up for his earlier errors, but twice just missed out on restoring Kingstonian's lead. First of all he challenged Iga for a high ball when Matt Flitter had headed up a Mark Jones free-kick. The goalkeeper couldn't claim the ball but when it bounced up again, just a couple of yards out, he got there just before Sills. Then, just a minute or two later, Sills met a Pinnock corner from the right, but his headed effort smacked against the crossbar and bounced away.

The final chance fell to Hampton, but Alan Inns shot over from just inside the box after a corner fell to him. A win for the home side would have been somewhat galling for K's, considering the number of second half chances that came and went, but credit must go to Hampton for coming back into a match that really did look like it had passed them by.
Thu 26th Dec 2002
Beveree Stadium
567
Isthmian League Premier

Hampton & Richmond
2
Kingstonian
2
Steele, Alimi

1
Lance Key
2
Max Hustwick
3
Mark Jones
4
Julian Sills
5
Matt Flitter
6
Leke Odunsi
7
Liam Collins
8
Dave Clarke
9
Tim Sills
10
James Pinnock

16

11
Scott Steele

12

12
Bashiru Alimi

11

13
Adrian Jones
14
Peter Barnsby
15
Craig Lewington
16
Neil Lampton

10

James Pinnock
Gary Ekins