Hastings Town 2-1 Kingstonian
BATTLING WIN AT HASTINGS
With the news that Kingstonian had been suspended from the Ryman League filtering around The Pilot Field just before kick-off, the grey clouds above were joined by more of the metaphorical sort. Quite how much the players knew about the impending suspension wasn't clear, but they managed to play as though nobody had bothered to tell them. Perhaps they hadn't.

Kick-off was delayed after a search for linesmen revealed that there weren't any, leaving two "fully qualified" Hastings Town United supporters to carry the flags (below).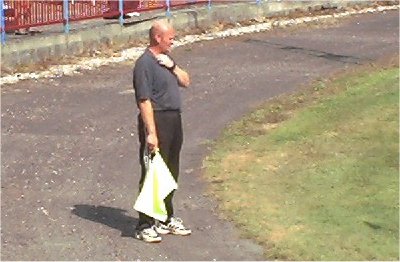 Photo: kingstonian.net
This match wasn't exactly the most incident packed event ever seen, and anyway after so many friendlies in such a short space of time, this match seemed to matter even less than it might have. The home side probably just shaded the first half, with star player Lewis Remey going close twice - once with foot and once with head. Lance Key saved the first and happily watched the second shave his post.

Dave Sadler came closest for K's (below), with their only effort on target of the half. James Pinnock played in Neil Lampton on the right, who crossed to the waiting striker. His header was a good one, but Matt Brown managed to tip the ball over for a corner.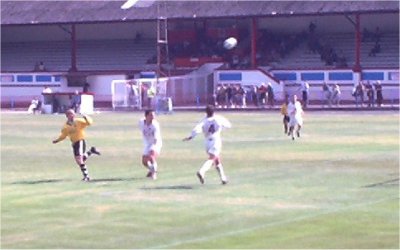 Photo: kingstonian.net
The second half was played in conditions which started with bright sunshine only to finish under a torrential downpour. Hastings made the better of the conditions and scored what might well have been a deserved goal ("might well have been" because, quite frankly, nobody seemed to be paying all that much attention) when Remey - who else? - headed home a cross from Steve Yates on the right.

The blush-saving equaliser came with seven minutes to go when one of the eight Kingstonian substitutes - Phil Donaldson - struck from just inside the box after being played in by Mark Royal.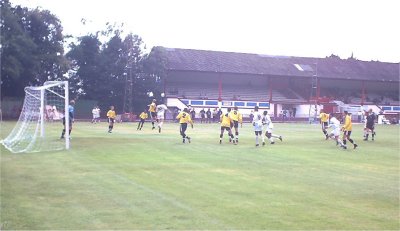 Photo: kingstonian.net
Yet just as everybody was collecting their belongings and starting to think of crazy golf by the sea-side, Mark Jones proved that this match really had been worth the effort. A combination of Justin Reza, Ronnie Green and Craig Lewington saw the ball crossed to the far post, goalkeeper Yates turned the ball out to the edge of the area and Jones thundered the ball in with his left-foot.

The celebrations were certainly more energetic on the field than off it, but then maybe there's a prize for scoring the "last ever" goal for Kingstonian...

This game was obviously secondary to everything going on, and being discussed, off the field. Yet once again K's showed that, should they be allowed to continue, the football side of things is looking pretty good. As for the other side of things - let's just say that we wait with breath baited.
Sat 3rd Aug 2002
The Pilot Field
Not available
Friendly

Hastings Town
2
Kingstonian
1
Donaldson, Jones

1
2
3
4
5
6
7
8
9
10
11
12
13
14
15
16
Gary Ekins