Hitchin Town 0-0 Kingstonian
HERE'S TO YOU - KEY AND ROBINSON
A trip to Hitchin's Top Field ground looked to provide a good test for the resurgent Kingstonian as they played a team who, after a disastrous start to the season, hadn't lost in four and were sitting just below K's in the league table on goal difference.

The visitor's line-up was unchanged from that which overcame Basingstoke four days ago, but with no match for the reserves, the substitute's bench was packed with potential talent - Ronnie Green amongst them.

The match started as most of the Kingstonian matches have this season - with Steve Sedgley's team in the ascendancy. Tim Sills had one early volley well saved by James Robinson after good work from Jamie Leacock and Phil Wingfield, and a later shot from the edge of the area well saved by Robinson - this time following good play from Greg Ball. This second chance provided K's with their first corner of the match, but Phil Wingfield connected poorly with Craig Lewington's ball in as he headed wide (below).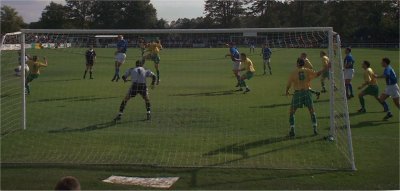 Photo: kingstonian.net
Hitchin had their first sniff of a chance with ten minutes on the clock. Robinson kicked long, Carl Drew played in Dean Brennan, calling on Lance Key to turn aside his well-struck shot.

The K's defence started the match in assured mood but granted Town an opportunity after twenty-five minutes. A long ball was played down the left, but Matt Flitter made up ground on Craig Rydehead and easily intercepted. Yet he dithered between passing back to Key and clearing, and in the end did neither. Rydehead nipped in, crossed to the far post only for Matt Nolan to shoot straight at Key.

Nolan also missed another chance not long after - this time from a long high ball into the area from Brennan - only to miss the target with his header. Meanwhile K's crafted a fine chance of their own, only for Dave Clarke to fluff. Greg Ball played in Mark Jones - again looking impressive once relieved of his defensive duties - who crossed from deep. Clarke rose unopposed but only managed to head over from the penalty spot.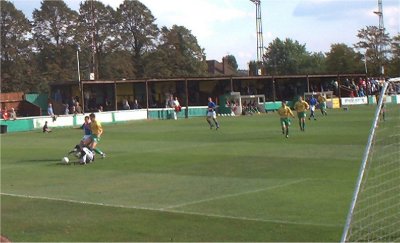 Photo: kingstonian.net
And so the slightly disappointing first-half ended with no goals, but both sides would have been slightly perturbed at the chances that they'd missed.

An early change for Hitchin saw the introduction of Karl Spring, whose height alone seemed to upset the Kingstonian defence, but his speed wasn't nothing to worry about either.

Sean Thurgood came to the early rescue of K's at the start of the second half when Rydehead crossed from the left and found Nolan at the far post. As the ball arrived it looked to be an easy chance for the striker, but a fine sliding tackle saw Thurgood turn the ball past the post for a corner.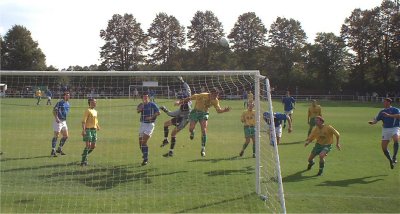 Photo: kingstonian.net
K's had two good chances of their own early in the second half, but the massed ranks of the Hitchin defence stifled both. Phil Wingfield released Sills through the right hand-side of the home defence, but by the time he reached the edge of the area James Ayres had got back. So he played a square ball to Ball, but he too was closed down, so he played a square ball to Clarke, but he too was closed down and the attack ended.

The introduction of Liam Collins in place of Flitter looked for a short while to have made the required difference, but in the end the promise didn't evolve. The closest K's came to scoring all afternoon saw another Lewington corner met by Sills' head at the far post (below), but his effort hit Greg Ball on the line and was hacked away to safety after something of a scramble at the foot of the post.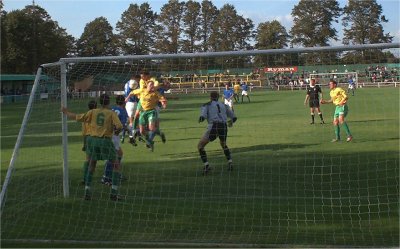 Photo: kingstonian.net
Ayres and Sills tussled in the area only for the referee to - correctly - turn away appeals for a penalty, and at the other end Drew wasted a glorious chance when he volleyed over from inside the area after being played in by Nolan.

Wingfield saw a shot well saved by Robinson, Sills headed over after a good run and cross from Ronnie Green - on in place of Ball - and Sills then failed to connect properly with a far-post volley after a Liam Collins cross avoided everybody else as it made its way across goal, but nobody could quite find the telling touch to finish off some good build-up work.

There were loud appeals for a home penalty with fifteen minutes remaining when a(nother) long ball saw Thurgood and Drew chasing. The former stayed on his feet whilst the latter fell, but the referee - who, strangely, seemed happy to allow all manner of fouls to go unpunished - was having none of it and waved play on.

Tim Sills was forced to limp off with an injury with some eight minutes remaining when Ayres stood on his ankle as attempted to connect with a Collins cross. Wingfield managed to connect with his head only for the afore-mentioned Ayres to "hip" the ball off for a corner.

Both sides had late chances to snatch the three points, but Green and Mark Bridge were both denied by comfortable saves by Robinson and Key respectively. And so a(nother) draw. Perhaps not the result that was wanted, but another performance to be added to the "pleasing" pile.
Sat 21st Sep 2002
Top Field
451
Isthmian League Premier

Hitchin Town
0
Kingstonian
0

1
Lance Key
2
Sean Thurgood
3
Mark Jones
4
Craig Lewington
5
Matt Flitter

14

6
Julian Sills
7
Jamie Leacock
8
Dave Clarke
9
Tim Sills

16

10
Greg Ball

12

11
Phil Wingfield
12
Ronnie Green

10

13
Adrian Jones
14
Liam Collins

5

15
James Pinnock
16
Bashiru Alimi

9

Craig Lewington
Gary Ekins