Kingstonian 0-1 Purfleet
KEELING GLAD ALL OVER
Third-placed Purfleet travelled to Kingsmeadow looking to repeat their five-one-card trick in last season's fixture, as Steve Sedgley's team attempted to get back to winning ways after losing their previous league match - the first such defeat of the season.

With Graeme Tomlinson absent tasting the delights of Bradford, Tim Sills was left to plough a lone furrow in front of a five-man midfield containing three destructive players in Bashiru Alimi, Dave Clarke and Craig Lewington in between the more constructive wide play of Liam Collins and Phil Wingfield. Scott Steele, just signed after leaving Kingfield, only made the bench.

The first-half was something other than an incident packed affair, with Kris Lee's high kick into Lance Key's forehead the only event of note within the first fifteen minutes. Thankfully Key picked himself up and continued.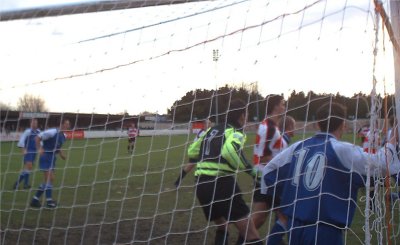 Photo: kingstonian.net
Half chances came and went for both sides within a few seconds of each other firstly when ex-K Lee Allen crossed for Craig Edwards who couldn't quite beat Sean Thurgood, and secondly when Collins played in Clarke on the right, but his cross was turned away by John Purdie before Sills could pounce.

The break-through came on 22 minutes, but only after a calamitous mistake in the heart of the K's defence. Clarke played a ball back in the direction of Lance Key, Peter Barnsby presumed that the goalkeeper was coming out of his area to kick clear, Key was on a wavelength somewhere towards the other end of the scale and John Keeling nipped in. Once the striker had the ball he did everything right, rounding the goalkeeper and sticking the ball into the empty net for a slightly fortuitous opening goal.

The expected comeback from the thus-far-unbeaten-at-home Kingstonian didn't quite materialise. Lewington managed to test Alex O'Reilly in the 'Fleet goal with a dipper from twenty yards, but when the goalkeeper spilled the ball there was no in-rushing K's player to finish off. The next scene had a similar outcome too. Alimi played a fine ball down the right to Tim Sills, but when his cross reached the middle of the unguarded area, nobody had managed to get up in support quickly enough to add what would have been an easy killer touch.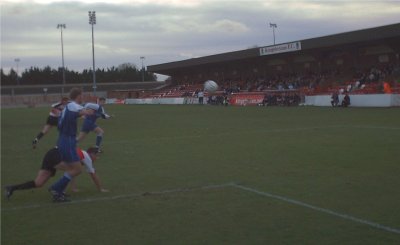 Photo: kingstonian.net
Mark Jones was introduced in place of Thurgood in a straight swap as the interval came and went, but the by-now-expected Sedgley-inspired up-turn didn't come about. Wingfield crossed towards Sills, but a defender turned the ball away before he could connect, and Clarke fired not far over after a short Collins corner, but O'Reilly in the visitors' goal was troubled on neither occasion.

Steele and James Pinnock were both introduced with half an hour remaining, but Pinnock took up a position on the right-wing when most of those watching had expected him to trot up alongside Sills.

If anything it was Purfleet who now looked the more likely to score. Allen crossed to the near post from the left and Lee's shot looked to be about to double the lead before Matt Flitter stuck out a leg to deflect the shot wide. Jamie Southon then came close when he headed a Paul Linger cross over from the edge of the box as the pressure increased.

With just under twenty minutes remaining Tim Sills finally got a bit of support - in the shape of Phil Wingfield. The centre forward played a ball through the defence for the winger to run onto and he managed to hold off Craig Edwards as they entered the area. But just before the shot came in, Wingfield lost his footing and Kingstonian lost their chance.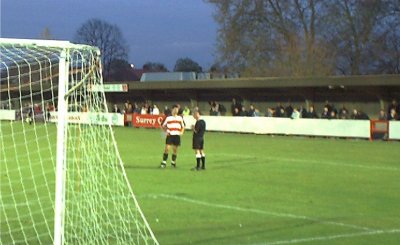 Photo: kingstonian.net
There were appeals for a home penalty just afterwards, when a Steele free-kick caused havoc in the Purfleet area. A shot from Alimi certainly looked to strike a hand, but whose it was is anybody's guess.

There were a couple more half chances for the home side, but neither Sills' shot over from distance nor Wingfield's attempt to connect with a Pinnock cross caused O'Reilly to break sweat.

And so the match ended in defeat for home side Kingstonian for the first time this season. Purfleet certainly showed enough to show why they currently lie third in the table, but one can't help but feel that had K's managed more than their one shot on target things might have been a bit different.
Sat 9th Nov 2002
Kingsmeadow Stadium
452
Isthmian League Premier
1
Lance Key
2
Max Hustwick
3
Sean Thurgood

12

4
Craig Lewington

14

5
Matt Flitter
6
Peter Barnsby
7
Liam Collins

15

8
Dave Clarke
9
Tim Sills
10
Bashiru Alimi
11
Phil Wingfield
12
Mark Jones

3

13
Kobina Anaman
14
Scott Steele

4

15
James Pinnock

7

16
Julian Sills
Phil Wingfield
Gary Ekins