Sutton United 1-1 Kingstonian
PHILIP'S HEAD SCREWS U'S
A crowd of 821 - the biggest of the day in the Ryman Premier - watched a typical local derby, with neither side prepared to give the other an inch. Several old acquaintances were looked up prior to kick-off, with ex-K's Danny Bolt and Scott Corbett lining up for the home side, and Phil Wingfield returning to his home of a few months ago. The only change to the side which finally took points off St Albans on Tuesday evening was the return of Matt Flitter at the heart of the K's defence.

In the predictably frenetic opening moments, it was the Sutton eleven who settled first, and it was they who wasted the first of several glorious opportunities - for both sides - early on. A fine run by Bolt, leaving Craig Lewington and Bashiru Alimi trailing in his wake, saw him play in Mark Watson on the edge of the area. He neatly side-stepped Flitter, but Hustwick managed to get his toe in the way of the resulting shot.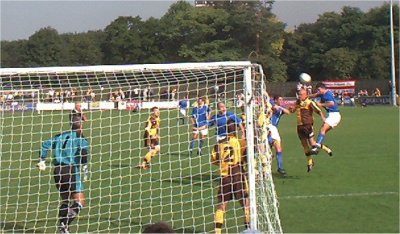 Photo: kingstonian.net
Tim Sills and Greg Ball combined to produce a rare attacking foray for K's when the former headed on a Lance Key kick-out for the latter. Ball managed to beat Darren Beale for pace, but his cross was intercepted by goalkeeper Andy Pape before Sills could convert.

Danny Hodges headed wastefully over at the other end after a short corner involving Bolt, but as time wore on the K's midfield managed to get a hold on their opponents, allowing Collins and Wingfield to come into the game as more of an attacking force. Indeed it was Wingfield who set up a chance for Ball, only for Beale to bring him down on the edge of the area. Sills took the free-kick, Pape saved well low to his right (below) and Ball's follow-up was marginally wide of the post.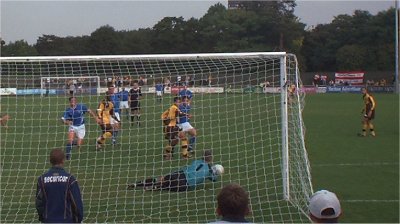 Photo: kingstonian.net
But the ex-K-contingent almost undid the K's defence on the half-hour when a fine run from Corbett on the right allowed the increasingly influential Bolt to shoot low to Key's left, only for the goalkeeper to deny him with a fine save.

The most controversial moment of the match came amidst a string of chances at Key's end of the ground when K's broke away at the other. Another long clearance from Key saw another flick on from Sills and another run from Ball. This time he was faced with a wall of bodies, and as he approached the edge of the six yard box he fell under the challenge of any or all of Ryan Palmer, Hodges and Beale (below). There were muted appeals for a penalty from a couple of players, but more stringent ones from the K's bench. Referee Mr M O'Keefe though was having none of it.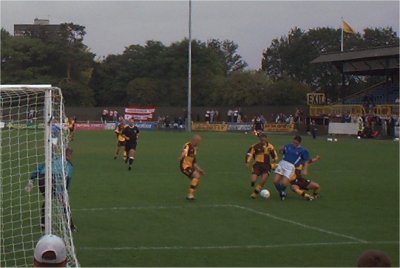 Photo: kingstonian.net
The pressure on the K's goal was increasing with every passing moment, and it was no real surprise when the opening goal finally came. Lance Key had just produced another stupendous save, this time from Matt Fowler, when Bolt sent in another corner from the right. Palmer headed the ball back from the far post, Hodges headed down and Lewis Gonsalves converted with his left-foot.

The lead should have been doubled just a couple of moments later when another Bolt cross was met by Mark Watson standing unattended in front of goal. Yet somehow he managed to head wide, and within a few minutes the scores were level again.

Yet another Key clearance fell to Sills, and he managed to find Collins with his head. He flicked on to Greg Ball on the right wing, and his measured cross was met by the oldest head in the game - that of Mr Philip Wingfield. There was never any doubt about where the ball would end up, and the joy for Wingers was plain to see (below).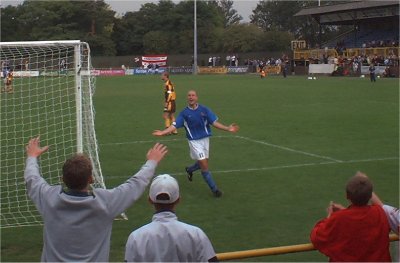 Photo: kingstonian.net
Following what was almost a chance-fest, the second period was a slightly more cagey affair. K's had a few early opportunities, with both Sills and Ball missing good chances with their heads, both following good work from the increasingly-impressive Collins.

Julian Sills was proving that the family connection has little to do with his place in the team with another fine display, and he almost did what his brother has failed to do thus far this season - namely score. A free-kick from Collins was cleared to the edge of the box, only for Sills' shot to be blocked. The rebound fell to Alimi, but his finish went woefully wide.

The introduction of James Pinnock in place of the hobbling Max Hustwick did little to interfere with K's dominance, as the visitors continued to press for the next goal. Key was still in need though, most importantly when Watson crossed for Corbett whose shot had to be well saved.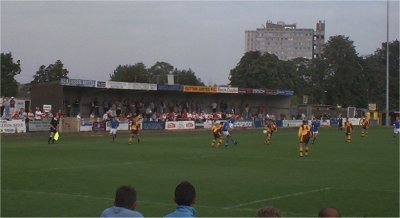 Photo: kingstonian.net
Yet as time ticked on into the closing ten minutes, there was suddenly only one team in the match. Three times the blue-shirted ones contrived an opportunity for Wingfield to go home with an even bigger smile on his face, but three times he managed to miss the target.

Pinnock crossed from the right with nine minutes left only for Wingfield to head wide, some five minutes later Julian Sills sent in a high free-kick only for Wingfield to volley over from close in, and in stoppage time Wingfield created his own chance as he ran across the edge of the area only to shoot just wide of Pape's right-hand post.

But let's not be too harsh on the goalscorer. He produced another fine display, and on another day he might have ended up on the winning side. As it was both teams had to be content with a share of the spoils, but against a side who had won four out of four on their own patch, that is nothing to be ashamed of. This K's side still has a way to go before they can be talked of as serious title challengers, but they're certainly getting closer.
Sat 14th Sep 2002
Gander Green Lane
821
Isthmian League Premier

Sutton United
1
Kingstonian
1
Wingfield

1
Lance Key
2
Bashiru Alimi
3
Sean Thurgood
4
Craig Lewington
5
Matt Flitter
6
Max Hustwick

14

7
Liam Collins

12

8
Julian Sills
9
Tim Sills
10
Greg Ball
11
Phil Wingfield
12
David Ocquaye

7

13
Adrian Jones
14
James Pinnock

6

15
Jamie Leacock
16
Mark Jones
Phil Wingfield
Gary Ekins