Kingstonian 2-0 AFC Wimbledon
BROWNE BRACE CLAIMS CUP
There was something strangely satisfying seeing skipper Mark Beard hold up the inaugural Kingsmeadow Cup after all the close season ramifications. K's fans also had an early Christmas present with the recruitment of ex-Shots striker Stafford Browne, whose brace of goals earned him the man of the match award. After surviving an early blitz from the Dons, who threw everything at the K's including the kitchen sink, Browne found the old onion bag and then the tenants relaxed, engineering some pretty patterns. Most of the football was played in the first half as the second was all stop-start as both managers understandably gave their squads a run-out. Dons fans delighted of course to see ex-Wimbledon star Roger Joseph come on.

The Dons looked a far better side than the last time we met a year ago. A little naive at times perhaps and a few good chances went begging, but that can be sorted. It would be a very brave individual who would wager against them winning the CC League. As for the K's it's very early doors, merely a sketch, but Bashiru Alimi, Scott Steele, Billy Mead, Mark Beard, Matt Elverson all went on to have good games. Starship K's is to boldly go to Thurrock, crewed by nice people in red t-shirts.

On just two minutes it was the Dons Kevin Cooper whose crossfield pass set Lee Sidwell free down the right winning a corner. Ryan Gray whipped it in right across the face of a packed K's goalmouth. On 10 minutes the Dons crowned a period of intense pressure with their best chance of the game. Skipper Joe Sherrin set Cooper free down the left, he picked out an unmarked Sidwell deep in the K's box. His bullet header though was tipped over by an acrobatic Lance Key at full-stretch. Then Beard, who was very busy arranging his defence, cleared off his own line from a Danny Oakins header that had beaten Key.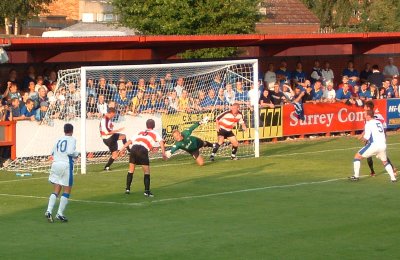 Photo: kingstonian.net
On 12 minutes Dons keeper Ray Merry came into the game to deny a lurking Browne.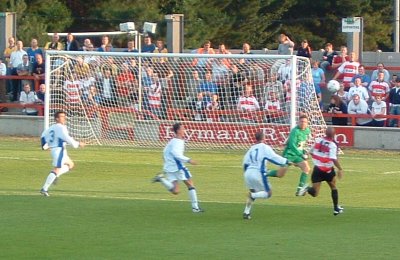 Photo: kingstonian.net
Then a tentative lob from Craig Lewington was well held by Merry. On 17 minutes K's took the lead exploiting some nervy Dons defending. Steele sent in a high cross from the left which should have been cut out. Beard nodded the ball across the face of the Dons goalmouth for an unmarked STAFFORD BROWNE to lash home.

The Dons could have equalized on 28 minutes when a chip from Paul Quinn out on the left flank saw a falling Key tip the ball out to Sidwell but Liam Garman made a tremendous block. Four minutes later Payne set up Steele on the edge of the Dons box but his daisycutter was just wide. On 38 minutes Payne took a tumble right on the edge of the Dons box. Steele's set piece curler disappointedly struck the wall. Gavin Bulger then sent a 30 yarder just over. With a minute of the half remaining Payne dropped a shoulder and looked through but was unceremoniously felled, Oakins, the culprit, was invited to cool his heels. There was still time for the impressive Sidwell to find himself in space in the K's box, but his header was straight at Key.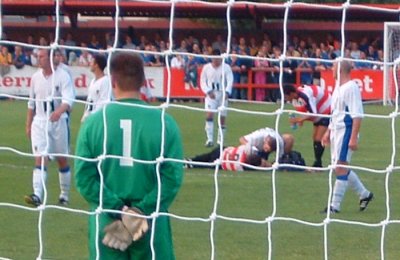 Photo: kingstonian.net
Half-time it was all-change as Terry Eames alone made 9 substitutions. On 64 minutes Browne sent in a high cross that was tipped away by sub keeper Tony Smith under pressure. Consecutive corners from Billy Mead saw Browne latch onto the second one but he had no room to manoeuvre. Elverson then did well to block a Joseph break.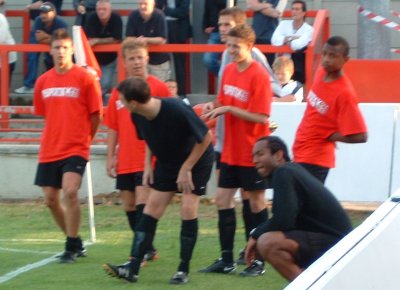 Photo: kingstonian.net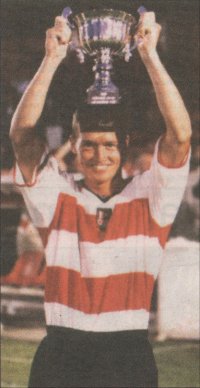 On 71 minutes Matt Everard picked up a loose ball out on the left and sent in a low cross that Key cut out at full-stretch. A minute later the Kingsmeadow Cup was coming back to Kingsmeadow. Scott Edgar had tied up the Dons down the right, a loose ball was picked up by STAFFORD BROWNE just inside the box and he curled his drive low round a diving Smith.

Straight after the restart Browne seeking a hat-trick was upended on the edge of the Dons box. Mark Jones slammed the set piece into the wall, his follow-up had 131 bus written all over it. Liam Collins took off on one of his trademark runs down the right but Jamie Angel did well to head out. Browne latched onto Jones's corner but he fired the ball across the face of the Dons goal. Jones's sent in two more corners before the game ended. Edgar tried to force one through a forest of legs and then the third was spilled by Smith but was immediately mopped up.
Wed 16th Jul 2003
Kingsmeadow Stadium
1417
Friendly

Kingstonian
2
Browne (2)
AFC Wimbledon
0

1
2
3
4
5
6
7
8
9
10
11
12
13
14
15
16
Old Dubbin