Canvey Island 6-1 Kingstonian
OUT AT SEA
A superb performance from title favourites Canvey blew the K's back into the Thames estuary. The home side delivered an awesome example of one-touch passing football that was only bettered by a deadly strike-force in ex-K's man Lee Boylan and skipper Neil Gregory. Boylan was perpetual motion around the K's back-line confidently poaching two typical striker goals. Stafford Browne interrupted the Gulls party with another fine goal that brought the K's back into it. At the beginning of the second half there was an uncomfortable calm before the storm. Then up stepped Gregory to shatter any lingering K's optimism, he whipped in a hat-trick in a dizzy six minute spell. Although Boylan was substituted it brought little relief to the men from Surrey. Canvey certainly played like the best team outside of the Conference. They are a little shaky at the back but the title surely this time is Essex Riviera bound. Whoever had played the Gulls last Saturday would have been trounced, there was no shame in it.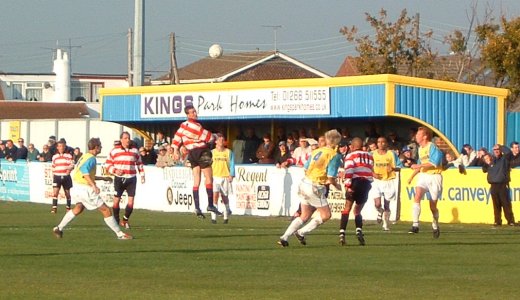 Photo: kingstonian.net
As for the K's, with their friend and team-mate's funeral still fresh in their minds, it's back to the drawing board and the relative sanctuary of four home games in succession. Too many of the goals on Saturday originated from set pieces, but that can be fixed. Last time we lost 6-1? well I do remember a freezing cold night in Wivenhoe when Robin Lewis grabbed an early goal only to be followed by calamity and collapse. But let's not dwell.

It was an "oh blimey guvnor" moment when Boylan hit the bar in the very first minute, and it was pretty much one-way traffic from then on. On 7 minutes defender and raider Chris Duffy set up Boylan again on the edge of the K's box but his drive went seawards. On 11 minutes winger Neil Midgeley out on the right crossed for Boylan again but again he skied the ball over. On 18 minutes the nightmare started. A short Jeff Minton free-kick set an unmarked Ollie Berquez free down the right, his cross was punched clear by Lance Key but an unmarked LEE BOYLAN was on hand to drive the ball home through a pack of players. Seconds later it was Boylan again on the edge of the K's box but this time he drove wide. On 34 minutes K's had their first serious move of the match when Browne unleashed a thunderbolt which keeper Danny Potter spilled, Grant Payne got to the follow-up first but a prone Potter redeemed himself and clawed the ball away. Back came the Gulls, Berquez struck a fierce low drive that Key did well to push round the post. But on 36 minutes K's were two-down when a Minton corner from the right saw Gavin Cowan head the ball down for LEE BOYLAN to nod the ball home. Celebrations were short-lived though, skipper Mark Beard sent a perfect through ball into the path of an unmarked STAFFORD BROWNE and he lashed the ball past a full-stretch Potter.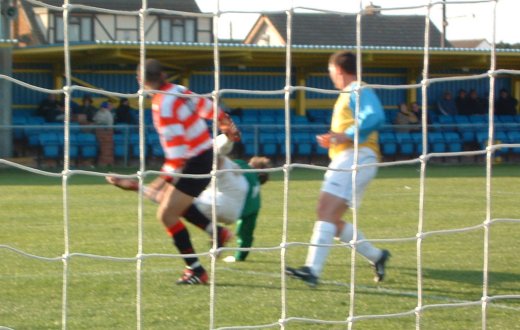 Photo: kingstonian.net
Their was a bit of a phoney war at the beginning of the second half. Key fell on a deflected drive from Duffy on 57 minutes. Then a Duffy cross saw Boylan head over. Gregory tested Key twice, the second on 63 minutes was fortunately straight at Lance. Two minutes later though the Gulls skipper went one better. A Minton corner from the left was headed down by, guess who?, Cowan, for NEIL GREGORY. Although he had his back to the goal he still had time to turn and drill the ball home from close quarters. Off went Boylan but only to be replaced by striker Junior McDougald. On 69 minutes the ex-Dagger took off down the right and unleashed a corker that Key did very well to block, but the ball ran free for NEIL GREGORY and he tucked the fourth home. Two minutes later NEIL GREGORY on the edge of the K's box crowned a fine hat-trick when he brought down a high ball and volleyed home past a full-stretch Key. A rampant Yellows didn't let up, on 77 minutes another Minton corner saw a Gregory header that Key acrobatically tipped over. The follow-up corner saw Berquez head the ball dangerously across the face of the K's goal. With a minute to go Duffy took off on a run down the left and sent in a high far post cross for an unmarked JUNIOR MCDOUGALD to head past a diving Key for his first goal for the club.
Sat 18th Oct 2003
Park Lane
509
Isthmian League Premier

Canvey Island
6
Kingstonian
1
Browne

1
Lance Key
2
Stephen Broad

12

3
Scott Smith

15

4
Matt Elverson
5
Max Hustwick
6
Liam Collins
7
Mark Beard
8
Billy Mead
9
Grant Payne

16

10
Stafford Browne
11
Bashiru Alimi
12
Scott Steele

2

13
Andre Forrester
14
Craig Lewington
15
Mark Jones

3

16
Sofiane Mehdi

9

Old Dubbin