Kingstonian 1-2 Fulham
FUL OF HOPE
No famous names in the visiting line up. Nevertheless there was a welcome and unexpected bonus for the K's Trust with the crowd total reaching 1,003. Many thanks to all those Fulham fans who turned up to watch what was in effect their reserve side. And another bonus was that we all saw a really excellent game of football - just the level of opposition the K's management must have been hoping for at this stage of their pre-season preparations.

Even in the warm-up the players' boots and the bouncing ball alike were kicking up puffs of sand reminiscent of tracked vehicles in an Iraqi desert. Ks in fact took a casualty from friendly fire even before hostilities began when reserve keeper Clive Lyttle had to be carried from the pitch with a seemingly twisted ankle. Never mind, we still had Trevor Jones in reserve in case anything happened to Lance!

Better drop the war analogy now since in fact the game was played in a friendly spirit and was very even. However Ks are unlikely to be ambushed again all season by as fast and mobile a front pair as Fulham's No. 9 (Elvis Hammond) and No. 10 (Calum Willock).

But it was Ks who threatened immediately from the start. A good penalty shout for a hand ball after Stafford Browne tried to latch onto a first-minute corner from the right only resulted in a second corner from the same spot, which Browne couldn't quite steer in at the far post from Mark Beard's headed flick on.

Then in the eighth minute a give away in the K's defence showed just how alive Fulham's Elvis was to any opportunity as the centre forward burst through and his shot glanced off the foot of Lance Key's left hand post.

Straight away Browne was doing the same at the other end with Fulham's keeper only gathering low down at the second attempt.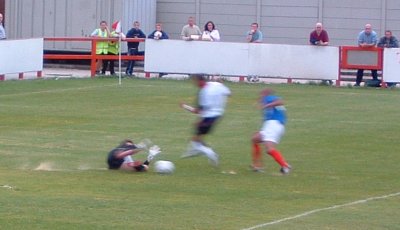 Photo: kingstonian.net
There was to be no respite for the K's defence however. Hammond first just failed to head back a cross at the far post from their busy left-sided No. 11 (Sean Doherty) in the ninth minute. But from a similar approach two minutes later Hammond's left-foot snap shot was pushed away by Key but only to Andrejs Stolcers who calmly netted from close range.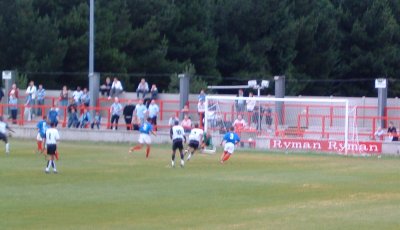 Photo: kingstonian.net
Then it was K's turn to survive a penalty claim as Beard tackled Willock wide right in the box in the 16th minute, but the referee again waved play on.

A minute later and it took three K's defenders to stop Hammond in the circle and within another minute he had seized on a loose ball and shot straight at Key. Even when an exchange of passes between Browne and Grant Payne briefly threatened, Fulham broke back immediately and it took a good tackle from Max Hustwick to stop Willock in his tracks.

In the 22nd minute there was a change at right wing back for Ks when Beard went off as a precautionary measure because of "a sore hernia". He was replaced by Billy Mead, who went into midfield with Liam Collins (on the team sheet and announced as No. 7, but wearing No. 8) dropping to wingback.

Following this change Ks seemed to start playing higher and after five minutes a Mark Jones' cross set up Collins to force their keeper into a diving save at his left hand post. In the 30th minute, from a Mead left-wing corner, a Fulham defender could only head back high over his bar and from Bashiru Alimi's subsequent corner on the right the ball was just snatched off Browne's eyebrows by their keeper.

Then in the 32nd minute K's were forced into a second change. Scott Steele (wearing 7 not 8!) - who had played in Woking Veterans' 4-3 defeat by Clive Walker's Chelsea Vets in a 20-minutes each way six-a-side warm-up preview to Monday night's Walton and Hersham against Woking friendly at Stompond Lane - was replaced by Rod Davis.

Ks still continued to attack with Alimi forcing their keeper to gather to his left on 35 minutes and Jones high and wide left with an attempted lob from Payne's pass three minutes later.

The last five minutes of the half started with Key diving right to save from Willock and ended with Browne falling over himself running clear into the Fulham box.

Although the second half saw the usual pre-season merry-go-round of substitutions, unusually it retained its shape and intensity. Ks started off once again with two unproductive corners, Collins eventually shooting wide left from the second. But this time Ks kept up the pressure and were rewarded with a spectacular equaliser. Payne received the ball in the 54th minute in the left attacker spot and sweetly picked out Collins on his right who stabbed a fierce half volley into the right side of the net.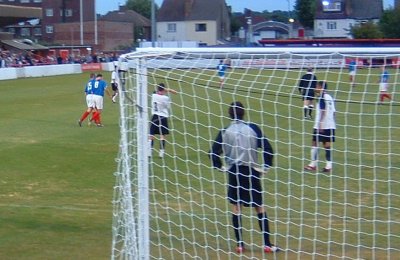 Photo: kingstonian.net
On 12 minutes the second-half subbing started as Liam Garman replaced Jones, but Ks kept up the pressure with Fulham, following a left-wing corner two minutes later, somehow clearing off the line both Alimi's initial shot and Payne's follow-up.

Either side of applause for the announcement of the attendance figure, first Hammond diving in at the left-hand post but just failing to head in and then Doherty chipping just over the bar from a free kick reminded everyone that Fulham were still in the game.

Nineteen minutes into the half saw K's final subs - Scott Edgar for Payne and Matt Elverson for Stephen Broad - and six minutes later they were within inches of the lead as Browne scooped a dipping centre from Collins over the bar from close range.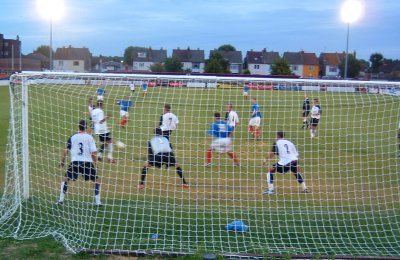 Photo: kingstonian.net
Still the chances were arriving at both ends. Elverson made a superb recovery tackle on Hammond, who shortly after sent a snap shot just wide left. Edgar headed into the keeper's hands at the far post from yet another Collins' cross and in the same 75th minute Fulham's substitute attacker Stuart Noble was just wide from a breakaway and then Hammond broke free yet again but sent a weak shot straight at Key.

Fulham's eventual winner came in the 78th minute, a seemingly innocuous ball from the right instinctively side-footed home by the impressive Doherty. The Premiership reserves could have gone further ahead before the end but Elverson again recovered well to block Hammond's shot from close range and Key made a point blank save to foil Robert Watkins at a corner. Then in the final minute the K's keeper pulled out a stunning one-handed stop low down and close to his right from Hammond.

(P.S.: Many thanks to the watching Gregg Ball and Julian Sills for identifying players in some of the more hectic action to help out an ageing hockey reporter sitting on the press bench behind them who had forgotten his distance specs!)