Heybridge Swifts 0-2 Kingstonian
PLACID LEFT FUMING
Defeat at Hayes' hands on Tuesday night had signalled - for some at least - that a difficult time was ahead for Kim Harris and his men. Two goals and three points later and things looked much rosier.

The formation was altered slightly from Tuesday night, with Scott Smith out injured, and with Matt Elverson back in. Liam Collins started in a more central role, being given more freedom than he has had of late.

K's certainly started brightly too. As early as the fourth minute they might have gone ahead when Elverson connected with a Mark Beard free-kick but could only head over. Yet the early goal was earned, and when it came it was from an unlikely source: the head of Billy Mead.

Stafford Browne and Beard combined well in the centre of the field to play in Collins behind Daniel Barber. He beat the full-back not once, but twice, and crossed towards the penalty spot. The ball was met by the forehead of the on-rushing Mead and his header gave Darren Placid no chance in the Swifts' goal as K's took a ninth minute lead.

The home side responded well and crafted a glorious opportunity not long after. A fine run by Andrew Tomlinson down the right saw him square the ball to K K Opara in the centre, but the striker sent his shot well over the bar from just ten yards out.

Stephen Broad took time out from his defensive duties to create a chance from nothing when he tackled Neil Cousins on the goal-line. With the Heybridge player attempting to let the ball roll over the line for a goal-kick Broad won the ball but sent his cross just out of Browne's reach.

Lee Kersey headed a corner across the face of Lance Key's goal as Heybridge continued to threaten, but K's had their own chances too: Browne was played in for a one-on-one with Placid but sent his shot wide; and Collins flicked home a cross from Craig Lewington but was adjudged offside.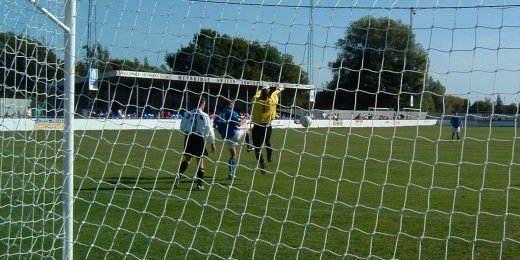 Photo: kingstonian.net
The second half began with a chance for the man everybody wanted to score - Grant Payne. A fine through ball from Collins sent him clear of the Heybridge defence, but Placid stood up well and managed to get his left hand to the ball just before Payne could shoot.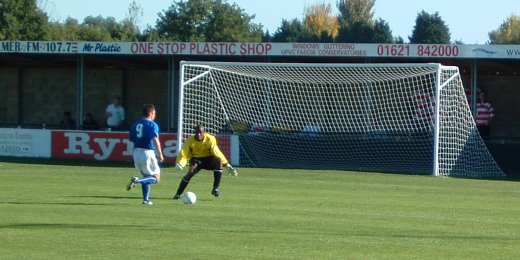 Photo: kingstonian.net
Lance Key made several good saves early in the half, with Opara, Kevin Budge and Cousins all being denied as Heybridge piled on the pressure. It was then slightly against the run of play when K's doubled their lead.

Billy Mead sent Payne through for a run which took him into the penalty area. He was challenged by three Heybridge defenders and ended up sprawled on the ground. The referee - unlike most observers - had seen enough to award a penalty kick and so up stepped Stafford Browne.

The striker sent Placid the wrong way, rolling the ball into the bottom-left and giving K's a two goal cushion with just under thirty minutes to play.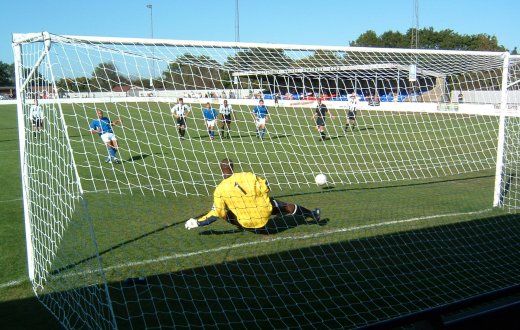 Photo: kingstonian.net
Browne did get another chance not long after when Payne headed a Collins cross into his path. He mis-hit his shot though, with the ball spinning well wide.

K's used the time remaining to give three players much needed run outs. Josh Francois - suspended for three weeks after this match - and Greg Ball and Scott Steele - both in need of match fitness - all came on, with the much re-shuffled side seeing Browne in midfield of all places.

Francois had a few chances, and went close to scoring his first for the club. Ball played a through ball for him to run onto, but Placid again stood up well to the one-on-one and just got his hand to the ball.

Bertie Brayley created another late chance for Opara, but the striker's shot went across the face of Key's goal. And so a two-nil win for K's. This was another fine performance by the defence, with the rest of the team showing exactly the sort of work-rate that is required.

Grant Payne certainly didn't hide at any time, and was unlucky on a couple of occasions. The penalty may have been slightly fortuitous, but it would be hard to claim that K's didn't deserve their win.
Sat 13th Sep 2003
Scraley Road
288
Isthmian League Premier

Heybridge Swifts
0
Kingstonian
2
Mead, Browne (pen)

1
Lance Key
2
Stephen Broad
3
Mark Jones
4
Matt Elverson
5
Max Hustwick
6
Mark Beard
7
Craig Lewington

12

8
Billy Mead
9
Grant Payne

15

10
Stafford Browne
11
Liam Collins

14

12
Greg Ball

7

13
Trevor Jones
14
Scott Steele

11

15
Josh Francois

9

16
Sofiane Mehdi
Gary Ekins