Hitchin Town 3-0 Kingstonian
HITCH AND RIDE
K's travelled up to Top Field to face a Hichin side that could from a distance, at least, be called unpredictable. Changes were made from the scoreless midweek game, with Scott Smith returning from injury, Bashiru Alimi and Craig Lewington moving back into the starting lineup and Sofiane Mehdi making his first start for the club.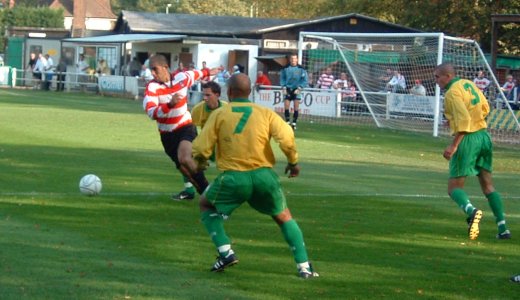 Photo: kingstonian.net
The Kingstonian defence, so far this season this the best in the league by some way, started tentatively. Alimi, playing left wingback, lost the ball cheaply in the opening minutes to Adam Parker who played in Chris Dillon only to shoot wildly over.

At the other end, Stafford Browne and Sofiane Mehdi caused some early problems for the Canaries' defence. Browne beat marker Dean McElroy and surged through on goal, though James Robinson was swiftly out of his goal to save at the striker's feet. Mehdi managed to beat Robinson soon after, despite the 'keeper looking favourite to once again collect at feet, though the shot was cleared off the line for Jon Bone.

Come the eleventh minute and a Carl Williams cross sliced its way through the K's penalty area and Lance Key was unable to get more than an assisting touch as the ball fell nicely for Matt Nolan to tuck home.

K's tried to respond and Mark Beard had a shot saved by Robinson, but the defensive situation was ever-delicate. Adam Parker was brought down on the edge of the penalty area and James Osborne did the rest, sending his free kick past the dive of Key into the top corner of the net to double his side's advantage.

Barely time to recover, K's soon found themselves conceding another. Matt Nolan - possibly in an offside position - picked up a throughball in a deep position and ran at goal, slotting calmly past Key for the Peterborough-bound striker's second goal of the day.

And so in the space of eight minutes the game was well and truly over. Robinson ensured that he did not concede before the break, holding on to Mehdi's shot and Alimi's header. Half time would not have been a good time to be wearing a hooped shirt.

A bright start in the first half was what all Kingstonian would have hoped for. And it was bright; just there were no goals to show for it. Craig Lewington had his low drive saved by Robinson and when the 'keeper only partially cleared with a header, he was on hand to make the save when Mark Beard's effort came back at him. Robinson again drove to make work for himself, this time only partially clearing a cross with a punch. Once again he was on hand to make the recovery save, this time more spectacular from Grant Payne's first touch of the game.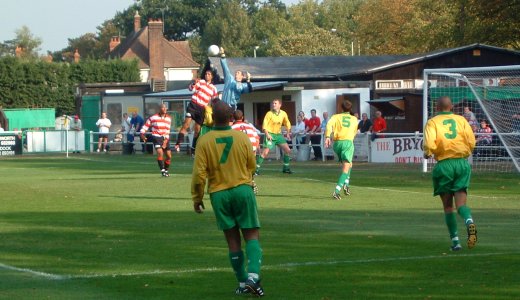 Photo: kingstonian.net
The spell of attacking was over and the focus shifted on not conceding any more. Lance Key was called into action to save at his near post from Chris Dillon before being a spectator when Adam Parker's chance came back out to Carl Williams who fired wide of the target.

Few more chances came in the final half hour of the game. Bashiru Alimi saw sent a strike over whilst at the other end Dillon set up substitute Kevin Evans, only to be denied by an outrushing Key.

There's not much one can say about a game like this. These things happen in football - the real challenge comes in preventing them from reoccurring.
Sat 20th Sep 2003
Top Field
316
Isthmian League Premier

Hitchin Town
3
Kingstonian
0

1
Lance Key
2
Liam Collins
3
Bashiru Alimi
4
Stephen Broad

12

5
Max Hustwick
6
Scott Smith
7
Craig Lewington

16

8
Mark Beard

14

9
Sofiane Mehdi
10
Stafford Browne
11
Billy Mead
12
Mark Jones

4

13
Trevor Jones
14
Chris Nurse

8

15
Anthony Savage
16
Grant Payne

7

Ali Kazemi