Kettering Town 1-1 Kingstonian
LYNCH-MOB HELD AT BAY
Gusty conditions similar to those encountered at Aylesbury earlier in the season greeted Kingstonian as they travelled to Kettering's Rockingham Road - a venue familiar from Conference days, though new to Ryman League travels.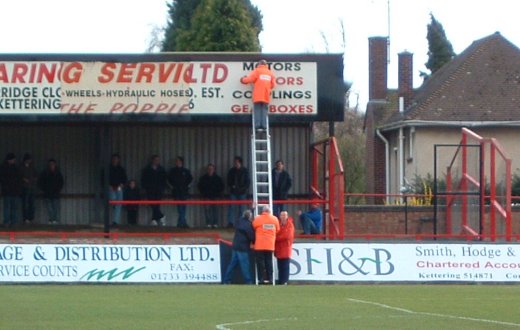 Photo: kingstonian.net
Starting roles were given to youngsters David Ocquaye and Martyn Williams up front along with Stuart Booth at right back, whilst Dave Timothy's returned from injury on the left. Lining up for Kettering were two survivors from the 2000 FA Trophy final between the sides in Craig Norman and Wayne Duik.

Matt Elverson saw a particularly busy start to the game at the heart of the Kingstonian defence, his involvement extending to a tussle with Jason Turner that was to continue throughout the game.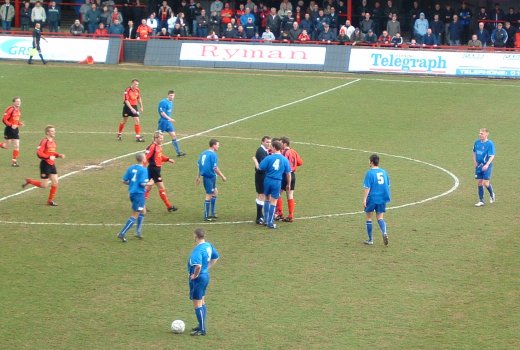 Photo: kingstonian.net
Paul Fewings, with a couple of K's appearances to his name, delivered a couple of dangerous balls from the left as Kettering sought to seize an early initiative. Lance Key plucked the first out of the air but was relieved to see Elverson get something on the second as it hung up invitingly for Darren Lynch to pounce on.

It was during the mid-period of the half that Kingstonian were to have some joy raiding into opposition territory. Ocquaye and Timothy linked well on a couple of occasions, though home goalkeeper Mark Bunn was not seriously tested other than kicking into a sometimes unforgiving wind.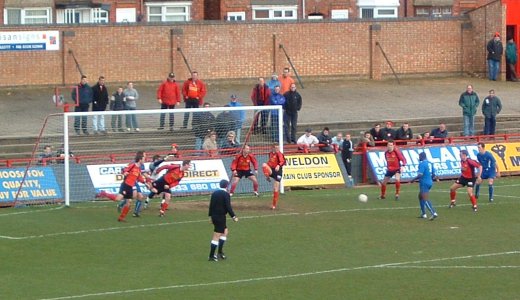 Photo: kingstonian.net
The half hour mark saw the action return to the other end. A free kick conceded by Elverson was struck against the angle of the goal by Ian King.

Lance Key was however truly beaten just minutes later when Lynch was played into a one-on-one situation with Max Hustwick in the area. Turning inside to apply an uncompromising finish into the top of the net, the former Bedford striker was able to end his goal drought in the Poppies' colours.

Key was called into action to deny Richard Graham's low near-post strike, whilst a corner just before the break almost provided a second for Lynch when his header struck the bar.

Despite the ending to the first period, the K's side came out with extra attacking purpose after the break and were soon rewarded.

Liam Collins embarked upon some direct running down the centre and was felled as he closed in on the box. Mark Beard's inviting free kick saw substitute Stafford Browne get across his marker to head comfortably past Bunn for the equaliser.

Another free kick, this time launched upfield by Key, saw Browne rise to neatly flick on for Collins. His strike however fizzed wide across the goal.

Meanwhile, K's were being put under ever-increasing pressure from corners being whipped in from both sides. Dave Timothy and Anthony Savage made crucial clearances to deny the hosts, whilst an Aaron Cavill header cannoned off the crossbar.

Having dispossessed Bashiru Alimi, Cavill again was denied - this time by a fine Lance Key save following a low drive.

With just a couple of minutes remaining, Kingstonian almost snatched an unlikely win when a speculative looping shot from Mark Beard struck the bar before being knocked away.

A final twist to the game almost saw Kettering take all three points when, from yet another corner, substitute Rob Gould's header was dramatically tipped over by Key.

K's can be satisfied with a point from a game where both conditions and opponent were awkward. Kettering's quality of delivery into the box was a consistent threat and had it not been for Lance Key's excellence and the woodwork things would have turned out very different. Although the side would ideally create more chances, Stafford Browne's goal was good return on the day as the focus now turns to the run of upcoming home games.
Sat 20th Mar 2004
Rockingham Road
715
Isthmian League Premier

Kettering Town
1
Kingstonian
1
Browne

1
Lance Key
2
Stuart Booth
3
Scott Smith
4
Matt Elverson
5
Max Hustwick
6
Liam Collins
7
Bashiru Alimi
8
Mark Beard
9
David Ocquaye

12

10
Martyn Williams

16

11
Dave Timothy

15

12
Stafford Browne

9

14
Craig Lewington
15
Anthony Savage

11

16
Aaron Gilbert

10

17
Scott Steele
Ali Kazemi