Lewes 1-0 Kingstonian
WARREN SHOWS K'S HAUGHTON DO IT
Kingstonian's trip to Kingston St Albans Harrow Lewes really was the final action of a traumatic season for all involved with the club. The chairman surprisingly made an appearance at the exquisitely named Dripping Pan ground, but even his presence failed to suitably inspire the team.

Lewes had scored 113 goals on the way to their Division One South title, and there was little doubt who the underdogs were in front of the partisan crowd in excess of 1,000.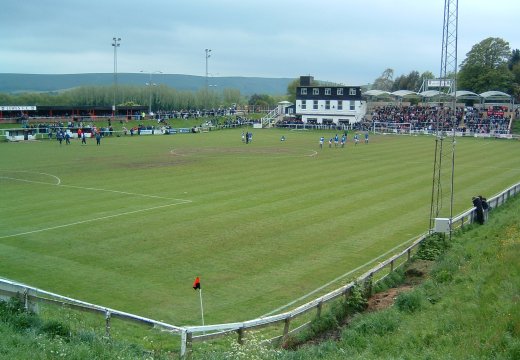 Photo: kingstonian.net
With Bashiru Alimi injured, K's were forced to start with a midfield four against the Rooks' five, with Grant Payne and Stafford Browne up front - an imbalance that was only equalled deep into the first half.

The first semblance of a chance came and went on seven minutes when a cross from Danny Davis on the left was headed over by ex-K Junior Kadi. K's responded within minutes and Matt Elverson was desperately unlucky when his right-footed volley was superbly saved by Dominique Jean Zepherin in the home goal.

Lewes were certainly on top though, and only some desperate defending kept the K's sheet clean. Another shot from Kadi was blocked by Max Hustwick, which was followed by a shot from Davis who saw his effort headed off of the line by Stuart Booth. The resultant corner was met by Ochea Ikpa at the far post, who saw his effort headed against his own bar by Dave Timothy.

The goal finally arrived on 38 minutes - but it did so with just a smidgen of controversy. A 50-50 challenge between Booth and Dwain Clarke had seen the K's defender leave the field with a nasty looking head wound, and before a substitute could be readied Lewes attacked down his wing. Dave Timothy was filling in but he couldn't keep up with Clarke, whose cross was met by the diving Warren Haughton whose header beat the best efforts of Key.

The visitors did manage to get the ball into the home side's net just afterwards, but Elverson's volleyed effort was ruled out for offside after a Scott Steele free-kick had been headed on by Browne.

The second half saw an increase in the effort from those in blue, but chances were still few and far between. Mark Beard shot wide from a Steele pass, but Browne missed the best chance of the half - racing onto a poor back header by Joe Vines only to shoot woefully into the arms of the goalkeeper.

At the other end, Haughton missed a fine chance to ease his side's worries when he collected a mis-placed header from Hustwick only to shoot wide. Lewes did make a claim for a late penalty when Hustwick challenged Mark Whiteman in the box but the referee said no. Whiteman disagreed and received a yellow card for his troubles after kicking the K's centre-half in frustration.

The match ended with scenes of jubilation for the home side, who had effectively been promoted for the second time in a week. The K's players were left to trudge off to try to find the chairman to enquire when exactly they would be getting their pay-cheques.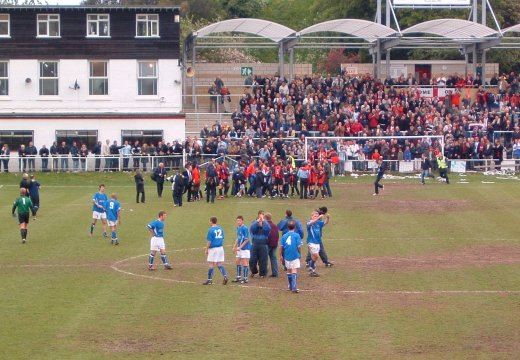 Photo: kingstonian.net
And so another season in the Ryman Premier beckons for Kingstonian. A finishing place of 18th out of 24 suggests that K's got no more than they deserved from the 2003/4 season. And if a team can't score a goal in three and a half hours of vitally important play-off football then they simply don't deserve to be promoted. And that really is the end of the story.
Sat 8th May 2004
The Dripping Pan
1062
Isthmian League Play-off
1
Lance Key
2
Stuart Booth

15

3
Scott Smith
4
Matt Elverson
5
Max Hustwick
6
Mark Beard
7
Dave Timothy
8
Craig Lewington
9
Stafford Browne
10
Scott Steele

14

11
Grant Payne

12

12
Martyn Williams

11

14
Anthony Savage

10

15
Liam Collins

2

16
Jermaine Hinds
17
Aaron Gilbert
Gary Ekins