Merstham 1-4 Kingstonian
BROAD-LY SMILING
K's travelled to Combined Counties side Merstham with a vastly changed side from the weekend game at Clacton. The starting lineup did include the entire defensive order, but it was to be far from a defensive opening to the game.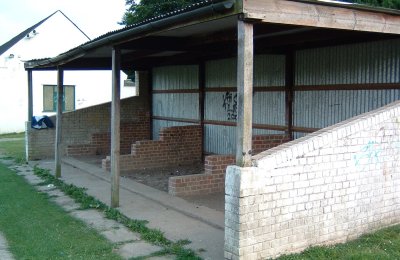 Photo: kingstonian.net
Stafford Browne had the first chance of the game when he shot wide of the target after finding an opening in the home defence. Soon after, he latched onto a long goal kick by Trevor Jones only to have consecutive strikes well blocked.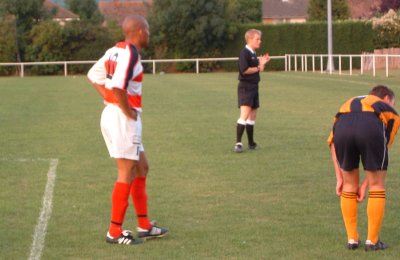 Photo: kingstonian.net
With ten minutes gone, Merstham had their own chance when Luke Roberts headed wide from a glorious opportunity that had seen the goal open up for him.

Punished for their miss just a couple of minutes later, Steven Broad headed home his first goal in the hoops from a Mark Beard corner.

The scoring opened, it was not long before K's added a second, this time created by a forging run down the left by Mark Jones. His near post cross was well met by Rod Davis, heading powerfully in just inside of the frame of the goal.

Davis was in the thick of the action again when, after beating two defenders, he sent his shot over the target when faced with only the 'keeper to beat.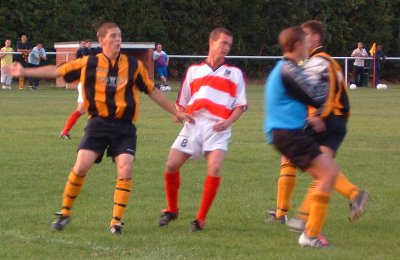 Photo: kingstonian.net
The third goal came with half time fast approaching. Liam Collins's short corner came to Steven Broad, via Mark Jones, and the defender drove the ball in off the post for his second goal of the evening.

The second half started with some light controversy when a penalty was awarded after Bradley Imms handled the ball on the ground when trying to stop Browne from taking shot at goal. Steven Broad, seeking his hat-trick, was given the kick and tentatively stepping up, saw 'keeper Colin Harris save low to his left. The ball rebounded out and was bundled in by one of the strikeforce, but the referee had pulled up play and ordered a retake for encroaching - for which it was seemingly one the K's men who was the most likely offender. Broad took the retake, this time sending Harris the wrong way and making the score four-nil.

The game lost its momentum after that as the substitutes flooded on. Merstham did have an increasing share of the attacking play, and Jones was called into action on a couple of occasions.

A consolation goal did come with about ten minutes left on the clock when substitute James Cameron headed a corner at goal which was half-blocked by substitute Kingstonian goalkeeper Andrew Forrester before finding its was into the back of the net.

A return to winning ways as pre-season draws towards an end, K's enjoyed what could be classed as a comfortable workout in what could be classed as an almost typical pre-season encounter.
Tue 5th Aug 2003
Not available
Friendly

Merstham
1
Kingstonian
4
Broad (3, 1 pen), Davis

1
2
3
4
5
6
7
8
9
10
11
12
13
14
15
16
Ali Kazemi