Walton & Hersham 0-0 Kingstonian
NOTHING HAPPENS AND THEN EVERYONE GOES HOME
Has there ever been a game with so little incident? It seems - to my already failing memory - that there never has. On the day before the hottest day ever, in history, ever, Kingstonian travelled to Walton and Hersham, sweated a lot, and then went home.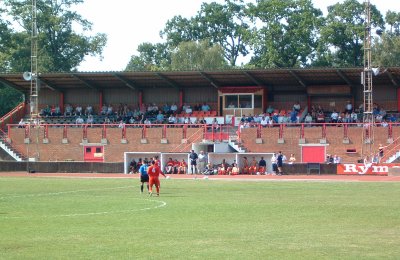 Photo: kingstonian.net
Most of the first team were there in body, but certainly not in mind. However Scott Steele, Bashiru Alimi, Stafford Browne, Liam Garman and Phil Wingfield were all out injured, and thankful they must have been. The blinding sunlight made the players feel at home on the bone-dry - not to mention awful - pitch, while the frequent stops for drinks were barely dissimilar from the "action" (sic).

Grant Payne went close on two minutes when a high looped effort was just turned over by the Swans' goalkeeper, but two minutes of effort had done for Payne and we didn't hear from him again for quite some time.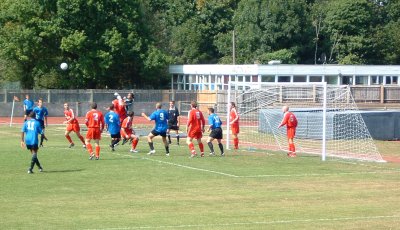 Photo: kingstonian.net
Free-kicks took an age, with the defenders quite rightly taking their time to saunter into the penalty area knowing that any clearance would have their temperature threatening to break open the top of the thermometer. Matt Elverson connected with a Stephen Broad free-kick but could only head into the goalkeeper's arms - then desperately hoped that the clearance would not be an immediate one.

Walton's number eleven went close when his shot was deflected over Lance Key's crossbar after Chris Nurse and Billy Mead had been beaten, but what everybody wanted more than anything was a drink. They got them at quarter-time, and then again at the real interval. In the meantime Grant Payne had touched a Liam Collins cross just wide but nobody had the energy even to "ooh".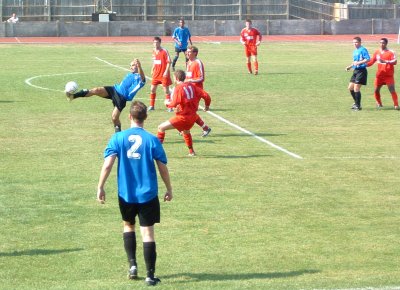 Photo: kingstonian.net
The second-half had far more incident in it than the first. But only if you count a substitution as an incident. And on this sort of day you really have to. Edgar, Lewington, Jones and Davis all came on, and it was the latter who went closest with K's only effort on goal of the half. Payne played Davis in on the right, but his shot was turned aside into the netting.

The chance that the match had been waiting for came with ten minutes remaining, and it fell to a man in red. That's them. A cross to the far post from the left was challenged for by Max Hustwick and a Swans' sub, Key got a touch as the ball bounced goalwards but the ball dropped to Mazin Ahmad just six yards out. With the goal at his mercy, and the crowd awoken from their slumber, he managed to give the ball just enough lift to see it balloon some twenty yards over. Good stuff.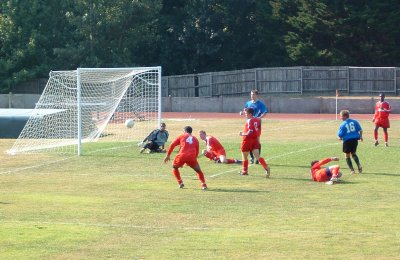 Photo: kingstonian.net
The game ended, predictably enough, after ninety minutes. The players had certainly added to their tans so maybe the afternoon wasn't a total waste. We can but hope that the league season brings with it some interest. And clouds. And, well y'know, action.
Sat 9th Aug 2003
Stompond Lane
Not available
Friendly

Walton & Hersham
0
Kingstonian
0

1
2
3
4
5
6
7
8
9
10
11
12
13
14
15
16
Gary Ekins