Kingstonian 0-1 Braintree Town
IRON-ING OUT THE PAST
Kingstonian bravely fought against high-flying Braintree Town, but the well-organised Essex outfit always looked comfortable at the back and when Ellis Remy scrambled a 75th minute goal, they made sure that their 100% record in 2005 was not going to be lost.

K's were celebrating their first home game since the departure of ex-Chairman Rajesh Khosla and the team were led out by new owner Jimmy Cochrane. The departure of Khosla encouraged many old faces back to Kingsmeadow and the crowd of 343 was 26% up on K's average attendance for the season. It fell just six people short of this season's record, 349 against Wealdstone for the opening home game, but it should be noted be noted that Wealdstone brought at least 100 more fans to Kingsmeadow than Braintree did. Without a doubt there were more K's fans present today than at any previous game this season and Jimmy Cochrane's takeover is already proving itself to be popular.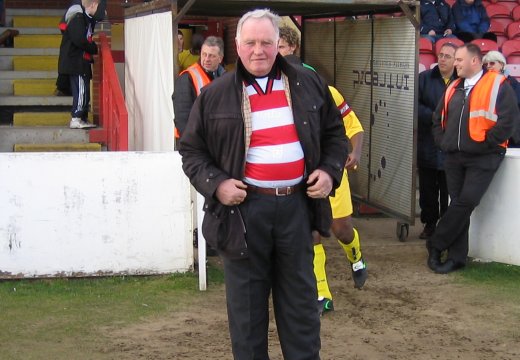 Photo: David Crawt
The seriousness of Cochrane's intent to turn K's around was shown by the fact that K's had signed an experienced goalkeeper for the first time since Lance Key departed five months ago. Andy Iga, formerly of Sutton, was a figure that the defence could have confidence in while elsewhere in the side Phil Ruggles, Kenny Ojukwa and Richard Taylor all returned to action. Bashiru Alimi remained at left-back after it was revealed he would not be suspended for this game as originally thought - the FA had attributed a yellow card to him that was in fact picked up by a northern namesake. Seemingly, there are only two Bash Alimis.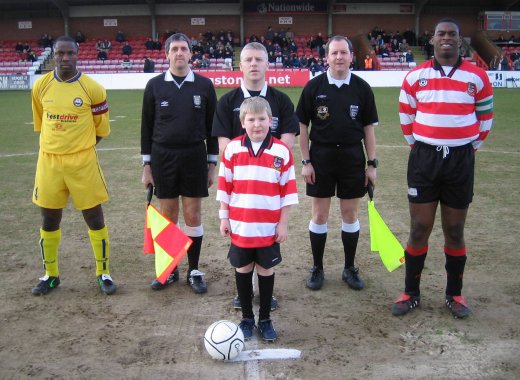 Photo: David Crawt
Despite being on a hot streak Braintree found it hard to create chances against K's. The home sides' defence, led once again by popular captain Rob Paris, was doing a good job of limiting The Iron to half chances. A Mark Graham long-shot allowed Iga an easy save in the seventeenth minute and then shortly afterwards Remy was unable to keep to keep his header down after a cross from Riddle.

K's first chance came after a short corner by Dean Lodge on twenty-two minutes, but Ojukwa headed Alimi's cross over. Ojukwa would not get another chance though, as ten minutes before the interval he limped off to be replaced by Jean-Serge Musungu. Iga saved well from a Paul Lorrainne twenty-yarder and then a minute later Iron keeper Danny Gay, who reportedly paid part of his own transfer fee to come to Braintree, made his first save of the match blocking a Paris header.

Gay did well again just before the interval, stopping a Ruggles volley following Taylor's long throw. The second half started quietly, despite Braintree changing to a more attacking formation and introducing veteran marksman Gary Abbott on 57 minutes. Abbott had the ball in the net after a Bradley Quinton cross eight minutes later, but the referee ruled the strike out much to the chagrin of The Iron's colourful manager George Borg. Borg was further frustrated on 68 minutes when Remy got in behind the K's back four but Iga tipped his shot onto the post.

Musungu fired over from distance for while popular winger Mazin Ahmad was introduced for Lodge as K's tried to break Braintree down. It was to little avail though, as Gay saved again from Musungu on 73 minutes and then just two minutes later the visitors went ahead. Iga slipped and fumbled a corner away, leaving Ellis Remy with a simple finish to put Braintree into the lead.

Paris had another go from long range and Musungu was replaced by James Mann as Rob Paris was thrust forward in search of a goal, but the Essex side had the majority of the possession in the last ten minutes and Kingstonian did not look like beating their impressive defence.

While a win would have been an ideal way to celebrate the first post-Khosla home game, K's were up against a strong side who made the win their eighth in a row. The K's defence has finally begun to improve in recent weeks and the side is certainly a better one than it was a few weeks ago. Other than one slight error Iga played well, being named Triumph Trophies Kingstonian Man of the Match and hopefully he will bring the stability between the sticks that K's have desperately sought.

Time is running out, but at least everyone at the club is now pulling in the right direction and Cochrane will give K's the best possible chance of avoiding the drop. K's have no more games against the top three clubs now and have to believe that they are perfectly capable of getting wins against any of their remaining opponents.
Sat 19th Feb 2005
Kingsmeadow Stadium
343
Isthmian League Premier

Kingstonian
0
Braintree Town
1

1
Andy Iga
2
Steven Sanders
3
Bashiru Alimi
4
Richard Taylor
5
Robert Paris
6
Giles Coke
7
Dean Lodge

12

8
Ian Dickens
9
Phil Ruggles
10
Martyn Lee
11
Kenny Ojukwa

14

12
Mazin Ahmad

7

14
Jean-Serge Musungu

11

15
James Mann

14

16
Bernard Asante
17
Mark Torcaso
Simon Grier