Kingstonian 1-2 Heybridge Swifts
Swiftly Won
Kingstonian took the lead against a physical Heybridge team, but were unable to hold on to their advantage as they slumped to a 2-1 defeat against the visiting Essex side.

The Swifts had the first chance of the match in the fifth minute, when Dwayne Edward headed wide after a long throw-in. K's soon settled down though and had the best of the opening period of the game. Daryl Bourgeois almost tripped over his own feet trying to deal with an incisive through ball from Bashiru Alimi, and shortly afterwards Dean Souyana fired over from 20 yards.

The first clear-cut opportunity came 17 minutes in. Souyana picked up a cross from Jermaine Hinds and found Greg Ball. The K's striker quickly fired a shot on goal, but Erdem Artun half-blocked it and visiting 'keeper Darren Placid was able to make a comfortable save.

The home sides' fortunes took a turn for the worse a minute later when Alimi limped off with an ankle injury to be replaced by the unproven Mazin Ahmed.

On 22 minutes The Swifts came close to taking the lead. A goalmouth scramble saw Edward break free and get round Lance Key, but under pressure from Australian debutant Daniel Cunningham he took the ball out of play.

Both sides played some encouraging football but struggled to find a good final ball. However when Hinds and Matt Bradford both went for, and missed, the same header Edwards was presented with a glorious 29th minute opportunity - fortunately for Kingstonian Lance Key made a fine save.

A minute later it was K's who came close to scoring. Ball flicked a long ball on for Reggie Savage, who was only denied his first goal in a hooped shirt by a magnificent challenge from Artun.

The Swifts were more keen than K's to shoot from long distance, and in the closing minutes of the first half both Michael Shinn and Adam Gillespie tried their luck from outside the penalty area; however, neither came close to testing Key.

The half finished with K's on the attack - Greg Ball looked for Reggie Savage with a chipped cross, but the impressive Daniel Barber cleared to send Heybridge in level.

It was Kingstonian who looked the brighter side after the interval. Savage found Souyana whose cross picked out Ball. The home striker was again denied by Barber, however the ball fell to Liam Collins whose low drive was well saved by Placid.

K's continued to pressurize, as Scott Steele teased the Swifts defence with his awkward chips, and only a foul could curtail a mazy run by Savage on the edge of the box.

On 57 minutes, Ahmed linked up well with Liam Collins to provide an opportunity for the dangerous Matt Pattison. However, his 20 yard shot went straight at Placid.

Five minutes later Pattison was again menacing Heybridge, winning a corner after a superb run. Steele took the kick and Ball rose in front of an out-of-position Placid to head Kingstonian into the lead.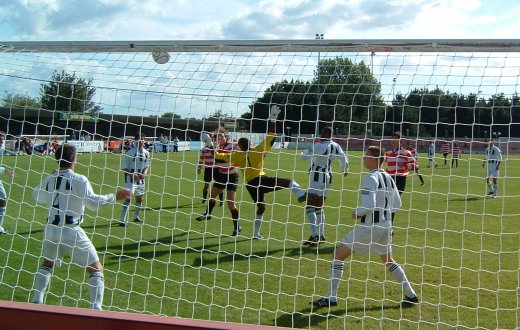 Photo: kingstonian.net
The Essex side were not dispirited though and fought back immediately. James Baker's cross was cleared by Bradford. However he was allowed a second chance, and a brave diving header by substitute Sean Mark levelled the scores.

Kingstonians' heads appeared to drop after the equaliser as Heybridge took control of the game. On 75 minutes Mark came close to a second, heading over after one of many dangerous long throws.

Ten minutes from time Shinn threaded the ball through K's defence for Edward, who slid the ball past Key only to see it hit the post. Kim Harris brought big youngster Tommy Cass on, but Heybridge remained in command and on 86 minutes took the lead. Edward's low cross picked out Kelly-John Pollard who slotted home from close range.

K's pushed for an equaliser, and with one minute remaining Cass broke away down the right flank. He crossed for Savage but Shinn got a foot in to deny K's new signing. The loose ball fell for Ahmed, who despite having the goal at his mercy from six yards out somehow managed to miss his strike, directing the ball into Placid's grateful clutches.

The result was a frustrating loss for K's, who as against Leyton and AFC Wimbledon were unable to take advantage of a good position. There were some positives - new defender Cunningham looked assured, Bradford was solid and both Savage and Triumph Trophies Man of the Match Pattison looked lively. However, K's clearly have much work to do if they are to improve on their start to the season.
Sat 21st Aug 2004
Kingsmeadow Stadium
214
Isthmian League Premier

Kingstonian
1
Ball
Heybridge Swifts
2

1
Lance Key
2
Daniel Cunningham
3
Dean Souyana
4
Jermaine Hinds
5
Matt Bradford
6
Matt Pattison
7
Liam Collins
8
Scott Steele

12

9
Greg Ball
10
Reggie Savage
11
Bashiru Alimi

15

12
Thomas Cass

8

14
Adrian Graham
15
Mazin Ahmad

11

16
Aaron Gilbert
17
Barry Marchena
Simon Grier