Kingstonian 1-0 AFC Wimbledon
UP FOR THE CUP
After five years of seemingly nothing but hurt, Kingstonian, in what can only be a most strange coincidence, have seen their fortunes steadily rise since the departure of Rajesh Khosla. This redemption was emphasised last week when they won their first competition since the 2000 FA Trophy and went some way to alleviating the hurt of their failure to win promotion.

The capture of the Surrey Senior Cup came at the expense of landlords AFC Wimbledon after Martyn Lee scored the only goal of the game from a free kick.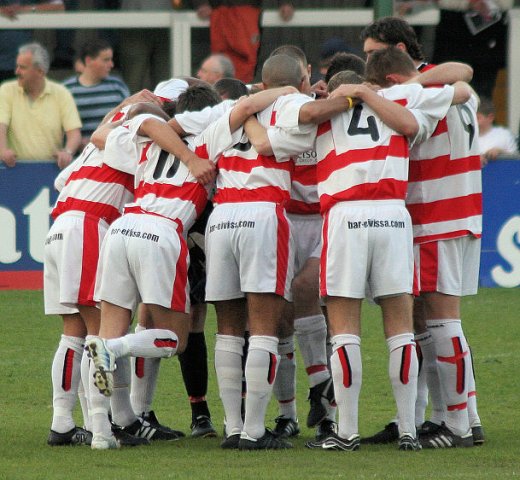 Photo: Terry Buckman
It was The Dons who had the better early chances but they were not clear-cut. Paul Barnes and Rob Ursell missed the target for AFC before Michael Woolner beat goalkeeper Alan Hughes only for inspirational K's captain Mick Brady to clear off the line and keep the game goalless.

Seven minutes before the break, Brady triggered the move which saw K's take the lead. James Rose latched onto his long ball and his progress was blocked by goalkeeper Andy Little (below). There was some disagreement over whether the referee blew his whistle for handball or a foul but either way Little was booked and Lee slammed the resulting free kick home from twenty-five yards.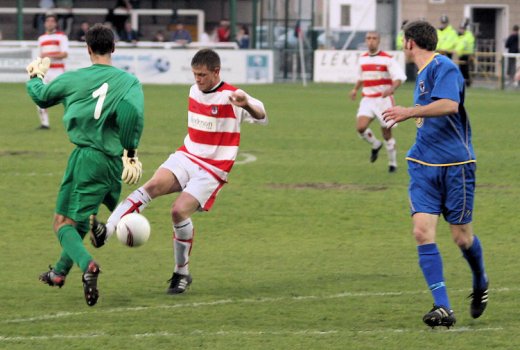 Photo: Terry Buckman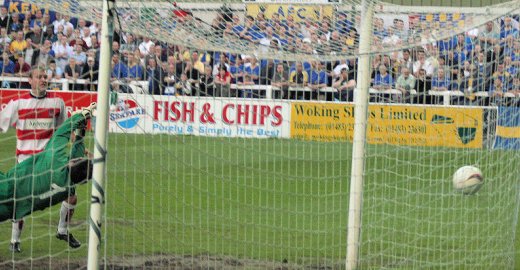 Photo: Terry Buckman
The Wombles had looked most threatening when putting passing moves together trying to carve open a K's defence that was not the quickest. One such example was when a fine through ball by Ursell just after the break gave Tony Battersby a good chance but he was unable to get his shot on target. However, too often they resorted to long ball tactics and Brady and Richard Taylor had a far easier time in dealing with this method of attack.

The Dons always looked somewhat more threatening than K's but were unable to truly test Hughes. Substitute Shane Smeltz, the second New Zealand international to ply his trade at Kingsmeadow in recent years, had a good opening after a goalmouth scramble but to the relief of K's his shot was blocked by his own man while Richard Butler headed over from close range after a fine cross from the dangerous Ursell.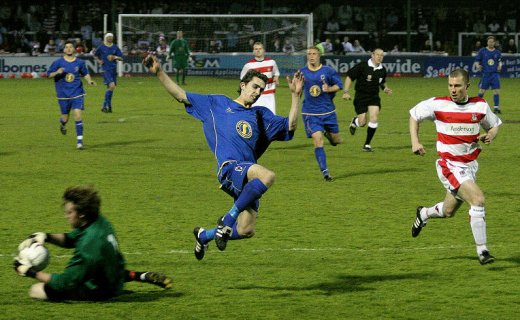 Photo: Terry Buckman
A late free kick just outside the K's box had their fans' hearts in their mouths but it slammed into the wall and was cleared. Tony Reid, who had worked hard all game and made life difficult for the Wimbledon back line, tried to replicate his wonder strike from Westfield but it only hit the back stanchion of the goal.

K's fans had little reason to worry though, as soon the final whistle blew giving the red contingent of the crowd cause to go delirious as among others Brady, Reid and Jon Coke threw themselves into the crowd on the Kingfield Road End terrace.

It was a great end to the season and having silverware back at the club will be a massive boost to the confidence of everyone as K's. The club has suffered from serious hard times and this win brought a smile to everybody's face.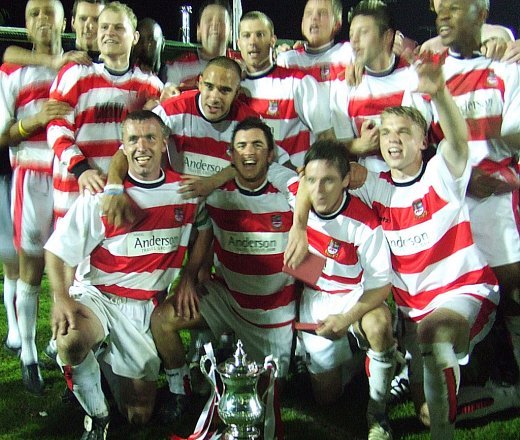 Photo: kingstonian.net
Let us make no mistake - the Surrey Senior Cup is no substitute for winning promotion and next year's Ryman One South will be even harder to get out of than this year's Ryman One was. Kingstonian have problems still that need addressing but this was not a night to worry about the future. It is fantastic for the fans that for perhaps the first time since the win over Southend five years ago, K's have achieved something to genuinely celebrate - having not conceded a goal in normal time throughout the entire competition, they're the 2006 Champions of Surrey. And they deserve it.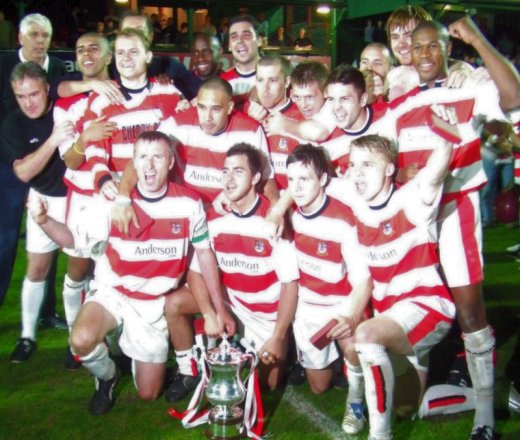 Photo: kingstonian.net